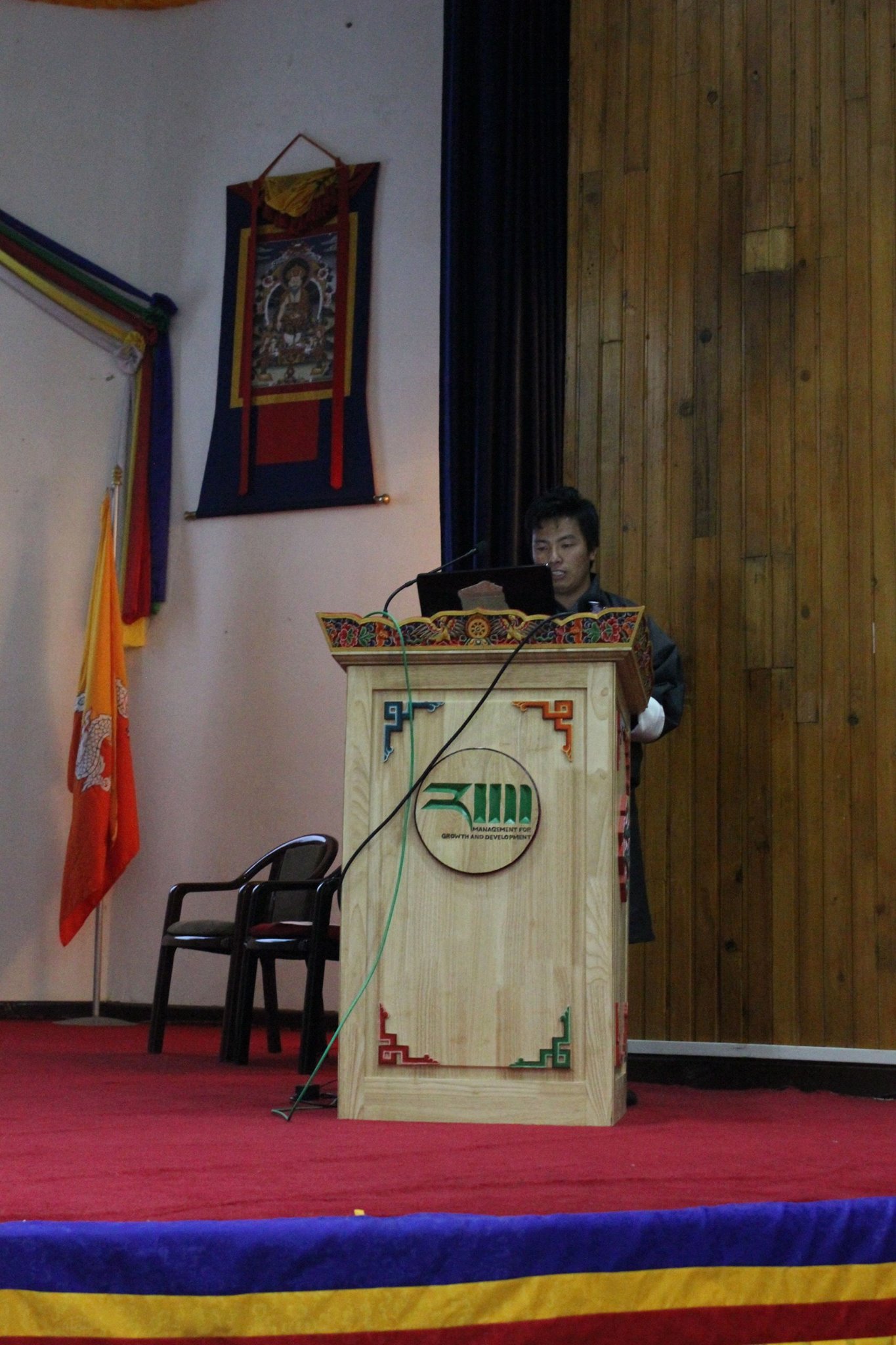 Background
Social Justice Committee is one of the three committees of the YI 2014. Social Justice Committee was formed due to need of inclusion for Bhutan's most vulnerable and marginalised populations, including women, children, minorities, and the persons with special needs in the mainstream dialogue.
Introduction
From the first meeting of the committee, the members has unanimously decided to tackle the issue of persons with disabilities in Bhutan. Statistics show that there were 21, 894persons of disability (hearing, speaking, visual and mobility impairment) from a total population of 6, 34, 982 as per the Population and Housing Census of Bhutan, 2005. This makes up to 3.4% of the population (if we assume a similar rate, the figure is 26,000 now).
With above given statistics, committee had come to the conclusion that inclusion of persons with disabilities at various level of development is not proportionate to their population and attitudinal barriers (such as considering persons with disability a burden and incompetent), environmental barriers such as unfavourable work place, public spaces and infrastructure act as obstacles for persons with disabilities when it comes to economic employment of these groups. Considering the above two issues, the committee decided to look at present policies of the disabilities. We researched through and found some interesting things:
Research Findings
The 11th Five Year Plan, Vol. 1: Main Document provides for intervention in the lives of vulnerable groups, however, does not have specific strategies and approaches designed for intervention.
Labour and Employment Act, 2007 provides for non-discrimination on the ground of disability for employment, however, attitudinal and environmental barriers are not taken into consideration.
Special Education Section, ECCD and SEN Division under the Department of School Education; Ministry of Education oversees the Educational needs of the persons with disabilities (visual, hearing and mobility impairment) in eight schools across the country.
Civil Society Organizations- Draktsho, Disabled Persons Association of Bhutan (DPAB) and Ability Bhutan Society (ABS). But we observed that these CSOs only intervene in the lives of persons with disabilities for their growth and development.
The National Social Protection Policy which is currently being drafted, states that they will ensure "Disability Insurance" in case regular employee becomes disabled (Ministry of Labour and Human Resources).
After referring to above-mentioned documents and stakeholders, we concluded that there is no specific National Policy addressing the needs of the persons with disabilities and we decided to propose a proposal. The following is the first draft proposal which we submitted to the winter sitting of the YI and which was passed.
Proposal and Statement of Goal
The goal of this proposal is to develop a separate National Policy addressing the needs of the persons with disabilities through intervention (advocacy and legal protection), and engagement (employment) in mainstream development at the same time ensuring protection for the right of persons with disabilities.
The policy will be guided by the principles of:
Individualism and human dignity;
Non-discrimination;
Participatory and inclusive growth; and
Accessibility.
Strategy
National Policy for Disability needs to be developed in consultation with experts, Civil Society Organisation, Private Companies and disabled persons. The Policy shall have provisions for:
1. Government:
1.1 Shall diversify educational resources and facilities to all type of disabilities.
1.2 Shall provide training and opportunities for persons with disabilities to enhance their employability and;
1.3 May give incentives, grant tax holidays and exemptions for private companies that employ persons with disabilities.
2. General Obligations:
2.1 Government, corporate, Private, civil society organisation and media house shall initiate awareness and advocacy programmes.
2.2 Come up with a "universal design" to ensure accessibility to all types of disabilities.
2.3 Corporate and private enterprise through corporate social responsibilities shall contribute towards disability engagement and inclusion.
2.4 Employers through "Positive action" and " Positive discrimination" may employ persons with disabilities during tie break situation,
2.5 The monitoring Body shall ensure that there is proportionate remuneration for the person with disabilities for the income they have generated to the organisation or company as an employee,
2.6 Strengthen the existing institutions through a certain level of independence at the same time there shall be constant communication among stakeholders regarding plans, policies and projects targeted towards integration, inclusiveness and engagement of the persons with disabilities in mainstream development.
Implementation, Monitoring and Reporting
For the implementation of this proposal, the new autonomous "National Commission for Persons with Disabilities" shall be formed that will cater to the needs of this group of people.
The commission besides regular staff shall have board members, comprising;
1) Chairman of the commission
2) Representatives from CSOs as determined by the Civil Society Organisation Authority of Bhutan.
3) A representative from the corporate sector as determined during the Corporate Board Meeting.
4) A representative from the private sector as determined during the private board meeting and;
5) A representative from the persons with disabilities as determined by the civil society organisations working for engaging and empowering persons with disabilities. The commission shall make an annual report on the implementation and assessment of the policy to the government and shall be accessible for all the stakeholders and the general public.
The draft proposal was distributed to various stakeholders and individuals namely RIM director and few Lecturers, NC chairperson, Disabled Persons' Association of Bhutan, Pema Chogyel of Special Education and so on for their comment and feedback. They showed appreciation for our works and gave us some encouraging feedback and recommendations. As a part of advocacy, two of our members went to BBS radio programme to talk on this particular issue mainly focusing on education and employment. We also made a video related to disabilities(This video will also be available on our website). Social Justice Committee members continued to work with the proposal even during the summer sitting but with a specific local action plan. After the summer sitting, we focused on the local action plan because Charity starts from the home.
Local Action Plan
Problem: The Social Justice Committee of the Youth Initiative (the YI) over the course of research stretching from January to July 2014 has found that the infrastructure in Bhutan is not accessible for persons with disabilities particularly for ones with physical disabilities. The Committee consulted and discussed the issue with relevant stakeholders – Government bodies, Legislative bodies, Civil Society Organisations (particularly Disabled Persons' Association of Bhutan, Ability Bhutan Society and Draktsho Vocational Training Centre for Special Children and Youth), Educational Institutions and Schools. All stakeholders agreed that infrastructure in Bhutan starting from roads to office buildings are not accessible.
Solution
The Committee in consultation with the other YI Representatives decided to designate a safe passage for persons' using wheelchairs from Jigme Dorji Wangchuck National Referral Hospital (JDWNRH)to Jigme Dorji Wangchuck Memorial Chorten, which will be coupled with a signboard calling for disabled-friendly infrastructure.
Goal
This initiative is expected to create awareness on the inaccessibility of person with disabilities among the general public. And to convince the general population and the legislative bodies that infrastructures that are accessible to the disabled are a necessity.
Stakeholders
For the purpose of this Local Action, the committee consulted with Thimphu Thromde, JDWNRH and Memorial Chorten official (Semtokha Principal) for approval which was granted. To develop partnerships, we shared and discussed the idea with CSOs mentioned above and they showed full support to the idea.
---
Related Archival
---