May eNews
Posted by
Tempa Wangdi
, May 31st, 2020
Druk Journal Conversation Build Technology Debate
The first-ever Online Druk Journal conversation on the theme, Bhutan in the Age of Technology generated much excitement among the college students and faculty members of Gyalpozhing College of Information and Technology (GCIT) and political party representatives on Saturday, 30 May.
The online conversation was held in light of ongoing restrictions on gathering in the wake of a global pandemic. Three speakers who contributed to the spring issue of the journal, Bhutan in the Age of Technology spoke on Bhutan's plan to stay relevant in the technology age. Jigme Tenzing spoke on Bhutan's ICT masterplan. The second speaker, Kinley Rinchen talked about what the Royal University of Bhutan is doing to improve and prepare ICT in tertiary education. The third speaker, Ujjwal Deep Dahal shared how Bhutan is planning on science, technology, and innovation to find a Bhutanese path.
During the Q&A session a student from GCIT, Sonam Choki asked about the government's plans to reduce digital inequality between the rural and urban areas. Jigme Tenzing who is also leading the Department of Technology and Telecom said that a large chunk of resources is being allocated to improve connectivity in rural places. "…Our focus is on how to make the Internet affordable… We are also looking at regulatory measures to bring down Internet usage costs," said Jigme Tenzing.
Cybersecurity, employment opportunities, use of IT to improve public service delivery, and the importance of opening the third Internet gateway, etc. were other issues discussed in the conversation. This issue of The Druk Journal is supported by DIPD, Druk Holdings & Investment and EU Helvetas.
Another Year on Citizen Education
The Bhutan Centre for Media and Democracy (BCMD)'s Annual Report for 2019 shall be available on our website in the coming week.
We are pleased to share that in 2019, we've reached out to over 2,566 people including students, teachers, policy-makers, leaders, public servants, members of civil society and political parties. Over 157 agencies took part in our activities to deepen the understanding of civic engagement, media literacy, democracy and public discourse through our youth programmes, forums, and Bhutan-centric resources.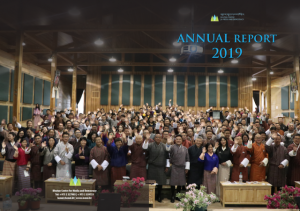 We held over 44 activities including, Community Building Initiative, Youth Summit and Initiative, forums, and conversations.  Our forums and conversations are emerging as important platforms for people to find their voices to share and talk to policy-makers about issues and concerns. For example, the national broadcaster, Bhutan Broadcasting Service started using a sign interpreter for their weekly news, Bhutan This Week, after students and teachers of Wangsel Institute for the Deaf raised the issue of deaf students unable to access information and news.
The same year, we also produced over 22 audio-visual resources including a 40-minute documentary recording the country's experiences of democracy. BCMD's resources on democracy and education are also increasingly used by a growing number of students, researchers and policy-makers for their work. Our Druk Journal issue, Tourism in Bhutan became an important reference point for a national tourism policy review in 2019.
As we look to celebrate this fruitful year, we would like to send out our heartfelt gratitude to all the donors, partners, constituents and individuals for playing a critical role in making 2019 a successful year. You can read our 2019 Annual Report @www.bcmd.bt We reached out to more than 2,566 people in 2019.
Enabling Inclusive Citizen Participation
Chencho Om, a teacher from the Wangsel Institute for the Deaf shares some of the impacts the News and Media Literacy workshop has had in the lives of the deaf students in terms of inclusivity, access to information, and citizen education.
"I realised that my deaf students had no access to news and information that is critical for them as a citizen in a young democratic country.
Media literacy is important for our students who are also on social media and read news and information online. After availing BCMD's training, we conducted basic training for students from classes PP – X to impart critical skills and methods to judge and analyse information and news. This session was planned to prepare our students against mass information, fake news and rising online threats.
I feel the lack of access to information and platform for the deaf people has been an issue in the country. We need to be conscious and create resources and enabling platforms for deaf students to develop their interpersonal skills, boost confidence and self-esteem to be able to share their views and concerns openly, and participate in  conversations."
Teachers and students of Wangsel Institute attended the BCMD's Bhutan Democracy Forum in 2019 where elected leaders, decision-makers, media personnel and the academia were also present. A pertinent issue about the lack of information for the deaf students beyond the classroom was raised then and it has gone on to spur discussions on the topic outside the forum towards building inclusive plans and policies.
National Youth Policy Review Process Documentary 
Stories are a powerful means to amplify youth voices, a short film on National Youth Policy Review under the theme, "Youth Voice in Youth Matters" is under production to document youths' participation and contributions in the review process.
The documentary will capture youths' journey from a nine-day residential winter camp of the 2020 Youth Initiative (YI). Then a two-day Focus Group Discussion (FGD) training and their fieldwork of facilitating consultations with other youth groups. "The government has also started to recognise the youth… They are giving opportunities for youth so that they can make changes to society," said a YI member, Roshni Bastola reflecting on the camp and training.
Built around a participatory approach of policy review, the documentary will cover the training of YI members in the policy review. The film also covers the training on FGD and fieldwork wherein the members of the YI travel to different parts of the country to listen to aspirations and experiences of a diverse group of youth, including monks and nuns, persons with disabilities, LGBT, girls in Drayang (dance bars) and unemployed youth, amongst others.
The objective of the documentary is to document a participatory approach to youth participation in policy review and to model a youth engagement process in decision-making. The process documentation is funded by UNICEF Bhutan.
Survey on Impact of COVID-19 on Youth 
A survey is being carried out by the Bhutan Centre for Media and Democracy as the impact of COVID-19 is being felt across the globe affecting people of all ages in different forms and degrees.
The survey, 'Impact of COVID-19 on Youth' aims to capture the experiences of youth during the pandemic and the impact it has had on their everyday lives, studies, social life, and beyond. This survey is a safe platform for the youth to share their experiences constructively that could contribute to developing programmatic interventions and policy recommendations affecting youth during the times of crisis such as the COVID-19 pandemic.
You can join the survey at shorturl.at/birNX 
Youth Summit in Pictures to Capture Its Journeys 
The picture story, Youth Summit: A Photographic Journey seeks to capture and convey the essence of the journey that participants of Youth Summit (YS) undergo to transform themselves from youth citizens on autopilot to socially-minded proactive citizens.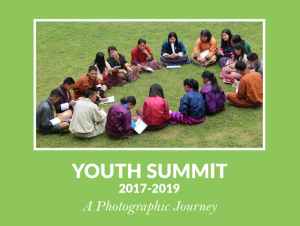 Covering three years (2017 – 2019), the picture story provides a visual narrative of the depth and context of the stories of change experienced by the participating youth. The picture story not only takes the viewers through the events, sessions and the interactions during the camp but also covers the self-directed initiatives undertaken by the participants after the camp. "After the Youth Summit, I started thinking and gained a lot more confidence. I started believing that I can contribute to society and that I can make a difference…," said a YS participant, Rinchen Pelzang.
Share
This note if you have someone in self-isolation and to those of you in self-isolation and quarantine, we have some interesting resources online to keep you engaged and occupied. We thank you for your endurance to keep us safe.
The links are shared below:
#Publications: www.bcmd.bt
#Videos: https://www.youtube.com/user/TheBcmd
#Podcasts: https://soundcloud.com/bcmd
If you like our works, you may …
Donate here … http://bcmd.bt/ (GlobalGiving) or http://bit.ly/2WkRjmw (Bhutan Foundation) or https://give2asia.org/bcmd/… (Give2Asia)
Thank You for Supporting Us
Keep Reading Our Stories of Change