January eNews 2022
Posted by
Kuenzang Norbu
, January 31st, 2022
Equipping Educators with Skills to Impart MDL in Classrooms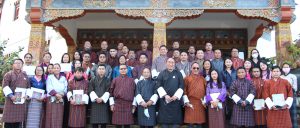 Recognizing the importance of teachers and their influence in society, early this month, BCMD organized a 3-day workshop on Media and Democracy Literacy (MDL) for youth centre coordinators and teachers from different high/middle schools in Tsirang and Thimphu districts. Sharing her insights, a teacher from Tsirang said "All of us have the idea that democracy was handed down to us as a gift. Are we limiting ourselves to this gift by only casting votes? Are we actively participating as citizens? Through this workshop I learned about being an active participant and an active citizen. Active citizen is someone who is informed, someone who takes part in democratic processes and as a digital immigrant, someone who posts responsibly and comments sensibly."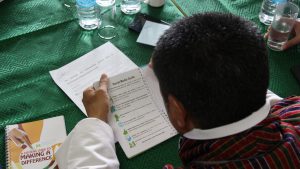 The workshop participants learned how to analyse and evaluate information through a process of verification and checking for independence in voice and accountability. "I believe that after this training, I will need to start a media club at my school, and when I do, I  learnt that if my students want to write a news story or cover a story, they must follow a process that includes verification, independence, and accountability; taking care of this process is a takeaway for me," said Shacha Wangmo, a teacher at Yangchengatshel Middle Secondary School.
The workshop ended with the educators drafting lesson plans, which they will use to conduct step-down training for students at their respective schools in the upcoming months. BCMD will also help integrate media and democracy literacy in the schools.
This project is supported by the United Nations Democracy Fund (UNDEF). 
Bringing our Resources to the Unreached
In keeping with the national agenda of not leaving anyone behind, BCMD has pioneered the development of resources on Media and Democracy Literacy (MDL) in the form of videos for the deaf and assistive reading devices (Evo E10) for people with print disability. The resources were launched on 7 January by Punakha Dzongda, Dasho Thuji.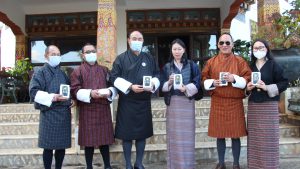 Dechen Tshering, principal of Wangsel Institute for the Deaf, said "Approximately 15,000 people suffer from hearing disability, and I believe that this number will continue to rise. Most of us believe we would never be deaf, yet in Wangsel, 49% of people became deaf as a result of illness, injury, or other causes. Learning sign language is the simplest method to accept and involve deaf people in the society, and with MDL videos and technology like the Evo E10, it will have a greater impact." The resources will be distributed to appropriate schools and institutions around the country. 
The MDL videos are available for viewing on BCMD's official YouTube channel.

We thank the United Nations Democracy Fund (UNDEF) for supporting this initiative. 
Youth Engagement for Inclusive Decision Making
The 2022 Winter Youth Initiative brought together 26 youths from various education institutions, including graduates, to learn more about climate change and brainstorm on Bhutan's response to mitigating and adapting to the global issue. 
During the two-day program, an eclectic mix of speakers from government agencies and CSOs, independent consultants and researchers shed light on issues of urban development, transportation, industries, agriculture and waste, their relation to climate change and existing opportunities to address climate change in Bhutan. During the panel discussion with the youth, Tshewang Nedup from the Ministry of Agriculture and Forest, shared "It is great to have this discussion and hear diverse thoughts on climate change. It is vital for youth to voice out their thoughts and act on climate mitigation and adaptation."
The sensitization on climate change enhanced the youth's understanding  of the topic and highlighted the need for consulting youth on this topic as their future will greatly be impacted as a result of climate change. Tsheltrim Choezin, a student of Sherubtse College, expressed that although she was  aware of climate change, it was fascinating to learn about how different aspects of the economy such as urban development and food waste contributed to it.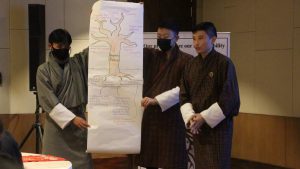 Together in groups, the youth dissected relevant issues to understand their underlying causes and suggest possible solutions. The consolidated responses (solutions) from this two day exercise will be shared on a digital 'Youth Engagement Platform' that will go live in the following months to encourage more responses and discussion on the issue.
This project is in partnership with the United Nations Development Programme (UNDP Bhutan).
Understanding the impact of The Durk Journal
In the midst of an evolving democracy that lacked public discourse on policies or limited these discussions only to the bureaucrats, The Druk Journal (TDJ) aimed to address this with its publication and conversations. Now, six and a half years after the launch of The Druk Journal, a monitoring and evaluation report of the journal shows that the journal has become a credible source of ideas and information on issues considered important for Bhutan. Over the years TDJ published 14 Journals on a wide range themes relevant to the current policies and hosted 34 conversations and seminars attended by over 2000 persons.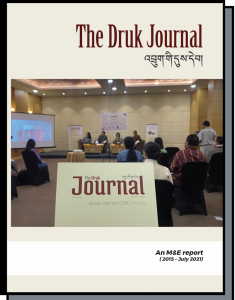 The impact of the journal was captured through a mix of report reviews, interviews, and survey questionnaires showing that TDJ has nurtured a public space for a cohort of people interested in the way Bhutanese politics, society and nation is developing. Azusa Kubota, UNDP Resident Representative, who has written for the Druk Journal and participated in several conversations expressed "I think the Druk Journal is the only one in its category – promoting independent thinking, thought-provoking, and wide-ranging in terms of the topics it covers."  
Through regular publications, an interactive website, and open discussions after each edition, TDJ has successfully engaged the Bhutanese society in conversation allowing an exchange of open and frank views on national policies and issues that are important for Bhutan. TDJ will continue to nurture a dynamic space that is civil, democratic and open to diverse views in order to discover new ideas required to reimagine what Bhutan can be like in the 21st century. 
The full M&E report is available here.
We would like to thank the United Nations Development Programme (UNDP) for supporting this project. 
Upcoming: Evaluating the Impact of our Community Building Initiative
For the past few years, BCMD has invested efforts towards strengthening democracy by nurturing citizen participation in understanding issues, planning and development. A range of target groups have been part of this initiative including school youths, teachers, elected local leaders, district administrators and community residents.

To assess the impact of the initiative on the target groups and the existing community planning and development processes, an evaluation research was conducted. A comprehensive report on the findings is currently being finalised. The findings of the research will also provide an analysis of the situation of Bhutan's democracy to inform BCMD's strategic direction.