January eNews
Posted by
Zulkee Choden Rinzin
, February 1st, 2021
Life came to a standstill for the residents of Thimphu on 20 December 2020 when the second lockdown was announced. With the growing fear of wide-spread community transmission, the strength and resilience of the citizens were tested. Community action is vital in curbing the spread, and it is through the collective effort of the people adhering to the instructions of the Ministry of Health and supporting those on the frontlines that we are slowly able to open up cautiously. We are deeply grateful to all the frontline workers' selfless service to the greater community and to all the people for staying at home.
Youth Initiative: Where Are They Now?
One of the major points of pride for the Youth Initiative (YI) programme has always been its ability to 'awake' the social consciousness of youths, who continue to carry the values and proactive approach towards societal change long after the programme concludes. This idea was echoed by Tshering Samdrup (YI 2020) when he said, "We don't see YI as a year-long programme that we are a part of and then wave goodbye, but we see it as a lifelong commitment towards a sustained longer-term impact".
Although the YI 2020 ended last autumn, Tshering and his group's social media campaign on highlighting stories of exemplary youths has remained alive and active. Over the past two months, they interviewed Kinley Dorji, one of their college mates but also, more importantly, a student of traditional music legend Jigme Drukpa, who was himself a student of the great Ap Dawpey. "Although our culture remains a pillar of GNH, most of our people seem to grow more and more alienated from our own roots. We hosted the interview to try and demonstrate that traditional music is beautiful and timeless".
Currently, Tshering Samdrup has taken on an entrepreneurial idea of starting a rental service for low-cost utensils and kitchen items. "My brother and I saw the state of despair and helplessness that people from other parts of the country felt when they lost their loved ones at the JDW National Referral Hospital. They knew no one here at the capital city and really struggled with not knowing where to obtain utensils during cremation, which is usually at least a week-long (often longer) affair in our country's funerary tradition". Tshering and his brother started 'Nazhoen Catering Service' and provide a free complimentary LPG gas as a bereavement contribution from their side. "And we have also employed two recent high school pass-outs. We hope to scale up and take on some of the country's youth unemployment issue", Tshering added.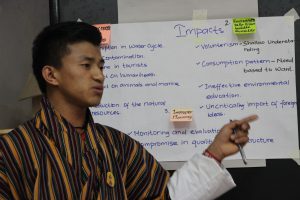 Tshering Samdrup at the YI winter camp 2020
Likewise, another YI member of 2020, has been working with her team to keep their campaign, 'Beneath the Smiles' alive. "We have heard a lot of people's stories over the last few months in hopes that it will help more youths open up. We don't want to lose our audience's faith in pages like ours by letting it become inactive". Over the lockdown, their group reached out to Namgay Zam, a mental health advocate to initiate discussion and encourage people who are facing challenges with mental health to open up. "Opening up has to happen before they have the confidence to seek help", Roshni said.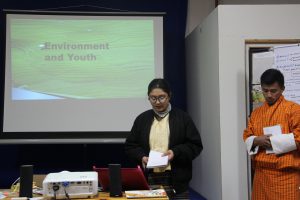 Roshni and Tshering at the YI winter camp 2020
Currently, Roshni has also been participating in 'RYC Global Forum' which gathers youths from around the world to highlight their creative talents. She recited a poem, 'I am the People, I am the Mob' by Carl Sandburg. Additionally, she has also participated in Model UN as a delegate where they discussed responsible disposal of e-waste and also attended a webinar on air pollution and climate change recently.
Unlocking Media Literacy Skills
The COVID-19 pandemic has been accompanied by an onslaught of misinformation and fake news on social media, termed an 'infodemic'. Leaving many individuals susceptible to misinformation, the consequences of the infodemic can be grave. It is important to be critical of what you see in the media and it is a reminder of the importance of media literacy especially for the essential workers during the pandemic. Going by the frequency of stories covered by news reports, Bhutan is witnessing increasingly cases of issues stemming from use and misuse of social media which points to the urgent need to scale up social media literacy and ethics in media for citizens.
In light of this, more than 95 De-suups, Ministry of Health (MoH) officials, teachers, curriculum developers from Royal Education Council and members from Bhutan Red Cross Society and Bhutan Taxi Association were trained in Media and Democracy Literacy: "Facts vs Misinformation in an Infodemic" from October – December 2020.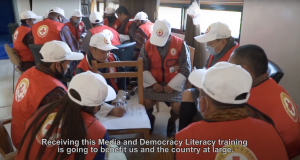 For many of the participants, being at the forefront of public service delivery and conveying information for the masses as part of the media team for the MoH, this training was seen as the need of the hour.
Check out the videos below to see what the participants had to say about the training:
Red Cross Society and MoH: https://bit.ly/3nXwaet
Bhutan Taxi Association: https://bit.ly/39IcMx2
De-Suup: https://bit.ly/2LRDXgR
This training was conducted with support from Give2Asia.
Civil Society in Action
As the nation went into lockdown grappling with the vast spread of COVID-19 in the community, our collective resilience to the pandemic was tested. While many of us stayed at home, some Civil Society Organisations (CSO) have been working tirelessly to help tackle some of the challenges during this lockdown and supporting the lives of the most vulnerable. BCMD was able to follow up with few CSOs to share their story.
Respect, Educate, Nurture and Empower Women (RENEW) who primarily work towards reducing vulnerabilities for women, men and children were able to extend their services to more than 200 clients seeking mental health aid and cases of gender-based violence during the second lockdown. RENEW's Community Based Support System (CBSS) volunteers along with the COVID-19 task force team across the nation have been able to help more than 151 individuals across Bhutan with shelter homes that were set up in all 20 Dzongkhags under Her Majesty the Gyaltsuen's initiative. Meanwhile, the team in Thimphu continue to provide tele-counselling services and counsellors have also been deployed to shelter homes in Thimphu.
Meanwhile, Nazhoen Lamtoen, an organisation focused on providing support and advocating for children and youth in difficult circumstances, were able to support nine families by providing them with essential and medical supplies to sustain themselves during the first lockdown. Additionally, along with protection officers from the National Commission for Women and Children (NCWC), they assessed the situations of several families in distress to provide the necessary care and support. During the second nation-wide lockdown, they supported their clients virtually and helped 12 families register for the Druk Gyalpo Relief Kidu Fund.
The Royal Society for the Protection and Care of Animals (RSPCA)dedicated themselves to ensuring the stray dogs and other stray animals don't go hungry or without care during this lockdown. With many cases of dogs being mistreated and requiring medical emergencies during the first lockdown, RSPCA and De-Suung collaborated to form a De-Suung team of 30 who were trained in animal welfare and first aid. These De-Suups, in their respective zones, have been essential in attending and providing care to cases surrounding animal mistreatment during the second lockdown. Four of the 30 De-Suups trained in animal welfare were attached with the dog-feeding team under His Majesty's Secretariat to ensure dogs were fed daily during the lockdown. With the awareness on animal welfare created among the De-Suung fraternity, the De-Suups, in their zones, were also helping to feed the strays. It has been inspiring to see the positive change in the community, says Tashi, the founder of RSPCA.