June eNews 2021
Posted by
Zulkee Choden Rinzin
, July 1st, 2021
Equipping Youth with Multimedia Skills
Over the years, the Media Lab fostered an innovative learning space for youth, where they were educated on using different multimedia tools. The ongoing sessions with the students of Motithang Higher Secondary School contribute to extending this initiative to youth in schools.
Following the introduction to photography, students were taught about the pre-production process of filmmaking. The students learnt about the tools used in filmmaking and the role of the various crew members. Some shared that they aspire to become a director, and others expressed that they now understood the valuable contribution of each crew member.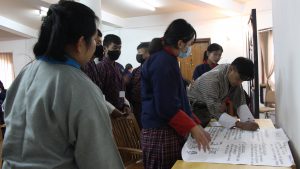 Students present the roles and responsibilities of the crew members for their selected stories.
Sameer Rai, a 12th-grade student, said, "I learnt about different [multimedia] tools while attending these sessions for the past two months… Later on, I can work towards creating a job for myself with the skills I learnt here." Many students shared similar aspirations of equipping themselves with skills to later pursue employment in the creative industry.
Reporting on the Rights of the Child in Bhutan
A total of 604 children from four regions of the country and 53 children from vulnerable sections of the population were engaged in order to produce the Bhutan children's report for the Convention on the Rights of the Child (CRC). This report will supplement the alternative report produced by RENEW and Nazhoen Lamtoen, and the country's report to provide the CRC committee in Geneva with a comprehensive picture of the child rights landscape in Bhutan during the upcoming periodic review.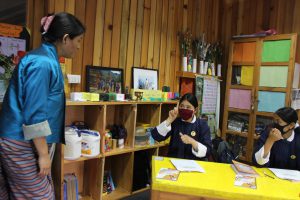 A child shares her experiences with her teacher during the CRC consultation at Wangsel Institute for the Deaf.
The Children's report highlights the most prominent issues of the day that children face in Bhutan which emerged during the consultations; the issues include access to e-learning, lack of importance for co-curricular programmes, quality of family and alternative care environment, and the intergenerational digital divide. A child from a shelter home shares this about his experience with e-learning:
"These days when we get classwork, the teachers send it on WeChat. The computers at school don't work and we can't use our phones because when they break/stop working, there is no one to fix them. This is why we need phones and laptops. We cannot keep up with the notes they send us, we are always 5-6 pages behind."
These findings are synthesised with data from the survey which covered all four regions of the country. Special attention was given to vulnerable children such as children with disabilities, children in shelter homes and children in monastic institutions so that their experiences are also captured in the report.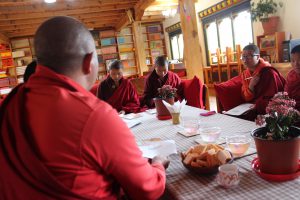 CRC consultations with the nuns.
The report will be uploaded on BCMD's website and also printed for distribution in July.
Thank you to UNICEF for funding this project.
Media and Democracy Literacy Reaching the Unreached
"Before this, we never had the opportunity to learn how to protect ourselves online. We did not know privacy settings were even possible. It seems we used everything without realising how vulnerable we were.", shared Gelay, a taxi driver from Thimphu city, as he completed a three-day MDL training with 17 other taxi drivers from Thimphu city this month.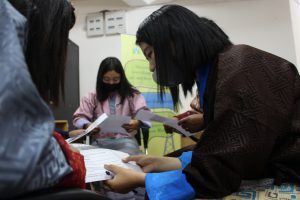 Participants learn about privacy control settings.
Past training participants say that they trust social media more than traditional media because social media provides a platform for citizens to author and access all kinds of information. During a critical time when misinformation is rife and countries struggle with disinformation, BCMD is equipping citizens, including vulnerable and underserved groups, with the skills to verify the news, stay safe online and use media as a tool for constructive feedback and discourse through a series of Media and Democracy Literacy (MDL) training.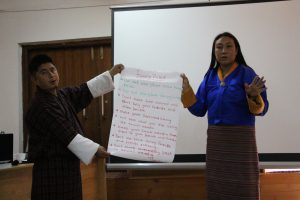 Participants present social media rules developed for their family.
In a separate workshop, 22 female artists from the Royal Academy of Performing Arts and local Drayangs (entertainment centres) reflected on their information creation and consumption habits to which Dechen, a participant from Thimphu, said: "Since I learnt about the concept of Digital Footprint today, I've been reflecting on what kind of footprint I've left behind. I realised that we need to be very careful about what we share online. Something posted by me can linger online long after I've forgotten about it and can impact somebody negatively. The abundance of information made available to someone through algorithms can worsen someone's mental health. We need to learn to consume the information we see [critically]. I think everyone needs to be trained in media literacy irrespective of their age or educational qualification".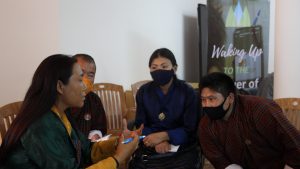 Participants in a discussion about social media guidelines.
With support from the United Nations Democracy Fund (UNDEF), a total of 42 women in entertainment and 32 male and female taxi drivers from Thimphu have been trained in MDL this summer. BCMD will continue to provide MDL opportunities to diverse groups of the Bhutanese population in the coming months/years. Follow our Facebook and Instagram to stay updated.
Communicating Effectively for a Cause
"Learning about communication plans stuck with me because it's important for CSOs to communicate their strategy to others. Communication is crucial to help raise funds and garner attention from the general public. A strong communications plan would benefit Bhutan Transparency Initiative (BTI) a lot and for all other CSOs, a strong communications plan can help generate enough publicity and they will be able to raise [funds properly]." shares Jigme from BTI.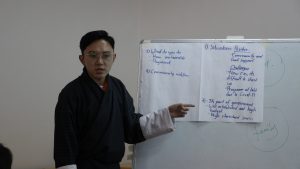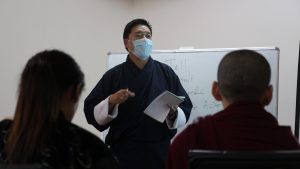 Participants present on the environment the CSOs are working in.
The two-day training on Effective Communications for 13 participants from 10 Civil Society Organisations (CSO) and the Bhutan Nuns Foundation provided the organisations with an opportunity to learn how to develop a communications plan and the importance of messaging. Understanding how to communicate effectively with their beneficiaries and developing social media guidelines for their organisation was a major learning curve for participants from the newly registered CSOs.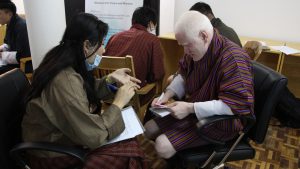 Participants share their organisations' tagline with eachother.
With this, a total of 46 participants from various CSO's and national society were trained by BCMD, Journalists' Association of Bhutan and Bhutan Media Foundation in 2020 and 2021 under the 'Building the Capacity of Civil Society Organisations to be Strategic Users of Media' project supported by HELVETAS Swiss Intercooperation, Bhutan.
In Conversation with Chencho Lhamu
Listen to our Executive Director, Chencho Lhamu, in conversation with Tshewang Wangchuk, the Executive Director of Bhutan Foundation as they discuss BCMD's Project Mi-Khung, a project aimed at enhancing civic consciousness in citizens and increasing their participation in a democratic approach to community development and decision-making.
Find the conversation here: https://fb.watch/6tiaA0filJ/


Screengrab from the conversation.
Thank you