May eNews 2021
Posted by
Zulkee Choden Rinzin
, June 1st, 2021
Annual Report 2020
2020 has been a year of learning that tested our ability to adapt to new realities. Despite the challenges of COVID-19, Bhutan Centre for Media and Democracy (BCMD) continued to impact as many constituents as possible and demonstrate its relevance and contribution to realising national goals. 
— An excerpt from the Annual Report Foreword, 2020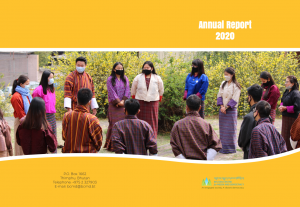 To get a deeper understanding of what activities we do at BCMD and to learn about our contributions as a civil society organisation, please read our annual report here:
http://bcmd.bt/wp-content/uploads/2021/05/Annual-Report_2020.pdf
Distributing The Druk Journal
BCMD is committed to building a community of local writers who are encouraged to think and debate on issues of national importance. In creating this community, we are also producing resources that are Bhutan-centric to encourage readers whilst also building a repository for the social sciences.
Currently, more than 400 copies of the latest issue — Bhutan After the COVID-19 Crisis — are being distributed across the nation to ministers, parliamentarians, government agencies, constitutional bodies, development agencies, colleges and secondary and high schools.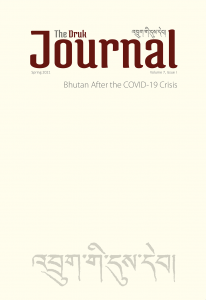 If you're interested in receiving regular issues of the journal, please subscribe by contacting us at bcmd@bcmd.bt
Check out www.drukjournal.bt to stay updated on current and emerging issues covered by the Journal.
Bhutan Democracy Forum Proceedings Now Live
Venturing on an uncharted path of Gross National Happiness as its development philosophy,  Bhutan stands out from the rest of the world. Democracy isn't about political parties or elections alone; it is an everyday exercise and it is only as strong as the participation of its citizens. The role of academia is critical to deepening and expanding the narratives and discourses on Bhutan's democracy but having to remain 'apolitical' is often a barrier. Narrowly interpreted as not expressing any views on issues perceived as political, the call to be 'apolitical' in institutions of learning as well as society, in general, has created much discomfort.
Therefore, BCMD in partnership with the Royal University of Bhutan hosted the Bhutan Democracy Forum on "Being Apolitical in Democratic Bhutan." Gathering an esteemed panel of national and international speakers moderated by Dasho Kinley Dorji, the 2-hour discussion saw the panel break down the topic of 'apoliticalness', its connotations and the misunderstanding surrounding it.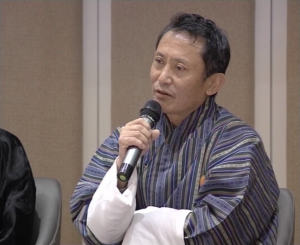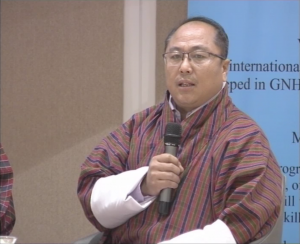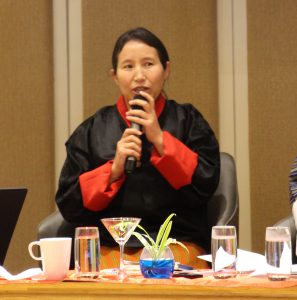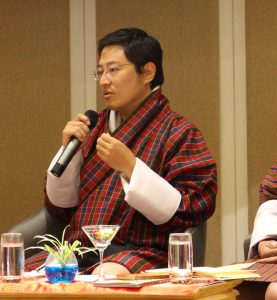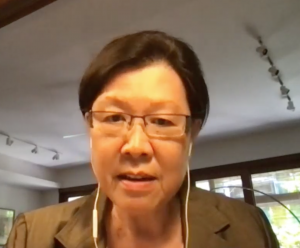 You can find the transcript from the discussion here:
http://bcmd.bt/wp-content/uploads/2021/05/Bhutan-Democracy-Forum-2021.pdf
Check out the videos below:
Speaker session – https://youtu.be/NMVWoAw9xjs
Q&A session – https://youtu.be/jlXEJqeIjL0
This project was funded by DIPD.
Together With Children — For Children's Rights 
Having been recognised in the region for BCMD's approach towards youth engagement in revising the National Youth Policy (NYP) last year, BCMD is now collaborating with UNICEF to conduct consultations with the children of Bhutan. The objective is to produce a childrens' report on the state of children's rights in the country whilst educating children about their rights and empowering them to become active young contributors to a vibrant democracy.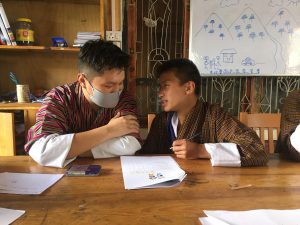 A teacher helps a child with disability at Draktsho understand the survey items
With consultations already underway, BCMD has conversed with over 60 children from rural and urban schools, Draktsho, Halfway Home, Monks and Nuns. With the need to be regionally representative, BCMD has also partnered with 4 schools from the four regions of the country (east, west, north/central, south) to expand the reach of the consultations. This has been achieved by training and empowering the focal teachers of the 4 schools to lead and administer the Committee of the Rights of the Child (CRC) survey developed to gain a comprehensive understanding of a child's outer and inner environment. In total, the collaboration with the 4 schools will pool together the voices of an additional 600 children of Bhutan.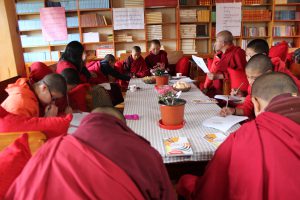 Consultation with nuns at Hongtsho
As an external and independent organisation with expertise in engaging young people to awaken their social consciousness and empower them to engage in open dialogue, careful attention is being paid to guarantee confidentiality and open space where the principles of free exchange can ensure that an unbiased and objective picture of childrens' environment emerges from the consultations. Two reports are being submitted to the CRC Committee: the State report and the Childrens' report which is supplemented by the alternative report — submitted by civil society organisations.
Learning the Basics of Photography
"The students are lucky to be availing these multimedia sessions because when I was a student, there were limited opportunities to pursue my interest in multimedia," says Siseer Chettri, the trainer for the Photography Basics sessions.
The successful partnerships in the last two years with Motithang Higher Secondary School have benefitted the Media Studies students with access to BCMD's multimedia equipment, software and classes, which is also being continued this year.
The first session on Photography Basics commenced in April, where 72 Media Studies students from Class 12 learnt about the techniques involved when taking photographs, which was complemented by the practical sessions. Thinley, a student from 12 Arts enjoyed the practical sessions and expressed that she looks forward to learning more about multimedia in the following months. The engaging hands-on experience provides the students with a chance to put their learnings into practice.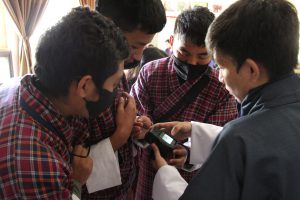 Students inquiring the trainer about lighting and composition techniques
The sessions will span over the school calendar, and the students will be involved in working on different projects to showcase the learnings of the class.
We thank CISU for their continued support of multimedia education.
Reaching the Unreached
Bhutan's fledgling democracy remains vulnerable as global social media introduces new values to unsuspecting Bhutanese society. The last two elections demonstrated how social media can shape perspectives, influence decisions, create divisiveness and spread misinformation. As we experience the pandemic, fake news, misinformation and malinformation have also been on the rise.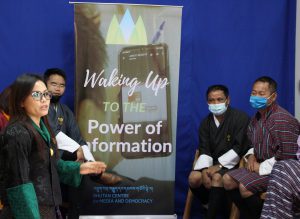 Responding to the need of the hour, BCMD has planned a series of workshops on Media and Democracy Literacy (MDL) for citizens from diverse backgrounds, including but not limited to parliamentarians, local leaders, teachers, and vulnerable and underserved groups such as taxi drivers, women in entertainment, and people with disabilities.
In the month of May, 20 female artists from RAPA and various Drayangs and 14 taxi drivers from Thimphu gathered to reflect on their news and social media consumption habits through two MDL workshops. These groups interact with a large number of people on a daily basis and are currently outside the radar of formal public institutions and deprived of capacity-building opportunities. The workshops gave them access to knowledge and skills on the role of citizens, media literacy and online safety.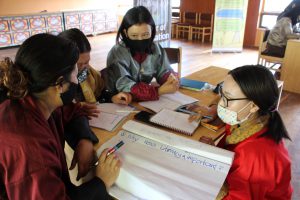 On her experience in the workshop, Changlo, a participant shared: "The three days I spent here were very enlightening and relevant for me as an artist and as a person. Many times, I've shared information I came across on the internet without even reading the full content, causing an unnecessary stir among people in my social circle, even among those far away in my village. What I learnt is that I'm supposed to check the credibility of anything I see or hear before sharing. Because one sentence I share can be interpreted in multiple ways by somebody else and then further shared with their own agenda."
This project is supported by UNDEF.
Orienting Elected Local Leaders to Asset-based Community Mapping & Media and Democracy Literacy
The five day training on Community Mapping (CM) and Media and Democracy Literacy (MDL) was an eye-opening experience for the 18 participants – "one of the most rigorous workshops"  according to Minjur Wangmo, Hongtsho Tshogpa.
During the training the local leaders and community representatives of the four Gewogs — Chang, Mewang, Kawang and Dagala — in Thimphu were engaged in group activities, role-plays, discussions and reflective sessions. The learning environment encouraged them to exchange their insights on their community and to reflect on how to utilise the learnings of the training to tackle community issues.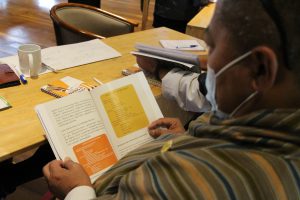 Mewang gup, Chencho Tenzin reads through the Dzongkha community mapping guide
During the session on MDL, Cheki Wangmo, Kuzuchen Madam shared, "I am more informed about media literacy after attending this training, and I am in a better position now as an educator to share this with my colleagues and my students." In addition to evaluating news, the participants also developed their social media guidelines and were enthusiastic to share this with their family and friends.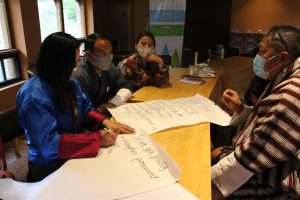 Groups working on their social media guidelines
At the end of the CM training, the participants concurred that they have always approached planning from a "deficit mode" inadvertently creating a complacent mindset. In the words of Aum Lemo, Gewog Administrative Officer of Kawang Gewog who has been an active learner: "We collect data on the community only when we receive instructions. Now I realise how important it is to continuously map communities and update the data. We have always asserted that we involve everybody in zomdues, but after the role play, I realised that we do not make concerted efforts to invite differing voices… From now on, I plan to include youths in our community in decision-making and take care of them. I also learned how to plan projects…I realised there are many missing pieces to our proposal."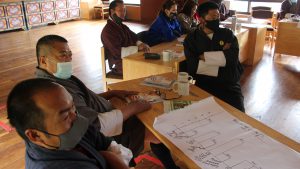 Learning about data collection and analysis when mapping communities
The series of training is supported by The Asia Foundation, which aims to strengthen the analytical and participatory planning skills of the participants and work towards developing existing Gewog consultation plans and the decision-making process.
Thank you