October eNews 2021
Posted by
Kuenzang Norbu
, November 2nd, 2021
Keeping up with the times – Zhung Dratshang, The Women of the Armed Forces and MDL
The month of October has been a busy one for BCMD. In two rounds of workshop, 28 monks and nuns from Zhung Dratshang and 40 women from the armed force colonies were engaged in a Media and Democracy Literacy (MDL) training conducted by Bhutan Centre for Media and Democracy.
During a critical time when misinformation is rife and countries struggle with disinformation, BCMD through its Media and Democracy Literacy (MDL) training looks to address this issue. BCMD is equipping citizens, including vulnerable and underserved groups, with the skills to verify news, stay safe online and use media as a tool for constructive feedback and discourse through the MDL training.
Zhung Dratshang
I was inspired by His Majesty the King's message that to excel together as a community or country, we need to catch up with the rapidly digitising world. So, I reached out to BCMD to provide this training for our monks and nuns, who are very vulnerable to the abundance of fake information on the internet"
– Lopen Thukten Jamtsho, the media focal person at Zhung Dratshang.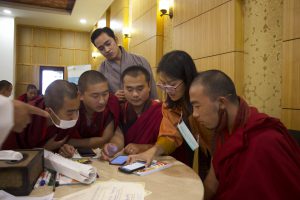 For the first time, the Bhutan Centre for Media and Democracy conducted a training on Media and Democracy Literacy (MDL) for 26 monks and nuns from Zhung Dratshang and 2 youths.
The training was graced by His Eminence the Drabe Lopen on the opening day who spoke on the importance of media literacy and encouraged the participants to share what they had learned with their peers. The participants were trained to judge the authenticity of news articles and reflect on their social media habits. The monks and nuns also developed social media guidelines from what they had learned over the three-day training. His Eminence the Laytshog Lopen, graced the final day of training instructed the Media Officer to compile the guidelines so that they could be further developed and distributed across the country. The training proved effective with numerous monks and nuns expressing their joy of being a part of this opportunity. "This is something new for us. We've been using Social Media but we didn't fully understand the privacy and security risks that we are vulnerable to", a nun said.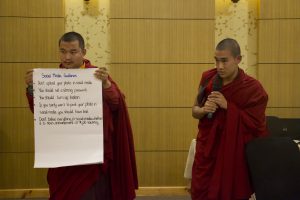 The positive sentiments towards the training conducted by BCMD with the monks and nuns of the Zhung Dratshang were further echoed by a monk who likened the training to "giving sight/vision to the blind". He then continued and said, "We usually stick to our religious studies and we do not really learn much beyond that, but the training provided new knowledge which is useful and relevant for the present day and age".
Women from Armed Forces Colonies
"In the Bhutanese society, more women than men assume caregiving roles and have influence over their children's media consumption habits. Families in the armed forces are particularly vulnerable because of the mobile characteristics of the armed forces." – Chencho Lhamu, Executive Director, Bhutan Centre for Media and Democracy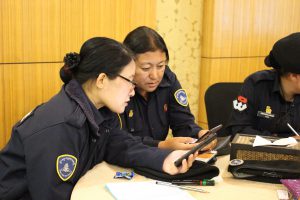 "My teenage kids have Facebook accounts but I don't know what they use it for –  perhaps they use it for studying?" said a participant, a spouse of police personnel, as she began a 2-day Media and Democracy Literacy training with 40 other women from the armed forces colonies last weekend.
The participants engaged in a debate on the advantages and disadvantages of social media leading to a conclusion that "mobile phone or WeChat is essential to reach out to our loved ones far away and learn about happenings in the rest of the country and the world. At the same time, it can cause trouble between the same loved ones if we believe everything we see/read on social media and we can also end up spending all our time using it. We need to use social media productively and not let it use us," as shared by a participant who is a spouse of a policeman.
Pema Tshomo, police personnel and mother expressed gratification for having been able to attend the training and added, "Just like how this training was given to us (mothers), I would like it if this training was also given to teachers in schools. Because these days, children seem to approve more of what they hear/ see at school than at home."
This project is supported by the United Nations Democracy Fund.
Young mappers share their Local Action Plans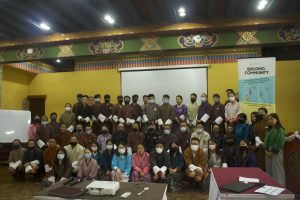 Trying their hands in community mapping for the first time, on 25th October, 20 first year students from Paro College of Education presented their project ideas to address community issues they have mapped in their localities. The projects aimed to address issues of plastic waste, ill-maintained community landmarks and lack of housing for college students.
The mappers had the opportunity to interact with and receive feedback from diverse members of the community, such as teachers, local leaders, district administrators, civil society members, etc. who constitute the Paro town hall. Together with the townhall members, they reflected on the practicality, necessity and sustainability of their local action plans.
In the following weeks, the students will implement their local action plans.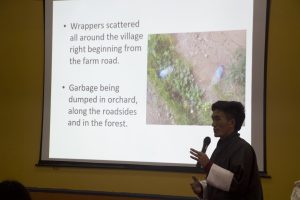 Sharings on Participatory community analysis and planning
After trying out their hands at facilitating participatory community analysis and planning in their chiwogs using the BCMD-developed toolkit, the participants shared their reflections, experiences and the co-developed community development plans on 25th October in Paro. 
"Before planning we did a community mapping, through this activity we are able to understand the community status, the existing issues and the type of plans to be formulated to help benefit the community." -Lemo, Gewog Administrative Officer, Kawang Gewog, Thimphu.
With the goal to contribute towards strengthening decentralised planning processes through modelling citizen participation and evidence-based decision-making at the local level, local leaders, administrators and residents in the year 2021 successfully engaged in a series of capacity development workshops and conducted public consultation with their respective chiwogs. The resulting community development plans, the findings of the participatory community analysis and planning from this public consultation were shared with relevant stakeholders such as representatives from Helvetas, JICA, DLG and GNHC during this reflective forum, the event was also graced by Thimphu Dasho Dzongrab Tashi Gyeltshen.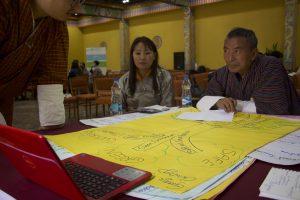 A total of 7 chiwogs, 4 in Thimphu and 3 in Paro engaged in public consultation where the chiwog residents and the project participants co-developed community development plans encapsulating citizen priorities and voice. Mr.Passang Wangchuk, Senior Program Officer at DLG who earlier joined BCMD the gallery walk of the participatory planning and community analysis planning training, shared that seeing the participants' engagement in formulating plans using tools developed by BCMD he can envisage better consultations and planning. He also highlighted the issue of replication of community development plans and the need for better consultations that can help change this.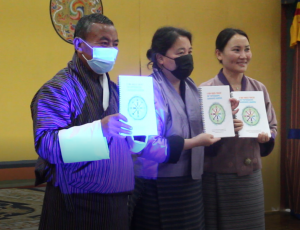 BCMD also launched its toolkit on The Gross National Happiness-based toolkit, which uses the four pillars of Gross National Happiness philosophy as a framework of holistic analysis. Along with the translator, Kuensel Dzongkha editor and the project participants the Dzongkha translation was reviewed and another reviewing session will be organised in the month of November. The objective of translating it to Dzongkha is to make it accessible and create inclusive knowledge resources for the diverse group of community members. Both the training and designed to help build the capacity of LG office bearers to be democratic, inclusive and consultative in conducting public consultations for planning and decision-making.
We would like to thank The Asia Foundation for funding this project.
Fostering an enabling environment for multimedia and storytelling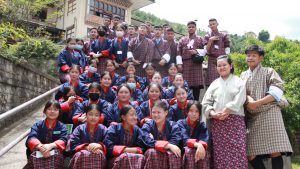 With the multimedia sessions at the Media Lab nearing the end, the students were introduced to Adobe Photoshop as a designing tool in addition to Adobe Premiere-Pro and Lightroom. Although students are oftentimes engaged in their academic and extracurricular activities, avid learners also join during Saturdays when the instructor is present to help learn more about the software.
Students like Ugyen Tamang, a media studies student of Motithang Higher Secondary School enthusiastically reached out to understand if the Media Lab will be offering any multimedia training during the winter. The growing number of youth interested in multimedia and storytelling indicates that there is a need to foster an enabling environment, such as the Media lab where youths are provided with the opportunity to learn about media and explore their potential to use it as a tool to share stories.