October Newsletter
Posted by
Tempa Wangdi
, November 2nd, 2018
Working Towards Better Collaboration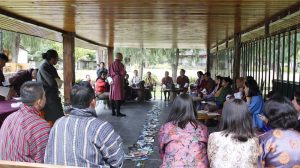 The summit touches on opportunities to collaborate with the government.
The two-day Civil Society Leadership summit was marked with an intensive journey into personal leadership and zest to chart an intensive strategic way forward towards a better civil society organisation (CSO) fraternity that can serve as a strong and effective partner towards a nation-building.
Bhutan Centre for Media and Democracy (BCMD) conducted the summit from 5-6 October to draw a strategic direction for civil society fraternity. The summit brought together 32 CSO members and seven representatives from ministries, such as finance, education, agriculture and department of local government, civil society organisation authority, and Gross National Happiness Commission.
During the summit, the members of CSOs talked about how to improve, network, and communicate better to collaborate and coordinate among the civil society and government as development partners.
Facilitator at the summit Adrian Chan, who is also a resource person at the Royal Institute of Governance and Strategic Studies reiterated on the importance of works of civil society. "If you want to go fast, you go alone, but if you want to go far, you take people along", said Adrian Chan. UNICEF funded the leadership summit.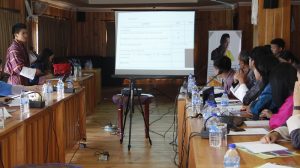 Young Mappers Presents Local Action Plans
Student mappers from Paro schools, colleges, and civil society organisation presented their Community Mapping results on menstrual health, recreational facilities, and book donation at the 2nd Paro Town Committee Meeting on 4 October.
Students from Karma Academy proposed the use of washable sanitary pads as they identified disposal of sanitary pads as one of the emerging issues. "If we can distribute condoms for free, why not a sanitary pad. Menstruation is natural for girls and women," said a woman teacher from Karma Academy, adding that sanitary pads should be made available for free to those who cannot afford in schools.
The mappers will present their results in the 3rd town hall meeting in November.
Chithuen Phendey Drop-in centre proposed to improve poorly maintained futsal ground, basketball and lawn tennis courts to offset the rising number of substance abuse among the youth in Paro.  Shaba Higher Secondary School will seek book donation to promote reading while Paro College will repair footpath in the college campus. Utpal Academy will conduct an advocacy programme in Drugyal, where waste management is troubling the community.
The mappers will execute LAPs in their respective schools and communities. Results from the Local Action Plans will be presented to the town hall in November this year. The project was supported by International IDEA.
Building Capacity Within as Non-profit
As Bhutan graduates from the Least Developed Country at a time when the charitable contribution is declining by the year across the globe, fundraising will play a big role in the sustainability of civil society in Bhutan.
And Bhutan Centre for Media and Democracy (BCMD) as preparatory move, discussed fundraising at its Media Lab in Nazheon Pelri Complex on October 17 with assistance from a freelance consultant, Christiane Berthiaume from Canada. The in-house discussion focused on how BCMD as a civil society can fundraise to sustain itself and its civic engagement activities.
One of our new board members and former National Council Member Sangay Khandu who attended the in-house fundraising training urged BCMD to expand reach and coverage of its activities and programmes. Sangay Khandu said that the BCMD should enhance its visibility by taking activities to the rural areas and to make an impact at the national level by engaging policy-makers, planners, and elected leaders.
BCMD also trained its employees in communications to improve their knowledge and ideas to network and reach out effectively to its constituents.