Participatory Consultation and Planning
Posted by
Bhutan Centre for Media and Democracy
, September 20th, 2022
Eight gewogs of Paro and Thimphu organised a Gallery walk of community development plans co-developed with residents of their gewog on 25th August. The Gallery walk is the culmination of the capacity-building workshop for local leaders, community empowerment to encourage active citizen voice and public consultation. 
Government officials, development partners and fellow civil society organisations attended the Gallery walk; interacted with the participants quizzing them on the planning processes and lessons from the GNH-based approach to community consultation and participatory planning.
Participants shared that the training in participatory planning was timely as many of them are newly elected and provided them with tools to study community needs through multiple lenses.
The Director of the Department of Local Governance (DLG) remarked that civic engagement and people's participation in planning are crucial to reducing the authority of the bureaucracy and decentralising planning where communities take ownership of their plans and community development.
Additionally, the Government Advisor of UNDP, Mr Kaiser Rana observed that the Gallery walk showcased a "classic example of a good participatory approach" and appreciated the level of participation and effort that had gone into preparing the plans.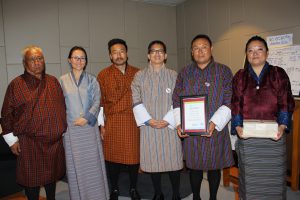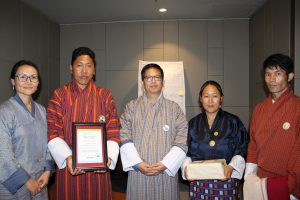 The Gallery walk culminated in awarding the best community development plan assessed by the facilitators and guests. The chief guest, the Director of the Department of Local Governance (DLG), gave away the awards and certificates of achievement to Wangchang Gewog of Paro and Mewang Gewog of Thimphu. 
BCMD acknowledges the support of the Bhutan Foundation and The Asia Foundation for making the workshop possible.