School Media Club Trains Teachers and Students on Media Literacy
Posted by
Tempa Wangdi
, April 12th, 2018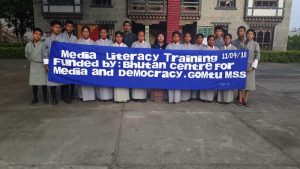 The training made students and teachers to be more critical before sharing any content online.
A total of 60 teachers and students of Gomtu Middle Secondary School in Samtse Dzongkhag (District) were trained in Media Literacy to create awareness on the responsible use of social media, proper online behaviour, and discuss the impacts of social media in Bhutan.
The media literacy training was a new knowledge for many participants who were using social media but were unaware of proper online behaviour and its negative sides.
"Before attending this training I was not aware of the legal actions for sharing offensive videos. Now I know the legal consequences of sharing anything on social media that might harm others" said one of the participants.
Another said that, analysing a media content critically before sharing or forwarding to any individuals was interesting and important message from the programme.
The training was supported by Bhutan Centre for Media and Democracy.