September eNews
Posted by
Zulkee Choden Rinzin
, October 1st, 2020
Conversation Series – Reimagining Bhutan: Building Forward Better Beyond COVID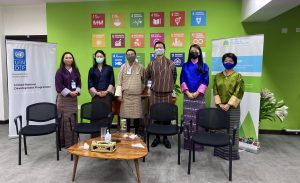 "They [students] need to be job-ready and have those skill sets and competencies so that when someone hires them, they can move in quickly. That's what good education should give you." (Tenzing Yonten, Co-founder & Director of Royal Thimphu College)
In addition to connecting formal education with the world of work, the first Conversation Series under the theme, 'Future of Work, Skills and Education' also touched on other relevant topics such as TVET integration, network intelligence, liquid workforce and micro-skills development among others. Here are some concrete recommendations made by the four panellists:
Integration of TVET into the secondary education & upgradation of TVET into a diploma level course as Applied Science
Shift from a rigid to a liquid workforce that connects Bhutan to the larger world in terms of e-commerce
Develop new models of teaching and learning that build critical and analytical skills, lifelong learning and constant skilling to remain relevant and responsive to a constantly changing environment
Develop public-private partnerships in technical and vocational education, telehealth, cottage and small industries, and Agri supply chain and e-commerce
The conversation series, a collaboration between BCMD and UNDP, comes at a time when the COVID pandemic exposes large, gaping holes in many of our sectors and we are forced to re-imagine the kind of policy changes and adaptations that needs to be implemented in order to build a more resilient nation that can withstand the pressures of the 21st century. Watch the entire conversation here!
Youth Initiative – Learning the Ropes of Social Media Campaign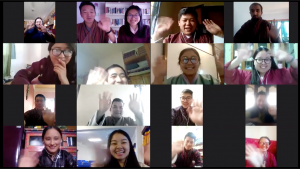 "So now, more than ever as a part of the generation that grew up with the internet, I believe it is the role of all young Bhutanese to become media literate in a world that is constantly bombarding us with overwhelming amounts of raw information. So my expectations for this summer camp is to … learn how we can use social media to become good participants of democracy" (Nim Dorji, Teacher at Rukubji Primary School & Youth Initiative (YI) Participant).
Building on the learnings and achievements of the winter camp where 20+ YI participants reviewed the National Youth Policy (NYP), the YI summer camp began this past Sunday with a lot of excitement! In its seven years of running, this has been the first time that it has been taken on an online platform with the participants joining from various parts of the country. Nonetheless, the conversation and attitude remained focused on the silver lining that this pandemic has provided in making us experience the potential that technology has in bridging distances and conserving resources.
Over the course of the day, the participants discussed the meaning, significance and relevance of Social Media Advocacy Campaign which remains the theme for the virtual summer camp. At the end of the camp, the participants will have the skills and competencies necessary to become advocates of social issues and ultimately the NYP when the revision passes through the necessary steps.
The YI is a year-long engagement that brings together 20+ youths and strives to have youth voices included within policy-making.
We thank CISU for your support in making YI possible.
Communicating Effectively with a Purpose – A Civil Society Workshop
Media Lab, Thimphu, 30 September: Members of 12 Civil Society Organisations (CSO) have come together for the three-day Communications Strategy workshop. It will help develop a well-thought-out strategy that enables seamless communication within and outside the organisation.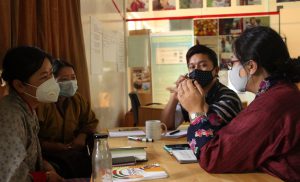 Majority of the participants shared the lack of importance their organisations placed on developing communications strategies. With the lack of staff, communications mostly trickled down to only updating social media as and when events took place. The need to develop an effective strategy that not only informs the audience of their programmes but also helps increase their allies and visibility for their cause was highlighted.
In response to the effectiveness of their CSOs communication plan to reach their audience, a participant shared, "It's hard to say since the current situation has forced us into digital means of communication which is efficient but also has cut off a major group of the population who do not have access to those digital means." The workshop aims to work with such scenarios and accordingly help develop strategies to address these challenges.
We thank EU/Helvetas for your support.
Upcoming
Conversation Series 2: Financing for Development and Future of Economy
The second conversation on Economic Recovery will have panellists provide insights on policy choices and investments that need to be made to revive Bhutan's economy.
Unemployment in Bhutan had improved in 2019 to 2.7% from 3.4% in 2018, however, this has reversed with more than 30,000 people seeking employment including youths who have returned from overseas in the past six months. Additionally, the tourism industry, which is the second-highest revenue earner in Bhutan has faced the brunt of the pandemic. The sector employs over 50,000 people who were left without an income after the country closed to tourists in March. The relief measures rolled out to support the livelihoods of people affected by COVID-19 have added financial pressure on the government resulting in a fiscal deficit of 6.18% of GDP in 2019-2020, which is estimated to worsen next year.
For an economic recovery that is successful, it is necessary to ensure the protection of jobs and workers during this pandemic, but it is also crucial to guarantee decent employment opportunities in the future that will anchor Bhutan's new economy. New and bold approaches are required to steer the economy towards a resilient, sustainable and inclusive trajectory.
The next conversation series will take place on Tuesday, 13 October 2020 at 3:30 PM. It will be live-streamed on BCMD and UNDP Facebook pages.
Reset! at The Media Lab
Starting the second week of October, Reset! at The Media Lab will create a platform for young recent graduates and those looking for jobs to be in direct conversation with thought leaders, practitioners, academia and others from diverse walks of life to discuss matters revolving around the socio-cultural, economic and political landscape of Bhutan.
The programme will make this possible by drawing on the expertise and experiences of a diverse group of individuals across various themes to help broaden participants' thinking and deepen conversations. The participants will be able to connect with their country's socio-economic and political issues at an authentic level that transcends theoretical classroom learning by bringing them into conversation with practitioners who have the wisdom of lived experiences, the academia who have in-depth theoretical and critical views on issues, and thought leaders who are forward-looking and bring in provocative ideas.
The prepared opening remarks will be recorded and made available on BCMD's youtube channel and other social media accounts to expand the platform on a digital scale.
Rethinking Urbanisation
The fall issue of The Druk Journal will explore the topic of urbanisation in Bhutan. Bhutan had the advantage to learn from the failures of others' development, to ensure the same mistakes weren't repeated, however, it appears our developmental path has not steered into the direction we had hoped.
The opportunity presented itself to develop well-planned towns and aesthetic cities as Bhutan opened up in the 1960s but attempts at creating urban centres have been far from successful. Efforts from the government have been immense in developing long-term structural plans with the help of foreign experts but there has always been a shortfall in implementation of these plans. With more and more emphasis being placed on technology & digitisation and cities around the world exploring the idea of "smart cities", Bhutan is still far behind with a capital city that is barely able to cater to the needs of people with disabilities.
This issue of The Druk Journal will be published in October, to subscribe please contact us at bcmd@bcmd.bt