September eNews 2021
Posted by
Zulkee Choden Rinzin
, October 1st, 2021
Reflecting on the #FutureIsNow Advocacy Campaign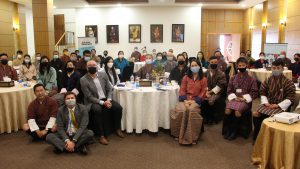 Reaching almost 600,000 people within the span of five weeks, the closing ceremony for the #FutureIsNow advocacy celebrated the progress of the campaign. Bringing together the members of the Youth Initiative and important stakeholders from the government and parliament, the closing also created a rare opportunity for youths and adults to inhabit the same space and discuss issues surrounding youth realities in Bhutan. Both youths and guests alike commented repeatedly on the need to work with each other to tackle youth issues that are cross-cutting in nature.
"Sometimes as a senior bureaucrat, I tend to get my priorities mixed up. So I think such events try to put things in the current perspective… Today we have multiple agencies whose independence and autonomy seems to be more important than… putting issues in the middle of the table and discussing to find a path forward".
– Secretary, Ministry of Information and Communication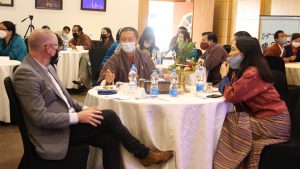 The closing which was graced by His Excellency the Foreign Minister also saw the official launch of the 'Youth Voices: Youth Matters' report which captures the voices of the youth reflecting on their realities and aspirations. Lauding the efforts of the youth and BCMD, the Foreign Minister remarked that this would be a current and up-to-date resource for the government to utilise as they continue their work on addressing the youth issues in the country.
Thank you to UNICEF and CISU for the support in carrying out this campaign
---
Expanding Conversations on Enabling & Harnessing the Power of Civil Society
"From the Ministry of Health, we look forward to and see the opportunity to work together with CSOs because there are lots of emerging health challenges coming up. So far we have been working together with CSOs on advocacy mainly but if the capacities of the CSO can be built up further, they can even contribute in technical areas… They are also more closely and have better reach at the grassroots level so it is an area where we can work together"
– Dr Pandup Tshering, Secretary of Ministry of Health
This year's Roundtable builds on the previous one from 2019 titled, 'Civil Society and Nation-building', to explore in-depth, what "an enabling environment" for civil society organisations constitutes and its benefits to society. The three speakers brought a range of perspectives to the question of how we "harness civil society potentials"; from explicating how civic action is embedded in traditional Bhutanese culture to how civil society inheres potentials for greater contribution to development as evidenced during the pandemic, to the need for aligning goals with larger issues of climate change for effective fundraising.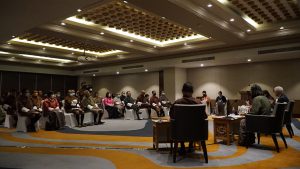 The roundtable also unearthed current restrictions placed on CSOs especially at the registration process and how that has negative implications in creating a vibrant and giving society. A panelist, Dr Karma Phuntsho proposed that the registration should be made very easy so that it also inspires a spirit of donorship but should be complemented with effective and strict monitoring of funds afterwards. Other discussions revolved around the comparative advantages of CSOs as small and nimble actors that have effective reach and understanding of their respective niches.
The roundtable was attended by a total of 49 participants from various ministries, constitutional bodies, political parties, local government, parliament, media, judiciary, academic institutions, and fellow CSOs. As the civil society Act is due to be tabled for amendment in the 2021 parliament session, we thank CISU for making the roundtable possible.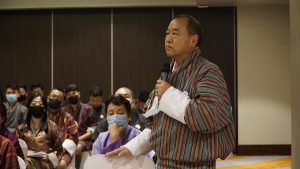 ---
Learning to Care about One's Community
"The workshop inspired me. I had never cared about anything other than myself but now I know I am responsible for my community too."
– Student, Sherubtse College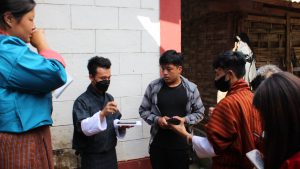 Earlier this month, 50 students of Sherubtse College, Kanglung, completed a four-day asset-based community mapping workshop. Asset-based Community Mapping is a tool that puts community members at the forefront of community development. As the participants mapped assets and shed light on issues in different localities in Kanglung, they shared that they felt empowered to engage in their community's development. The workshop ended with participants sharing creative ideas to address issues they care about.
Throughout the four days of the workshop, the participants were also accompanied by 13 other students who were trained in peer facilitation in July 2021. The peer facilitators were able to share their earlier mapping experiences and help facilitate the learning process of their peers. "I was a timid and shy person. But now I've gained confidence and am able to share my opinion without hesitation. Also by learning to respect others' opinions, I think I've become a better person", shared peer facilitator, Tsheten.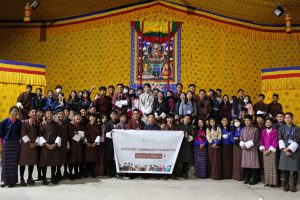 With support from the peer facilitators, participants are currently designing local action plans to address highlighted issues. The local action plans will be implemented in the following months.
Thank you Bhutan Foundation for the support.
---
Practising Democratic and Inclusive Public Consultation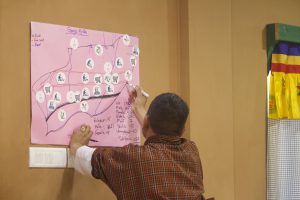 Tshering Pem, a DeSuup who participated in the Rinchen-ding Sahri consultation expressed, "I have gained a better understanding of some of the community's issues and how community development plans are presented as a result of this consultation. We youths have never been included in any community meetings before, but today's consultation provides us with a chance and a platform to express our issues and challenges. As a result, I believe that young engagement in this type of dialogue will become increasingly essential in the future."
Participants who were earlier engaged in the participatory planning and decision making workshop in August worked in groups to practise inclusive public consultation in unravelling community issues and assets, prioritising and drafting their community development plans. A total of six consultations were conducted in six chiwogs across Thimphu and Paro.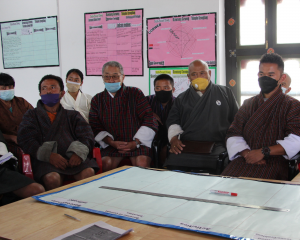 The consultation was carried out using BCMD's Gross National Happiness-based toolkit, which uses the four pillars of Gross National Happiness philosophy as a framework of holistic analysis. In the following month of October, the above gewog development plan will be presented at an appropriate forum to influence the community development plans and policies.
We thank The Asia Foundation for this wonderful opportunity to enhance decentralised planning at the gewog level.
---
Learning Video Editing Skills
The Media lab is alive with 73 high school students who attend regular weekly sessions to learn practical skills of using Adobe Premiere Pro to edit their videos.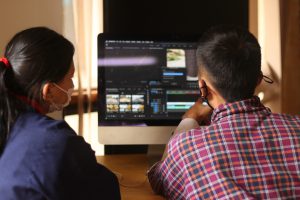 Tshering Selden, a student of 12 Arts B expressed that she enjoyed the video editing sessions and also joined the trainer on Saturday to practice her video editing skills at the Media lab. Working in groups on their creative projects enables a learning environment where youth come together to use their creative energy to realize their potential.