Students Complete Local Action
Posted by
Green E-Solutions
, December 14th, 2017
Four schools and Paro College of Education presented the results of their local action projects at the 3rd Town Committee meeting held on December 11 at Paro.
The local action projects are the results of training students in Community Mapping to build community initiative. BCMD trained the students and teachers from four schools and Paro College of Education in Community Mapping Exercise. The projects were carried out in around three months with funding from BCMD.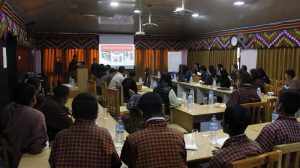 Building community initiative among the young minds
Shaba Higher Secondary School students carried out Spring Water Conservation in Kesa while Khangkhu Middle Secondary School renovated canopy on their campus. Drugyel Central School repaired damaged drains on their campus and Paro College of Education conducted advocacy and sensitisation on waste management. Shari Higher Secondary School took up maintenance of water pipes and taps at Shari.