Summer Forum Visioned for Paro 2025
Posted by
Green E-Solutions
, July 12th, 2016
Locals, local leaders, representatives from the police, MPs and youth gathered at the Tashi Namgay resort in Paro to vision for Paro 2025.  The one day Summer Forum on July 12 saw 36 citizens of Paro take part.
The forum was designed like a town hall meeting to make the locals understand that people's voice and initiatives matter. The day started off with group discussion on 'what is community?'.
One of the groups shared:
"Community is combination of all the basic amenities, natural environment, and all other resources used for sustenance and livelihood of people."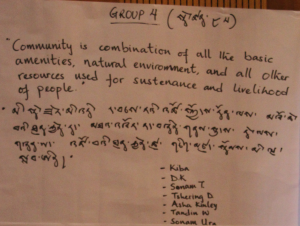 Others shared that it is the sharing of common boundary, language, customs and traditions which makes up a community.
Followed by that, a presentation by Siok Sian Pek-Dorji, executive director of the Bhutan Centre for Media and Democracy focussed on why civic engagement matters in a democracy. Her message to the participants was that decision making in a democracy is and should be a collaborative effort between the citizens and the authorities.
Participants were also introduced to the findings and lessons from the past two community mapping workshops held in Paro in 2015. Tshewang Ngedup, a teacher at Olathang Primary School and Meera Ghalley, a recent graduate from Sherubtse College presented about the work they have done with their respective community and the follow ups done. A total of five communities; Bara in Shari, Denkha in Shaba, Tshongdue, Lango and Bondey were mapped in 2015.
A discussion on building community was also held. The session was facilitated by Hon. Nima, Member of Parliament, National Council. He quizzed the participants on why community matters, carried out a group discussion on the importance of the Bhutanese community. Hon. Nima also talked about why civic engagement matters in a democracy and how can we build a community.
In the afternoon session, led by Dr. Jagar Dorji, former National Council member and Sonam Ura, teacher with the Royal Academy, Paro, a visioning exercise was carried out. A vision of Paro in 2025.
Working in groups, participants visioned for an advanced transport system for Paro town, a village where oral history has transcended into Bondey preserving our age old culture and traditions. Residents of Shaba saw mechanised farming being practised with less human labour input. Another group from Paro town wanted trees planted from Bondey to Drugyal along the roads and car parks. They also wanted to identify green zones in Paro. The group from Lango visioned for Paro to be economic driven where export quality grains will be produced and youth are involved in entrepreneurship.
The forum provided a space for conversation, an opportunity for the participants to practice democratic voice. Member of Parliament from Doegar Shaba constituency in the National Assembly, Hon. Kesang D. Wangmo in her closing remarks stressed on the importance of having a community and promised to be part of such community building discussions and forums in the future.
The forum was supported by UNICEF and was held as a follow up of the two community mapping workshops held at Paro in 2015.