Activities from January 2018
Posted by
Tempa Wangdi
, February 5th, 2018
Youth to Address Local Issues

The participants visited the parliament to interact with officials from the National Assembly Secretariat
Proposed Local Action
Plans
Zero Waste Policy
Advocacy to Reduce Teenage Pregnancy
3Rs (Reuse, Reduce, and Recycle) of Paper
Environmental Education
Advocacy to Reduce Alcoholism
A total of 24 students from schools in Thimphu and colleges like Sherubtse and Samtse College of Education participated in the Youth Initiative Camp that BCMD started in 2014. YI was started to empower youth to share their voice, impart skills in research, debate, and dialogue to build a strong community of active citizens across the country.
During their weeklong training, the participants divided into five regional groups proposed five projects they would work on after the residential camp.
Students from Samtse, a dzongkhag (district) in the southern foothills proposed a "Zero Waste Policy". This project will study the causes of food waste in Samtse College of Education to frame a "Zero Waste Policy" that the group will propose the college to adopt.
The group from Thimphu consisting of youths from the capital city proposed an advocacy programme to educate youth on teenage pregnancy. The group will educate teenagers about the ill effects of teenage pregnancy for both girls and boys.
Students from Taktse Higher Secondary School and College of Language and Cultural Studies also from Taktse in Trongsa proposed to promote 3Rs to reduce waste through reuse, reduce, and recycle in the nearby communities.
Students from schools in Lobesa-Punakha proposed to educate communities living around the habitat of critically endangered White-Bellied Heron (Ardea insignis) on the critical state of the endangered bird. They will also visit schools to educate the students on the importance of the environment.
As alcoholism still remains a major problem in Bhutan, students from Sherubtse College and Rangjung in Trashigang will conduct advocacy on the negative effects of alcohol on health and families. The group will also work towards initiating plans to reduce illegal sale of alcohol in the college premises. We look forward to following the progress of the youth in their specified activities.
The five groups are being mentored to guide them as they undertake the projects.The YI Camp was supported by UNICEF, Bhutan and a group of five volunteers.
Bhutan- S'Pore Begins Youth Exchange Programme
Representatives of four civil society organisations (CSOs) from Bhutan traveled to Singapore in first ever Bhutan-Singapore Youth Leadership exchange programme from January 14-17.
During their exchange programme, the young CSO members from Bhutan were given an insight in areas of leadership, communications, stakeholders' mapping, and service learning. The youths from both the countries will work together to design an exchange programme for its next meeting in May 2018 in Thimphu. The groups will focus on leadership and social enterprise exchange between the two countries.

The participants from the two countries will meet at Thimphu in May.
CSOs' Works Featured in Local Newspaper
For democracy to succeed, leaving everything to be done by the government doesn't really lead to a successful governance.
Civil Society is often called the third sector, the space outside of government and the private sector where people associate and address issues for the common good. Bhutan's transition to democracy in 2008 and the enactment of the Civil Society Organisation Act in 2007 has led to an upturn in Bhutan's civil society, at least in numbers.

The series on CSOs being readied for the compendium at the press
Bhutan Centre for Media and Democracy (BCMD) through funding from Swiss Helvetas Intercooperation Bhutan featured the works of young civil society organisations (CSOs) in Bhutan through a partnership with a local newspaper. A series on CSOs were featured in the K2 section of the daily newspaper, Kuensel.
Through this project works of 44 CSOs were featured to educate and sensitise the Bhutanese people in general on the works of CSOs. CSOs work in a wide-ranging field – from the promotion of democracy to arts, culture, empowerment of children and women, media, animal rescue, transparency, health, and specially-abled persons were featured. Several mutual benefit organisations were also covered.
The series is now compiled into a compendium to share CSOs' stories. We dedicate the publication to everyone who has ever volunteered time for community betterment, sat on boards of CSOs, or who works in the growing civil society space in Bhutan. With Helvetas support, BCMD was able to collaborate with Bhutan's CSOs in several activities in 2017 to promote networking, capacity building and publications to support understanding of civil society. We thank Helvetas for bringing CSOs in Bhutan together.
Community Mapping Building Active Citizens 
Because democracy was introduced only about 10 years ago, civic engagement and roles of citizens are still new to most Bhutanese.Bhutan Centre for Media and Democracy (BCMD) since 2008 has stepped in to educate a cross-section of society on the role of citizens and how to discover their strengths to resolve nagging local issues in their communities. Among many democratic approaches, BCMD has been piloting community mapping in a number of schools in Paro and Samdrup Jongkhar Dzongkhags (districts).
Community mapping is an asset-based approach, which focuses tapping into local resources, expertise, and knowledge to address community issues. This approach involves the community to identify, explore, and plan projects to implement developmental projects in their communities through a participatory approach. The programme aims to model a democratic approach to community development and to enhance civic consciousness in youth and local residents.
"We now have a sense of ownership because we carried out the work and feel the pinch if something goes wrong with our project," a participant

from Paro, Ruth Gurung.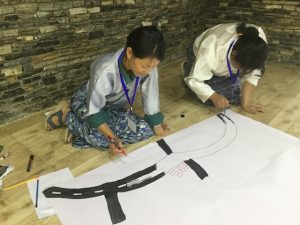 Teachers mapping their communities during a community mapping training of trainers in Paro
In 2017, through support from IDEA International, BCMD successfully trained and implemented five projects in Paro. Students from Paro College of Education and schools implemented the following activities in various communities in Paro.
Paro College of Education: Advocacy on Waste Management
Shaba Higher Secondary School: Adoption of Spring Water Source at Kesa Village
Drugyal Central School: Repair of Poorly Maintained Drainage on School Campus
Shari Higher Secondary School: Maintenance of Drinking Water Supplies at Shari
Khangkhu Middle Secondary School: Repaired a Canopy on its School Campus.
BCMD in collaboration with Samdrup Jongkhar Initiative implemented four local action plans in Samdrup Jongkhar. Canada Foundation supported the mapping Samdrup Jongkhar and the students from there implemented following activities:
Dewathang Primary School: Improved Road Safety
Garpawoong Middle Secondary School: Maintenance and Clearing of Drainage
Jigme Namgyel Engineering College: Constructed Four-unit Public Toilets at Dudjom House (A monastery frequented by hundreds of devotees and tourists)
Youth Development Centre: Waste Management Advocacy forTenants of National Housing Development Corporation.                                                                                                                      
Community Mapping Results
Trained and Involved Over 470 Teachers and Students
Engaged Local Leaders, District and Thromde Officials, and Community Members in community development Through Shared Experience of Community Development
Helped Educating Youths, Community Members, and Residents That Their Role as Citizens Extends Beyond Just Exercising Their Rights to Vote
Empowered Youth with Skills of Inquiry, Research, and Critical Thinking and Analysis
Inspired Young Minds, Community Members, Official from Dzongkhag (districts) and Thromde (municipal) to be Active Citizens and Agents of Change.
Participants from Samdrup Jongkhar in the training.
In the meanwhile, community mapping training for another batch of 12 teachers, out-of-school youths, Samdrup Jongkhar Initiative has begun from yesterday at Jigme Namgyel Engineering College, Dewathang in Samdrup Jongkhar, south-east of the country. Samdrup Jongkhar two-day drive from Thimphu.
 Media Lab Creates Space for Creativity
Since it was established in 2013, Media Lab has become an important space for youth, civil society organisation (CSO) members to learn multimedia skills in audio, video, communication, debate, and networking.
Voices and expression are important in a democracy like Bhutan. The lab provides the space wherein youth can pick up skills of self-expression through media production. In doing so, they also learn critical thinking, code of ethics of media and expression. These will contribute to fulfilling the overall objective of the lab that is "To create a dynamic, intentional learning space that engages youth" and "giving youth a voice". Many activities were conducted in 2017.
282  People Trained                14 Activities     
20 Short Movies Produced

7 Talk Raven Talk Show Held 
1 Music Video Launched
Just in 2017, over 282 youths, CSO members benefited from various programmes such as multimedia training, Youth Initiative, public speaking, basic photography training, google apps training, among others. In 2017, around 14 activities were held at media lab including, media literacy and a number of multimedia training for CSO members,
communication advocacy, Google apps, and training of trainers.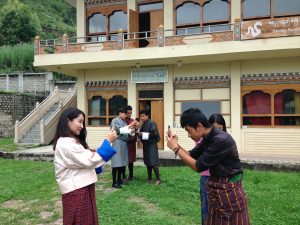 Objectives of the Media Lab is
To provide the members with space and equipment
To create space to build skills of youth n media production and to amplify youth voice and expression. Services Available in the Media Lab
Basic and Intermediate Photography 
Filmmaking and Editing 
Media Literacy
Open-Mike Night 
Talk Shows
The Lab is calling for membership. Time to register if you're interested.
Contact: 02-327903