Inspiring active citizenship
Posted by
Tempa Wangdi
, July 5th, 2018
Think Critically When Consuming Information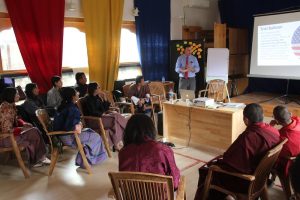 Participants found the News and Media Literacy most relevant in the age of digital information.
Increasing number of people including the members of civil society, teachers, nuns, and monks found News and Media Literacy workshop relevant and felt the need for more such workshops across the country.
Bhutan Centre for Media and Democracy conducted another round of News and Media Literacy workshop for members of civil society orgsanisation (CSOs) on 29-30 June. Over 24 CSO members including communication officers and programme officers attended the workshop. A monk from Gangtey Monastery in Wangdue Phodrang and two nuns from Pema Chholing Nunnery in Tang, Bumthang were among the participants.
In the wake of increasing number of controversial and misleading posts on social media, participants felt that the News and Media Literacy could be an answer to online confrontation. "If people had attended media literacy before, the recent incident of a video of a group of boys bullying another boy would not have happened," Thinley Wangdi from Khengrig Namsum Cooperative in Zhemgang said.
But Thinley said that the requirement of media literacy is, even more, greater in rural areas. "News and media literacy training should be brought to rural areas since rumours and misleading information on social media is causing many problems in the communities," Thinley Wangdi said.
Other CSO members felt the need to spread media literacy to more members of CSOs, youth, and school children since most are active on social media. "I will definitely talk about media literacy and social media with my family members," Yeshey Wangmo from Bhutan Network for Empowering Women said.
BCMD would like to than Helvetas for supporting the workshop.
A String of Activities in July to Enable Youth
It's that time of the year when Bhutan Centre for Media and Democracy (BCMD) bring together scores of youth from schools and colleges across the country to enable young minds to bring change and make an impact in the communities.
As in the past, over 100 youths from different schools and colleges will be in Thimphu to attend Youth Summit on 11-14 July at Royal Thimphu College. Over the span of four days, youths will reflect on the current scenario of the youth in the country. As the future generation, they will then look ahead to dream an ideal Bhutan over the next few years. Youths will work in groups to identify issues to be resolved to realise that dream of ideal Bhutan.
This exercise will result in each group to come up with a project proposal consistent with their dream of ideal Bhutan. Bhutan Centre for Media and Centre will review and support the projects which youths will implement in the following months. In 2017, participants of Youth Summit implemented eight projects which went on to train students in First Aid and waste management and construction of footpaths.
Visioning Workshop For  Paro Town
Over 100 people including the sector heads, local government officials, residents, youths, and civil society organisations from Paro will meet for "Visioning Workshop," Bhutan Centre for Media and Democracy (BCMD) is holding in collaboration with Paro Dzongkha on 3-4 July.
The visioning workshop chaired by Paro Dzongda, is hoped to help Paro town to come up with a vision and mission statement to prompt relevant stakeholders to think about their role to contribute towards a "common vision and mission". In two days, relevant stakeholders will talk on a number of themes, mostly issues the town is facing and share their dreams to come to common vision and mission for Paro town. The visioning workshop is an infantile step towards adopting a vision for Paro town.
Youth Initiative 
Youths from various schools in the country will be engaged in step-down Local Action Plan from 5-7 July at Bhutan Centre for Media and Democracy's Media Lab at Naxhoen Pelri Complex during the Youth Initiative. This time, besides writing proposals, media literacy and report writing workshops will also be conducted for the participants.
Peer Facilitation 
Participants from Youth Initiative will be trained in peer facilitation and use of Appreciative Inquiry as a framework to facilitate the Youth Summit using positively framed probing questions to prompt reflection, imagination and sharing of stories. The facilitation training will be conducted at Media Lab from 9-10 July.
The training is expected to help participants how to:
Use a contextualised version of Palmer's Habits of the Heart to generate reflections and discussion around values of citizenship
Coordinate and co-facilitate group discussions and activities.
Thank You for Reading. Keep Supporting Us.