May e-NewsLetter
Posted by
Tempa Wangdi
, June 3rd, 2019
The Druk Journal on Education is Out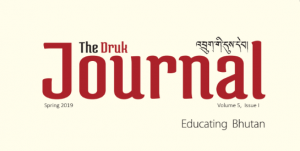 The 9th issue of The Druk Journal "Educating Bhutan – Nurturing a Society that Learns to Learn", has been published and is readied for distribution across the country.
Containing 18 articles by academicians from within and outside the country, 'Educating Bhutan' looks at education as learning beyond the classroom. This issue of the journal is intended to enable the society to see education not only as preparation for jobs but as a lifelong endeavour to learn.
Four political parties also shed light on the respective party's stance on education. They discuss and debate on pertinent issues, removal of cut off point for class ten, pruning of curriculum, off Saturdays and central school and education as their long-term goal.
With education overwhelmed with issues, it outlines some recommendations on Educating for Gross National Happiness (EGNH), 21st Century learning, research culture, vocational education in Bhutan. A ministerial adviser from Finland shares how her country has excelled in education every year.
It also highlights the exceptional progress that Bhutan had made to educate its elderly citizens in rural areas with the inception of Non-Formal Education. This edition of The Druk Journal is partially supported by DIPD.
More Colleges to Hold Suja Dzow Conversations
Sherubtse College in Trashigang and College of Language and Culture Studies (CLCS) have signed a Memorandum of Understanding (MoU) to hold Suja Dzow Conversation in the respective campuses in the future.
Bhutan Centre for Media and Democracy signed MoUs with the two colleges in May. According to the colleges, The Druk Journal (Suja Dzow) Conversation will provide students an open space to reflect, discuss, and debate on important pertinent national policy, social, political, and economic issues.
BCMD will support the conversations as and when there are relevant themes covered in The Druk Journal.
Economy Seminar in Sherubtse College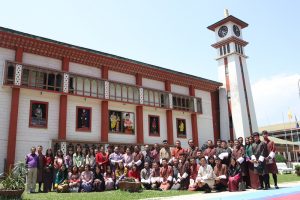 The Suja Dzow Conversations will provide students a much-needed space to discuss issues.
The last of  Seminar on 'Transforming Bhutan's Economy' was conducted in Sherubtse College on 6 May.
The college reported that around 150 students, faculty members of Sherubtse and Younphula Centenary Colleges attended the seminar on the economy, which was released in December last year. Three speakers who contributed to 'Transforming Bhutan's Economy' went to deliver a talk on the subjects they covered.
TechPark Thimphu Chief Executive Officer Dr Tshering C Dorji spoke on how Bhutan and its youth could exploit ICT for development. Business Reporter from Kuensel spoke on the government's initiative to redirect the country's economy by improving access to finance from the banks to underserved sectors.
Dasho Kinley Dorji shared his views on One-Gewog-One-Product, challenges, and scope for "Brand Bhutan". We thank the Royal Monetary Authority for supporting the seminar.
BCMD to Support First Youth Conference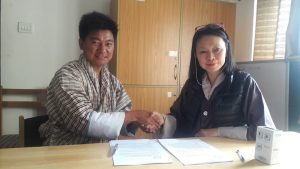 The National Youth Conference is first such youth-led conference to be held in the country.
BCMD signed MoU with National Youth Conference (NYC) 2019 to support the conference slated to happen September this year.
NYC according to its organisers is the first of its kind in the country. The conference is planning to bring together 150 – 200 youths from across the country to discuss Bhutan's development trend against the backdrop of issues facing youth. BYC will comprise of presentation of papers, plenary, and identification of local action.
The initiative is also aimed at developing an action plan towards the inception of National Youth Council to "reach the unreached".
New Batch of Youth Filmmakers at Media Lab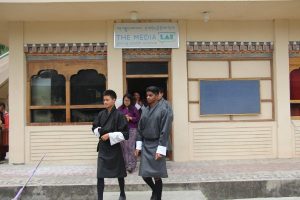 The students will learn to use their views and tell stories through visuals.
For the past three months, 77 students of Motithang Higher Secondary School have been attending filmmaking and photography classes at BCMD Media Lab in Nazhoen Pelri Complex in Thimphu.
During the 3-month long period, students have been learning filmmaking, storytelling, storyboard, and photography. This is the 2nd batch of students that have availed the training at the lab. "The weekly media classes at the lab prepares us for life after high school. We not only learn how to take photographs and edit videos but also learn how to use social media responsibly. It's been two years I have been coming to the Media Lab and each time I have learned something new. " said Kinley Namgay from MHSS.
Going by the demand from youth and individuals, the lab has also been offering similar courses on Saturdays.
Project Mikung Begins its First Step
The Project Mikhung (Community Building Initiative) held a consultative meeting with principals and focal teachers of Drukgyel Central School and Shaba Higher Secondary School in Paro on 15 May 2019.
The consultative meeting was aimed at broadening Community Building Initiative to whole school approach by engaging parents and communities around the schools.
As follow up BCMD in collaboration with Paro Dzongkhag (district administration) and schools will also launch a campaign on Paro town vision and mission on 22 June 2019.
The launch of the campaign will also kick start Project Mikhung implementation, which includes a series of training, workshops, research, and seminars.
Wangsel School for Deaf Holds Photo Exhibition

Students and teachers from nearby schools in Paro attended the Photo Exhibition.
Following the training on photography and photo caption, students living with hearing impairment and deaf held their first ever photo exhibition in Paro.
Following the training on photography and photo caption, students living with hearing impairment and deaf held their first ever photo exhibition in Paro.
Bhutan Centre for Media and Democracy in collaboration with Wangsel Institute conducted a photo exhibition on 18 May 2019 at Wangsel Institute. More than 90 people from different schools from Paro and supporters of the institute came for the photo exhibition. The photo exhibition was a follow up of the NatGeo Photo camp.
"I feel very proud to see my picture on the wall. It encourages me to keep taking pictures and tell stories. The exhibition allowed me to share my experience and let the audience get an inside to subjects world," said a student from Wangsel Institute. The photo exhibition was also covered by the National television, Bhutan Broadcasting Service. NatGeo Photo Camp supported the exhibition and the training.