Posted by
Tempa Wangdi
, October 31st, 2019
Suja Dzow Conversation Over Tourism in Bhutan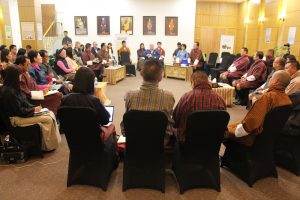 Stakeholders talk about tourism in Bhutan at national and policy levels.
Changangkha, Thimphu, 28 October 2019: The Druk Journal's Suja Dzow Conversation on "Tourism in Bhutan" generated an open and comprehensive dialogue and feedback session on tourism at an opportune time as the government is reviewing the tourism policy.
Foreign minister and chairperson for the Tourism Council of Bhutan (TCB), Lyonpo Dr Tandi Dorji said that he's noted many new and good suggestions from the conversation with more than 60 persons from the tourism sector, members of parliament, representatives from political parties, the media, government, and CSOs at the discussion…. "These suggestions will be taken very seriously when we hold our bilateral discussions," said Dr Tandi Dorji.
"…Bhutan must have only one tourism policy…basically one overarching – high-value low volume or high-value low impact," said the minister".
Stakeholders called for improved management of tourist numbers throughout the year since tourism is concentrated only in few districts. The Director of the Association of Bhutanese Tour Operators Sonam Dorji called for improved coordination, collaboration, and partnership to improve the current situation. "The issue is not the mass tourism but rather management so we are talking about governance and coordination," said Sonam Dorji.
Chuni Dorji from the Hotel & Restaurant Association urged the relevant governing bodies to put in place proper rules to govern tourist behaviour. "Proper signage, pamphlets, and notification has to be put in place and those found violating the rules should be held responsible," said Chuni Dorji.
BCMD acknowledges the support of the DIPD, the Tourism Council of Bhutan, and the UN system for the production of this latest issue of the Journal. We thank local hotels and UNDP Bhutan for supporting the conversation.
Support the Druk Journal, subscribe to the journal today http://drukjournal.bt/
The Druk Journal on Tourism in Bhutan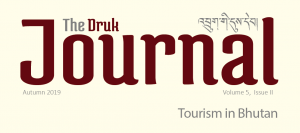 The 10th issue of The Druk Journal looks at the current issues in tourism suggesting some solutions and ideas.
Changangkha, Thimphu, 28 October 2019: The 10th issue of The Druk Journal "Tourism in Bhutan" which looks at the much-debated issue of mass tourism against the national tourism policy of "high-value low volume" has been published and is being distributed across the country.
This issue contains 14 articles contributed by some of the prominent writers, journalists, and thinkers from Bhutan and neighbouring countries including China, India, and Nepal. The issue also brings insightful interviews with some of the oldest and regular visitors and friends of Bhutan from Japan, Machiko Wakita and the USA, Brent Olson.
"Tourism in Bhutan" is a solid issue on tourism capturing issues from the policy level to realities and risks of mass tourism including transport, rising number of hoteliers targeting regional tourists, preservation of sacred spaces from being overwhelmed by backpackers. Tourism in Bhutan also looks into regional neighbours like how mass tourism has impacted Nepal and how Kerala in India has succeeded in responsible tourism.
BCMD acknowledges the support of the DIPD, the Tourism Council of Bhutan, and the UN system for the production of this latest issue of the Journal.
Civil Society & Nation-building: An Interactive Forum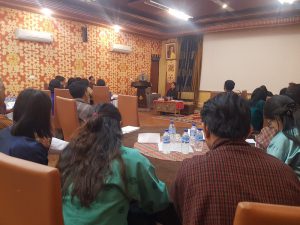 The interactive session provided a much-needed understanding of civil society and its role in nation-building.
Olakha, Thimphu, 15 October 2019: At a time when Bhutan's National Council is reviewing the status of civil society in Bhutan, – the forum – "Civil Society & Nation-building: an Interactive Forum" provided a much-needed space for the parliamentarians to better understand civil society and its role in the development.
The forum generated discussions on many dimensions of civil society and the underlying values that result from acts of people in civil society – including natural volunteerism, reciprocity, compassion and genuine actions of engagement. A Member of Parliament remarked that the session was very useful while the NC is drafting a  review report on civil society. Another MP said that the forum led to a better understanding of civil society and their works, and the need to develop trust between government and CS organisations. "This is something to tackle. We have to learn to trust each other," said one of the Members of Parliament.
The interactive session was held on 15 October to deepen the collective understanding of the role of civil society in Bhutan's development and nation-building. The forum was attended by representatives from the Parliament, CSOs, educational institutes, governmental agencies and relevant international development partners. "The forum was a process of trust-building and we need such engagements in order to build trust amongst private enterprises, government, parliament and CSOs," said an academic.
Why invest in civil society? Why should Bhutan's government and the corporate sector put aside corporate social responsibility funds for civil society?
CSOs Try Campaign
Nazhoen Pelri Complex, Thimphu, 17 October 2019: Members of a CSO working committee gathered at BCMD's media lab on 17 October to develop these messages to garner more support for Civil Society from government and the corporate sector. Help support civil society space today.
Past CSO retreats had identified a need for CSOs to work towards a policy to provide an annual Corporate Social Responsibility (CSR fund for CSOs) to be co-managed by government, development partners and CSOs. At the campaign writing workshop, the CSOs came up with the following slogans:
Support civil society, reach communities.
Think 10 years, invest in infrastructure, Think 100 years, invest in Civil Society
Empower CSOs (civil society organisations) — the trusted partner in Nation- Building. Because our problems are our responsibilities.
BCMD thanks our partners CISU in enabling us to work with CSO friends on this.
Paro Conference:  Educating for democracy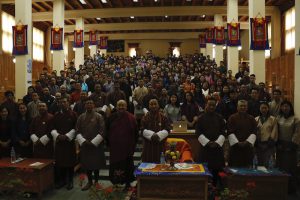 At the conference in Paro.
Nyemey Zampa, Paro, 25 October 2019: More than 260 teachers, teacher trainees, media and members of parliament and academia gathered at the Paro College of Education to explore the role of education in grooming good citizens.
Participants heard that it there is no ultimate state of being a good citizen; this is constantly a work in progress as people learn to become incrementally more caring, committed and engaged citizens.
The half-day conference on 'Educating for Democracy: Reflecting on the Role of Education' on Friday, 25 October 2019 was held at Bhutan's premier college of education.  The Conference sought to reflect on how Bhutan's education system complement the strengthening of Bhutanese democracy.
The Finance Minister, Namgay Tshering who addressed the conference, pointed out perspectives to how we view democracy: "Optimists would emphasise on accountability, ensuring responsibility whereas pessimists would focus on activism, be right focused and even dirty politicking. One should strike a balance between fundamental rights and duties."
Various perspectives on democracy emerged. The president of the College of Language and Culture, Lopen Lungten Gyatso, said that if Bhutanese understood the notion of interdependence and that we are all connected in some ways, this would lead to the natural emergence of civic sense and citizen's participation.
The four speakers provided rich dimensions to academic research on the issue, as well as personal teaching experiences. The speakers were:
Lopen Lungten Gyatso, President of the College of Language and Culture Studies, Trongsa,
Jasmine Sim, Associate Professor at the National Institute of Education (NIE), Nanyang Technological University, Singapore,
Troels Schmidt, Head of Programme at IDA Global Development Class, Denmark,
Tshewang Ngedup, Teacher, Olathang Primary School, Paro.
The Danish speaker Troels Schmidt who is the Head of Programme at IDA Global Development Class, Denmark, talked about the need for teachers and parents to model democratic values as children learn from what they see, not what we teach them. He noted the need to show children "democracy" through creating more equality in class, and to show them how to question society and any argument.
Asst. Professor Jasmine Sim pointed out that the definition of citizenry often includes a degree of interest and involvement in public affairs and an understanding of societal values, and issues with a willingness to participate in the improvement of society. CISU, DIPD, IDEA International, and Bhutan Foundation enabled us to make the conference happen in partnership with the Paro College of Education.
#ThanksGiving 
#BCMD would like to thank all the supporters on #ThanksGiving for supporting our activities to engage citizens in the decision-making process, create media literate citizens, and giving voice to the unreached. As we thank for a fruitful year, you can continue supporting our mission by donating to  #bcmd.bt or sharing it online/tagging your loved ones to/following us on https://www.facebook.com/bhutancmd/with #BCMDThanksGiving in November.
Every penny of yours will help bolster citizens' participation in decision-making in a young democracy of #Bhutan. 
#GivingTuesday
Be apart of our inaugural #BCMDGivingTuesday! Every year on the Tuesday after American Thanksgiving, people all around the world donate to their favourite groups and then post online with the #GivingTuesday. You can both raise awareness and show you are invested in BCMD by donating at www.bcmd.bt (in the top right corner) and posting online with the #BCMDGivingTuesday on 2 December.
Every Ngultrum makes a HUGE difference in enabling the success of democratic change in Bhutan, so give with your family and friends on 2 December #BCDMGivingTuesday and tag BCMD to be a part of this international movement.