eNews December 2019
Posted by
Tempa Wangdi
, January 3rd, 2020
First-ever Youth Summit Held in Eastern Bhutan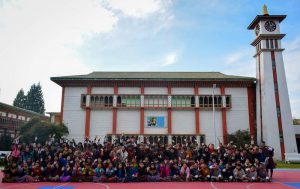 First-ever Youth Summit Held in Eastern Bhutan. 
Sherubtse College, Kanglung, Trashigang, 14 December 2019: The first-ever Youth Summit in the East "Change Starts With Me" attracted over 100 students from schools across eastern and southern Bhutan from 7-14 December 2019.
At the summit, the participants explored their ideas of change and how they saw themselves in the process of change. Exercises of reflection ignited students' social consciousness making them think about issues and their role in impacting change in the community. Trashigang Dzongrub Gom (Deputy Governor) Wangchuk Dorji urged the students to share their learning with their friends while encouraging participants to carry on their projects creatively even if there weren't monetary support.
Many participants shared their excitement to share their learning with their friends, family and in their neighbourhood. More than 70 people including the civil servants came to interact with participants as they presented their projects on themes ranging from waste management, reduction of corruption to the issue of substance abuse and capitalising on technology to improve education.
This Youth Summit was a success with partnership from Sherubtse College and our funders Bhutan Foundation and CIVICUS.

Students prep up to facilitate the Youth Summit.
Teachers Learn Media Literacy and Good Citizenship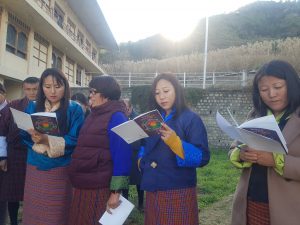 Teachers plan to lobby with the relevant agencies to introduce media literacy and citizen education in schools.
16 December 2019, Nazhoen Pelri Complex, Thimphu: The Media Literacy & Being Good Citizen Training was an eye-opener for Shaba Mangmi (Local Leader) from Paro Dzongkhag (District Administration)
"I used to read newspapers but never knew how to question the information and look for sources and evidence to verify facts at an individual level. This training was an eye-opener for me on being critical about information and news," said Sangay Dorji.
Another participant from Paro Pema Tenzin said that the training was useful for him to read news critically. "The training helped me understand the importance of media and journalists in a democracy to provide objective information and news…," said Pema Tenzin.
A total of 24 participants including teachers from Drukgyel Central School (DCS) and Shaba Higher Secondary School (SHSS) from Paro and Gelephu Middle Secondary School (GMSS) attended the training. Elected local leaders and a civil servant also participated in the four-day training aimed at imparting critical skills to debunk fake news and misinformation and more importantly access, evaluate, analyse news and information.
The fourth day of the training covered sessions on "Being Good Citizen" where the participants learned about the art and values of leading active citizenship. The International IDEA and Bhutan Foundation supported the media literacy and Being Good Citizen Training from 13-16 December.
Colleges Conduct Conversation on Educating Bhutan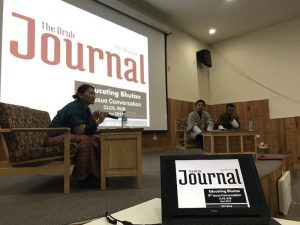 Faculty members interact with their students at CLCS.
Sherubtse College in Kanglung, Trashigang and College of Language and Cultural Studies (CLCS) held a conversation in their respective campus on The Druk Journal's issue "Educating for Bhutan" in November.
In Sherubtse, a total of 127 participants and eight faculty members from various fields of study like Political Science, Media Studies, Economics, and Geography took part in the conversation. The discussions at the conversation revolved around three articles from The Druk Journal's issue on education. The articles were "Educating for Life", "Buddhist Education in the 21st Century", and "When the Bhutanese Study Outside.
Among several recommendations emanating from the conversations, the participants called on the government to put in place policies to retain teachers since the salary hike doesn't seem to encourage many to stay back in teaching.
CLCS focused its conversation around some pertinent questions like: What is education? What should be the purpose of education? Is the current system preparing the young how to live? Does tertiary education in Bhutan have diversified courses driven by a set vision?
Thank You, Aum Nancy and Aum Pek
Changangkha, Thimphu, 31 December 2019: As a non-profit, we have crossed our paths with many individuals who left their marks and fond memories with our institution. And there is no greater honour than working with selfless people who strive for the greater good of others and the nation.
Both our chair Aum Nancy Strickland and Executive Professional Director (EPD) Aum Siok Sian Pek-Dorji dedicated a significant amount of their life founding and nurturing BCMD to a credible institution with love, care, sensitivity and foresight.
While it has been hard for the organisation to say goodbye, our chair Nancy Strickland and EPD Siok Sian Pek-Dorji have made way for others in the board and BCMD to take the organisation to its next level. Aum Pek will continue as an advisor to pursue our collective dreams of inspiring engaged and responsible citizens. Aum Nancy as we refer here with respect and love has worked and lived in Bhutan for more than 35 years as a teacher, coordinator of the Canadian Cooperation Office in Bhutan and Executive Director for Bhutan Canada Foundation. She has been one of the driving forces behind the BCMD's mission to sow the seeds of citizen education and civic engagement.
Similarly, our EPD who is also affectionately called Aum Pek is the founder of BCMD. Aum Pek, a Bhutanese at heart, has lived in Bhutan for more than 30 years serving as a journalist and worked extensively in media and communications. Aum Nancy and Aum Pek might have made way for others, but we'll continue to seek their guidance and leadership in our pursuit to nurture a GNH-inspired vibrant democracy that engages all citizens. BCMD can't thank you enough, yet, "Thank You", Aum Nancy and Aum Pek for your guidance and leadership. We wish you both with a wealth of good health and peace.                                                                                     
As we thank and send our sincere prayers to Aum Nancy and  Aum Pek, we welcome our new Chair Dr Lam Dorji and ED Chencho Lhamu. We also welcome aboard our new board members Karma Lhazom and Dr Tandi Dorji. We all look forward to working with you to take this citizen education to the next level.
THANK YOU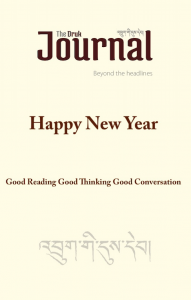 In bidding goodbye to 2019, and welcoming a fresh new year, we would like to thank everyone for making the year a fruitful one in deepening our democracy and citizen education.
We look forward to your continued support even in 2020 to make it as successful as ever.
You for Reading        …       Keep Supporting Us