August e-News
Posted by
Tempa Wangdi
, September 2nd, 2019
Teachers Prepare to Make an Impact in Communities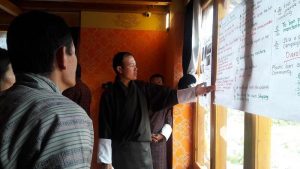 Teachers present their findings from the Community Mapping.
Speaking at the closing of Community Mapping Workshop on 9 August, Education secretary Karma Yeshey encouraged teachers from Drukgyal Central School (DCS), Shaba Higher Secondary School (SHSS) and parents from Paro to inspire more people to take proactive citizen initiatives to resolve issues in communities.
"Community Mapping is a critical exercise – you have been trained to look at issues differently and solve these issues – you must now pick up from here so that it doesn't remain in the paper," said Karma Yeshey.
Paro Dzongda Tenzin Thinley said that it is more important now than ever that people learn to make a collective effort to resolve issues. "Community must think about what it can do to solve these issues…," said Tenzin Thinley.
At the mapping training, which began from 4 August, teachers and parents learned the essence of studying communities by mapping strength, resources, and assets to tackle some of the issues of common concerns. Community Mapping guides the participants into developing skills such as interviewing, research that will enable them to engage proactively in their communities. "… I learned that posting on social media forums and pouring out frustrations to the leader is wrong. There is always an alternative like asset-based community mapping to resolve some of the issues in the locality," said Sonam Choki, DCS.
Bhutan Foundation supported the Project Mikhung.
Braille and Dzongkha Media Literacy Resource Books Launched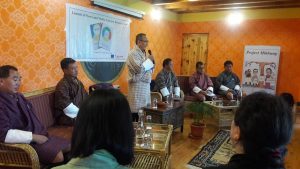 Education ministry secretary Karma Yeshey speaks at the launch.
Bhutan Centre for Media and Democracy (BCMD) launched news and media literacy resource books in Braille and Dzongkha on 9 August at Paro in a move to reach out to the sections of the society left out from the information network.
The resource books will be distributed to the National Institute for Visually Impaired in Khaling, Trashigang, Dratshang (monastic body), Shedra (monastic schools), and non-English speaking sections of the population.
Pema Chophel from SEN Division, education ministry lauded the launch of Braille Media Literacy Resource Book but said that more needs to be done to reach the disabled group. "…Media Literacy resources should also be made accessible to the deaf people in the country," Pema Chophel said.
This project was supported by the Helvetas Bhutan.
Drukgyal Central School Starts Step-Down Training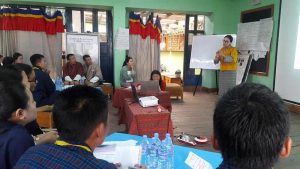 Students of DCS learns about the asset-based community mapping to bring change in their community.
Teachers of Drukgyal Central School (DCS) started their step-down training for students on 24 August.
During the training, seven teachers who attended the Community Mapping Workshop earlier this month imparted skills and knowledge to identify issues in communities and tackle these problems using asset-based mapping exercise.
DCS principal Karma Tshering told his students that they should never think of any issues to be insurmountable. "When you map the communities, you might as well take me as one of your assets because I'm with you in this," said Karma Tshering.
In the step-down training, as students learned about the asset-based approach to resolving issues, many wanted to use their creativity to tackle issues in their community. "Young people like us can use our creativity to tackle the mounting waste issue by working closely with the vendors and shopkeepers," said one of the girl participants.
Project Mikhung is supported by Bhutan Foundation.
CSOs Endorses Strategic Document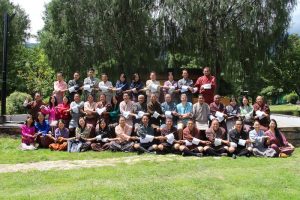 The retreat enabled CSOs to update their thematic group.
Under the theme of 'Building Solidarity', the 2019 Civil Society Organisation (CSO) Retreat held at Paro brought together 41 members from 24 CSOs of Bhutan to establish a collective voice in tabling pertinent issues and charting the way forward into the future of civil society landscape.
As such, the CSOs gathered were able to successfully review and endorse a strategic document that would guide the direction of civil society, which remains the greatest accomplishment of the retreat. Moreover, CSO Rules & Regulations were also reviewed, thematic groups updated to reflect the current realities of CSOs, and a Working Committee formed to steer the CSO development fund. All these efforts were ultimately directed towards making the landscape more enabling for CSOs to contribute towards the nation-building.
"It was the most participatory retreat that I have ever seen. All the decisions were taken democratically so we are actually being a really important element of democracy. I really appreciated it" said executive director of Handicraft Association of Bhutan, Chorten Dorji.
Helvetas Bhutan and Civil Society Organisations Authority supported the CSO Retreat 2019.