August eNews
Posted by
Zulkee Choden Rinzin
, September 1st, 2020
Cultivating News and Media Literacy Skills
With a deluge of information on social media due to the current pandemic, News and Media literacy has never been more relevant and necessary than now. It is hard to figure out which information is verified and from a valid source and which ones are not. 17 government officials who are part of Bhutan Centre for Media and Democracy's Project Mikhung in Paro attended the training on News and Media Literacy and Being a Good Citizen workshop from July 30 – August 1 2020.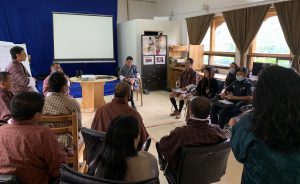 During the session on 'Meeting the Press', which included representatives from BBS News, BBS Radio and Kuensel, both the press and the participants had the opportunity to clarify what a productive and conducive environment would look like for them to be able to work together as elucidated by the Editor from Kuensel, Ugyen Penjor, "It is important for [the government] and the media to work together – I see the group here as the bridge between the media and the people. When the information is not clear- it raises more doubts and questions."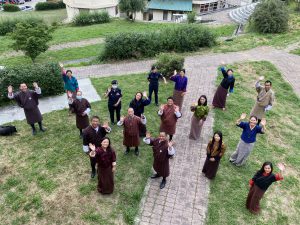 The participants also conversed about the values of being a good citizen, especially the value of respecting diversity — an important and integral aspect of democratic culture. Tashi Palden, a Gewog Administrative Officer said, "In a democracy, political parties led by a woman have different perspectives than a party led by men in framing policies and therefore, we need to respect those diverse perspectives." Women remain a  minority when it comes to political representation and it is only by respecting the diversity that we will be able to encourage women's participation in politics.
This project is funded by The Bhutan Foundation
Reimagining Bhutan's Education & Economy Speaker Videos Out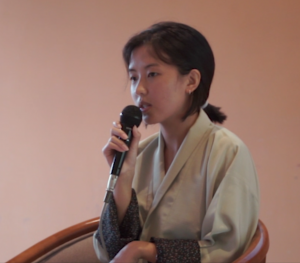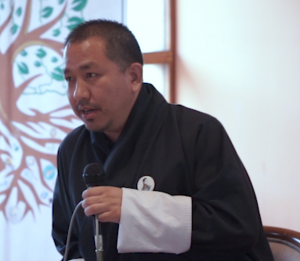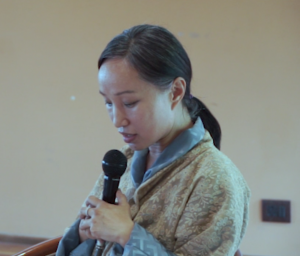 As the country continues to contain the pandemic, Bhutan Centre for Media and Democracy organised a forum on Reimagining Bhutan's Education & Economy to take lessons from the current emergency with the hope to feed into future policy decisions and programming.    
The interactive forum saw a very diverse group of participants ranging from students, entrepreneurs, parliamentarians, government officials, and more engage in an hour-long discussion about what they hoped the new normal would look like post-COVID-19.
 The three videos of the speaker presentations are now on our Facebook page. The discussion video will be made available soon on our Facebook and YouTube page.
Click to enjoy the videos: 
Sonam Norbu, Teacher: https://bit.ly/3aXP1RK
Tenzin Wangmo, Student: https://bit.ly/34zPico
Karma Lhazom, Independent Consultant: https://bit.ly/3lmQpSH
This project is supported by CISU.
Remembering…
Professor Mark Mancall, an old friend of Bhutan and the first chairperson of BCMD's board of directors, passed away on August 19. He was 87.
Mark Mancall was instrumental in nudging BCMD to greater momentum in our early years. A founding member of The Druk Journal, Mark moderated the early Conversations that followed every issue of the journal and was an active writer and editorial advisor; the 12th issue is due this autumn.
Mark moderated a seminal inquiry on "Monarchy and Democracy in the 21st century" for a gathering of international and Bhutanese academics and journalists. It resulted in an important BCMD publication.
A Professor Emeritus of Stanford University, Mark took an active interest in issues affecting Bhutanese society and was a mentor to many people across society in Bhutan. Mark was as modest as he was effective in Bhutan's period of transition to democracy, and especially to BCMD's first explorations into how to deepen democratic culture. He was always ready with an incisive thought, a probing question, a challenge.
A man with a big view on life and a big heart for Bhutan where he worked and lived for many years, Mark was last seen on Vimeo expounding the role of democratic socialism for an online Stanford class in early summer.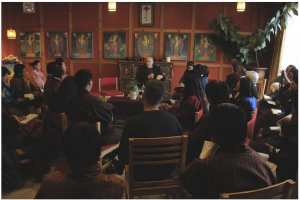 Mark Mancall (centre) guides a conversation in one of BCMD's forum series – "Deepening Democracy"
We share a couple of Mark Mancall's articles in the Druk Journal. www.drukjournal.bt
http://drukjournal.bt/the-nation-the-state-the-nation-state/
Felicitation of the Education Secretary
Bhutan Centre for Media and Democracy (BCMD) felicitated the newly appointed Education Secretary, Dasho Karma Tshering earlier this month. Among other educational projects, we spoke about the recent partnership on the National Youth Policy review project and discussed future collaborations. BCMD also donated Bhutan-centric publications and educational resources to the Secretary.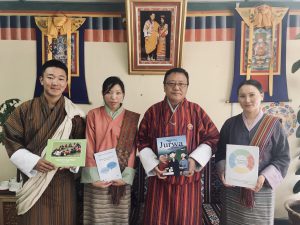 Research on Citizen Participation  
The research on citizen participation and democratic culture at the local level reveals that students' active participation is confined to a few informal and ad-hoc school activities and that adult citizens still hesitate to give constructive feedback. It was also observed that there is a need for clarity between the roles and authorities of the local government officials and the civil servants manning the bureaucracy at the local government level. 
A total of 55 class IX students and 21 teachers from the two project schools (Drukgyel Central School and Shaba Higher Secondary School) were involved. Other project participants, namely, Paro Town Committee members, community members and local leaders were also engaged in the research.
Click here to read the report: http://bcmd.bt/wp-content/uploads/2020/09/Citizen-Participation-and-Democratic-Culture-at-the-Local-Level.pdf
The research is funded by The Bhutan Foundation.
Upcoming
Communications Strategy Workshop for Civil Society Organisations
Civil Society is emerging as an important sector that can supplement and assist the government in nation-building and managing crises as is evident from the current pandemic. To strengthen their capacity to further their mandates and goals, and to use media effectively and strategically, the Bhutan Centre for Media and Democracy in collaboration with Bhutan Media Foundation and Journalists' Association of Bhutan will be organising a workshop on communications strategy. The workshop is designed to help civil society organisations create dynamic social media contents, develop communications strategies and enhance their knowledge on the power of information and its potential to construct and shape organisational identity and society in the long run.
More information regarding the workshop will be shared on our Facebook pages in the upcoming weeks.
This project is funded by EU Helvetas.
Policy Dialogue
The unsustainability of Bhutan's socio-economic and development policies have been amplified by the COVID-19 pandemic. The government has been exemplary in responding to the humanitarian crisis at hand while simultaneously preparing economic contingency plans to stimulate economic growth. Now more than ever, it is important to make policy decisions that not only prepare for recovery but are also able to transform our society for a sustainable future through whole-of-government and whole-of-society approaches. 
In light of this, UNDP in partnership with Bhutan Centre for Media and Democracy is planning a series of policy dialogues starting September 2020 on themes that are critical for Bhutan's development. It will provide a platform for thought leaders to reflect and share suggestions to inspire long-term policy decisions instrumental in building resilient communities and sustainable development. 
More information regarding the event will be shared on our Facebook pages in the upcoming weeks.