Busy May for BCMD
Posted by
Tempa Wangdi
, June 1st, 2018
State of Bhutan's Democracy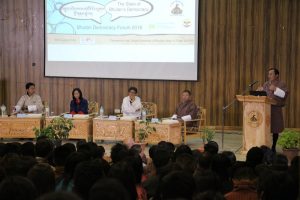 People lauded the candid open discussion and asked for more such space. 
The State of Bhutan's democracy was the topic of a riveting forum where speakers from Bhutan's four political parties came together to share their views in an election year. The Bhutan Democracy Forum took place on May 11th with more than 490 people packing the auditorium at the Royal University Convention Hall in Thimphu leaving many persons standing along the corridors.
Political party representatives who spoke included Lyonpo Damcho Dorji from People's Democratic Party, Aum Lily Wangchhuk from Druk Phuensum Tshogpa (DPT), Dasho Neten Zangmo from Bhutan Kuen-Nyam Party (BKP), and Dr Tandin Dorji from Druk Nyamrup Tshogpa. Finance minister Lyonpo Namgay Dorji and home and cultural affairs minister Dawa Gyeltshen also attended the forum along with members of the newly elected National Council.
Members of the press, civil servants, civil society members, and students from schools and colleges, and international non-governmental organisations  also attended the forum.
The four speakers shared their thoughts on the state of Bhutan's democracy based on their own experiences with democracy. Lyonpo Damcho Dorji said that Bhutan's democracy is unique. "As the former chief justice, Lyonpo Sonam Tobgay said Bhutan's democracy is an evolutionary process, and not revolutionary," he said. Lyonpo also called on the audience to take a matured and constructive approach to politics to avoid divisive politics. "The politicians must join hands to take a constructive approach and we must also define the role of MPs whether as NC, ruling or opposition," he said.
Aum Lily Wangchhuk said democracy is too important to be wasted away in petty arguments, wrong judgments or gotcha statements. To engage, we must connect, understand, and work in a spirit of harmony and respect. "… I humbly call upon all politicians, media, voters – let us set our differences aside and work on setting Bhutan off on a journey towards the best democracy in the world because Bhutan and Our Kings deserve this for their sacrifices," she said.
Sharing her experiences of visiting six dzongkhags, Dasho Neten Zangmo said that there is a need to educate people that democracy is not just about voting every five years. "We need to advocate that democracy is not only about elections…"Everyday people have to be important – citizens have to be important. Citizens cannot be passive recipients – there has to be space for citizens voice," she said. Dr. Tandin Dorji raised concerns over the existing practice of Bhutanese voting entirely based on the promises parties to make during the campaign period. "…Therefore it is also important for our political parties to have strong ideologies on which we stand so that our voters can predict what to expect …" Dr. Tandin Dorji said.
In the question and answer session, the speakers responded candidly on a number of issues including the widening gap between the rich and the poor, sustainability, sovereignty, and foreign relations.  Civic education, civil society, and media were some other aspects of democracy covered during the question and answer session. Participants talked about the importance of such open forums to enable them to meet with and better understand how politics and democracy are evolving in Bhutan.
BCMD conducted the Bhutan Democracy Forum in collaboration with Royal University of Bhutan and Bhutan Democracy Dialogue (BDD). We thank the DIPD for supporting the forum. The Bhutan Broadcasting Service will soon be screening the forum on TV. Look out for the dates to be trailed soon on our FB page and on BBS.
Intermediate Multimedia Training
To take filmmaking among the youths and Civil Society Organisations (CSOs) to the next level, Bhutan Centre for Media and Democracy (BCMD) trained 13 people on May 7-9 at the Media Lab in Nazhoen Pelri Complex.
A total of 13 participants who attended the basic multimedia training from 24-27 March 2018 were trained in intermediate multimedia training. The intermediate training focused on script writing, storyboard, framing, and editing.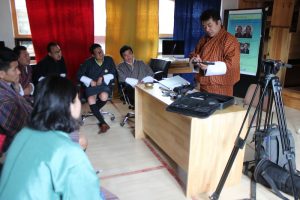 The training helped participants take their skills in the film production to next level.
"This time the training was more focused on the technical aspect of video making, I personally got to learn more about the sound and how important it is while making a video," one of the participants from the Ministry of Agriculture and Forests, Kelzang Dorji said.
He said that the first training was only an introduction to video production. "But this time I learned about the pre and post-production and how these two are connected," he said. The training was supported by CISU.
Training Helps CSO Members to Reflect on Self
To help mid-level managers of Civil Society Organisations, 23 members of the civil society fraternity were trained on Leadership Effectiveness and Development (LEAD) at Media Lab in Nazhoen Pelri Complex from 21-23 May.
LEAD is designed based on the inspiration drawn from His Majesty The King's concept of Leadership of the Self. The training aims to dispel the misconception that leadership concerns only those with formal positions of authority and bring leadership aspects to all individuals at every level of the society. The training is based on Stephen Covey's The 7 Habits of Highly Effective People.
The training was to help mid-level managers of CSOs reflect on their lives, character, and personality to start a journey of transformation to become effective leaders. The training enabled the participants to understand the following the following:
Laying the foundation: Character, Competency, and Personality                                         
Being proactive: The Habit of Choice
Beginning with the end in mind: The Habit of Vision
Putting First things first: The Habit of Mutual Benefit
Thinking win-win: The Habit of Mutual Benefit
Seeking first to understand, then to be understood: The Habit of Mutual Understanding
Synergising: The Habit of Creative Cooperation
Sharpening the saw: The Habit of Renewal
Participants said that the training helped to reflect on self, their lives, and personality development. Participants felt that while innumerable numbers of training are held on bringing about change in the world, workshops to reflect and change yourself to serve others are few and far between.
"I have attended lots of training throughout my 20 years of my career and this was the first of its kind where we reflect about self and leadership," a counselor, Prakash Pradhan from RENEW said.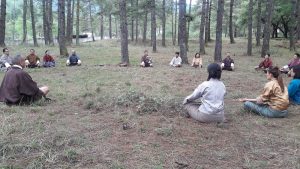 The mid-level managers try yoga during their field trip to Motithang.
Many were of the opinion and learned that to bring about change in others, it should start at an individual level. "One take away from this training is that I will respect the absentee and stop bad-mouthing another person," one of the participants, Tashi Phuntsho.
Participants also agreed in unison to try to react less to situations by following the Habit of Choice. "I will try not to react to situations but will take time to think and response since it is up to the individual to make it good or bad," another participant said.
Bhutan Centre for Media and Democracy (BCMD) conducted the training in collaboration with Royal Institute of Management. EU Helvetas supported the training, which some of the participants claimed to be one of the best training they ever attended. We hope that such workshops will contribute to CSOs own ability to lead in diverse areas.
Second Photo Exhibition by Adolescents
Monks and nuns with 10 other out-of-school adolescents concluded their second photo exhibition on May 4-5 that was held at Royal Textile Academy.
Sharing his experience at the exhibition, one of the participants, Deyon Phuntsho said that the training made him realise that attractive photography is not just about the filters or the stickers. "It's the story behind and once you move from 'what you have captured' to 'why you have captured that moment. That's when the picture truly becomes beautiful…," said Deyon Phuntsho.
Timeline
17 October 2017: Five-day Basic Photography Training Begins.
October 19: Adolescents Starts Taking Pictures, some of which are sent to ROSA in Nepal for an exhibition.
October 20-21: Adolescents learn picture Caption.
October 22-November 1: Starts photography for an exhibition to be held in November.
November 20: Adolescents Hold Their First Exhibition at Royal Textile Academy coinciding with World Children's Day.
20-22 March 2018: Adolescents Attends Advanced Photography Training.
May 4: Conducts Second Photo Exhibition at Royal Textile Academy.
The second photo exhibition comes after the second round of training from March 20-22 at Media Lab on advanced photography. The initial training began in October last year with support from UNICEF to train five nuns from Drubthob Thangtong Dewachen Nunnery and five monks from Dechenphodrang Monastery with 10 out-of-school youths and members of civil society.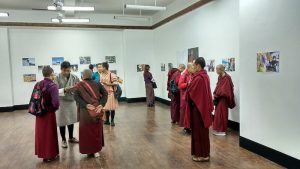 The photography training was an opportunity for monks and nuns who usually are left out from such activities.
The training was to help children express themselves and their voices on important issues through photography. The training came as an opportunity for adolescents in monastic schools who are usually left out from such opportunities. Following the training the monks and nuns are now able to take pictures to document their lives in monastery, rituals, and events in their respective monasteries.
Graphic Novel JURWA II Launched
Adding another resource for youth in Bhutan's young democracy, BCMD launched graphic novel – JURWA II on May 11 at the Bhutan Democracy Forum held at Royal University of Bhutan, Convention Hall.
Royal University of Bhutan Vice Chancellor, Nidup Dorji launched the graphic novel which captures a slice of life in a democratising country. JURWA II is about an idyllic village Gakithang on the outskirts of Thimphu caught up in a dramatic change spurred by Bhutan's transition to democracy. The story revolves around a young civil servant, Sangay Penjor from Gakithang and his interest to pursue a career in politics.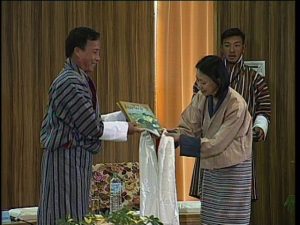 JURWA II will be an important resource for young democracy in Bhutan.
But as is the norm in the real world of politics, following his dreams isn't easy. People already making assumptions and speculations about his inexperience. His will to join politics also throws his own love life into trouble. Add to this, chorten (stupa) vandals, rumours, and reporters hunting stories, we have JURWA, the story of "Changing Times in Gakithang."
The year is 2008, when the villagers of Gakithang are overwhelmed with a historic election year – political parties, campaigns, candidates, and the hard decisions of making a choice. Jurwa is based on a 43 episode radio serial, and the first part of the graphic novel was launched and distributed last year.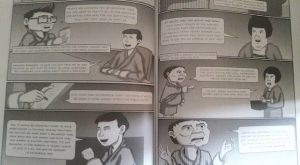 Sneak-Peek from the graphic novel on democratic change in idyllic village Gakithang.
The graphic novel was distributed free to over 250 students, civil servants, civil society members, and International Non-Governmental Organisations at the forum. JURWA II will be distributed to parliament, ministries, colleges, schools, and public libraries.
Another Milestone in BCMD's Road to Engage All
Bhutan Centre for Media and Democracy (BCMD) marked its 10th year of educating the Bhutanese people on citizenship, media, and democracy on May 19 with 150 of its youth alumni at Royal University of Bhutan, Convention Hall.
The half-day event themed "Celebrating Youth Voice" included six young people sharing their reflections, journey, and aspirations. The youth speakers pointed out that BCMD was instrumental in stimulating self-discovery, inspired to be an active citizen. Its activities on media also helped youth people to make mindful use of social media and be smart news consumers. Attending BCMD's events also enabled youth to understand rights, responsibilities, build leadership skills, volunteerism, and personal development.
Sonam Yangden, Youth Initiative (YI) alumni and MC at the event said that attending BCMD's events boosted her confidence. "I wasn't like this before. I wasn't good at public speaking. Being part of YI gave me confidence and the belief that I can have an impact," Sonam Yangden said.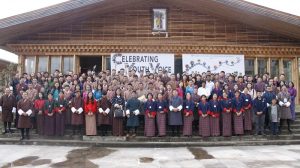 Alumni of BCMD came together to observe its 10th Year Anniversary.
Another BCMD alumni, Karma Choki who is a teacher at Druk School also shared about impact BCMD had in her life. Youth from schools and colleges in and around Thimphu attended the event. Some students shared that the event was an opportunity for them to connect, and get inspired by stories of youth leaders, and learn how they can also contribute as citizens.
Bhutan Centre for Media and Democracy (BCMD) was established in 2008 with a commitment to strengthen a "GNH-inspired and vibrant democracy to engage all".  In the past decade, BCMD has organised forums that created opportunities and safe spaces for youth, academics, bureaucrats, media personnel and elected leaders alike to engage in open discussion, deliberation, and debate on current and pertinent issues."The speakers really inspired me", said a student of Yangchenphug Higher Secondary School who attended the event.