e-News Letter June
Posted by
Tempa Wangdi
, July 9th, 2019
Paro Town Launch Campaign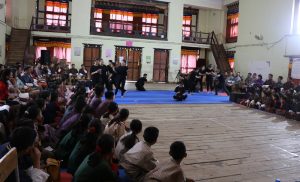 Paro College of Education students performs a reflective skit on harms of unguided development.
Residents, local leaders, and  Paro Dzongkhag (District Administration) came together to work towards realisation of their town's vision "safe, clean, green, and culturally vibrant town" through the launch of campaign "I am my community" at Paro on 29 June. 
Finance minister lyonpo Namgay Tshering graced the launch. Reflecting on the skit staged by students of Paro College of Education, Lyonpo highlighted the dangers of accelerated change and modernisation without foresight and the need to draw wisdom from Bhutan's guiding philosophy — Gross National Happiness. 
The launch of campaign signifies that the residents, local leaders, and planners will hereon make an effort to integrate the town vision, mission, and strategy in the developmental activities. Jute Tote bags were issued to the participants to create awareness on the campaign "I am my community".
Tshering Penjor a local resident remarked, "I was so moved by the students' performance; it is different, it makes you think. You should film the skit".
About 200 people including residents, civil servants, civil society members, elected local leaders, students, and teachers from schools in Paro attended the launch.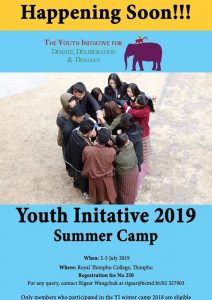 Camp to Enable Youths Realise Their Potential
A month-long summer break is here for thousands of students across the country and Youth Initiative Summer Camp is coming up in the 1st week of July to keep these students engaged in productive activities.
With a zest to realise their roles as stakeholders in national issues and policy-making,  23 youths from colleges in the country have registered to take part in this year's summer YI Camp from 2-5 July at the Royal Thimphu College. These students during their three-day camp will learn to explore and critically examine the socio-economic and political landscape as youth, citizens, community members, and nation. 
The young minds will also learn to evaluate and judge information and news against the backdrop of rising incidents of fake news, misinformation, and disinformation. 
What they will learn:
Policy Research, Review and Comprehension;
Heightened Socio-political Consciousness & Active Citizenship;
Media Literacy, and
Teamwork  and Confidence. 
Peer Facilitation to Build Youth Leadership Skills
More than half of the YI alumni will get an opportunity to build on and upskill their facilitation skills and knowledge at the Peer Facilitation on 7 July. They will then move on to co-facilitating the Youth Summit from 11-14 July at the Royal Thimphu College where around 130 youths from schools across the country are expected to gather to reflect on the role of the youth and their ability to bring change in their communities.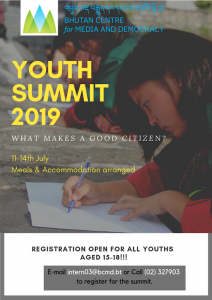 Youth Summit to Awaken Social Consciousness 
Youths from schools across the country will gather for the Youth Summit from 11-14 July at the Royal Thimphu College to reflect on the role of youths in democracy to bring change in their communities. 
The youth summit is expected to provide youth with platforms to reflect on their role to lead as change-makers and develop their own step-down action plans to bring positive change in their communities. 
Youth Summit aims to provide youth with a platform:
To network and reflect on youth's role in a democracy;
To learn about social issues and reflect on their own role in addressing these issues;
To provide a platform for discussion and exchange of views/ideas amongst youth; and 
To develop their own ideas, step down training and action plans to improve their communities. 
Expected Outcomes:
Youths understand the importance of youth participation in a democracy;
Youths realize their potential in shaping their communities;
Plan step down activities and undertake small projects after the training; and
Youths get an opportunity to interact with young leaders and others and present their plans to address the various issues identified.