January eNews
Posted by
Tempa Wangdi
, February 6th, 2020
7th Youth Initiative cohort reviews the National Youth Policy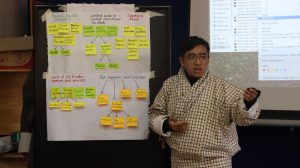 A participant sharing existing realities and issues under the 'health and wellbeing' thematic area. 
Media Lab, Thimphu, 16-24 January 2020: 24 young people came together to review the National Youth Policy (NYP 2011). 
Under the theme "Youth Voice in Youth Matters", 24 members of the Youth Initiative (YI) explored current realities facing the youth, identified their root causes, and proposed solutions for incorporation in the NYP that is currently under review under the aegis of the Department of Youth and Sports (DYS), Ministry of Education.  67 participants from government, development partners, civil society organisations, media and youth attended the presentations at the closing event on January 24th.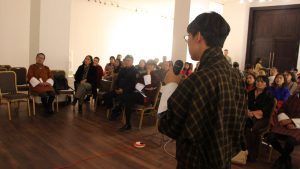 A participant presents the findings of the policy review to the public during the closing event. 
Tashi Lhaden, a participant stated, "The review that we did will be able to make a huge impact because we saw it through a lens that policymakers won't necessarily see."
The participants would lead consultations with other youth target groups across the country in the coming months under the guidance of BCMD to assist the DYS in enhancing the relevance of the NYP.
The YI 2020 is supported by CISU and partly by UNICEF.
BCMD supports the Samdrup Jongkhar Initiative to conduct  media literacy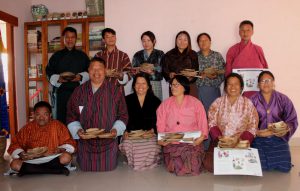 Participants of media literacy training at Dewathang (Picture courtesy: Samdrup Jongkhar Initiative's Facebook page)
Dewanthang, Samdrup Jongkhar, 15 – 16 January 2020: Attending the media literacy session, Tshering Zam a shopkeeper from Dewathang in Samdrup Jongkhar realised how she was lost in the digital world.
"I felt bad about not being able to even greet them [customores] properly when they came to buy something from my shop," said Tshering Zam who added that even her daughter has been watching Korean movies obsessively.
Tshering Zam was one of the several people who were attending an intensive Media Literacy training at Dewathang held by the Samdrup Jongkhar Initiative (SJI) with technical support from the Bhutan Centre for Media and Democracy (BCMD). The SJI is the only Civil Society Organisation operating from a rural area.
"But I'm happy to have realised this here and would like to find ways to keep me and my daughter occupied so that we don't waste our time online and watching movies," said Tshering Zam.
Citing potential dangers lurking online, another shopkeeper from Dewathang, Pema Wangdi cautioned: "While it's important to keep in touch with people we know, there really is no need to befriend unknown people online."
A batch of 100 students from over 13 schools across the country undergoing mindfulness training was also trained on Media Literacy at Dewathang.