Equipping Local Leaders with Media Literacy Skills
Posted by
Bhutan Centre for Media and Democracy
, June 20th, 2022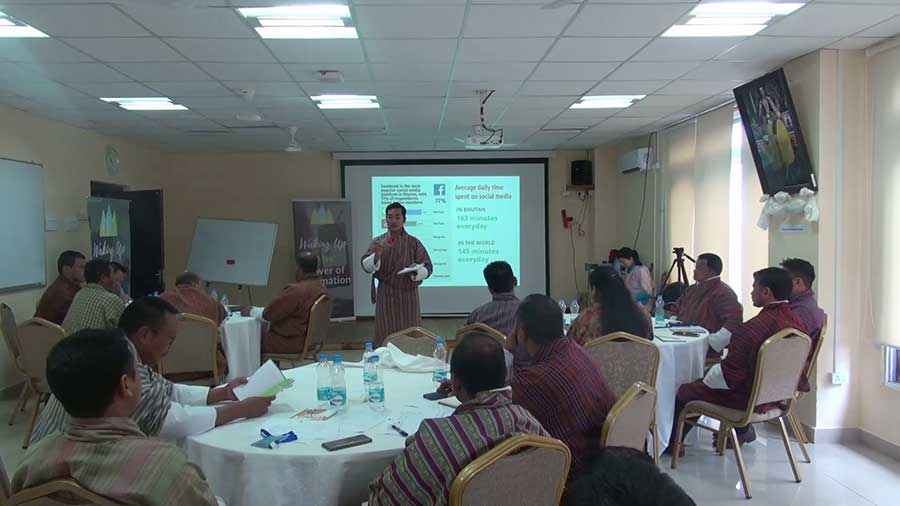 From initiating developmental activities to providing various public services, local leaders play a vital role in disseminating information to the people in their gewogs. But with social media platforms flooded with misinformation, providing accurate information has become a challenge. So, to equip local leaders to make informed judgements and decisions as users of media, the Bhutan Centre for Media and Democracy for the first time conducted training on media and democracy in Tsirang recently.
The BCMD officials highlighted that the country has seen increasing cases of online scams, frauds, defamation, fake news and malicious content which is only going to increase.
And with almost everyone on social media platforms, it has become increasingly important to empower people to use the platforms responsibly and effectively.
"The past two years of the pandemic, there has been increasing fake news, misinformation, even malicious content and a lot of online scams. We have a very multiply effects when we train the local leaders. The local leaders can further train their communities and this will bring a greater change," said Kencho Tshering, Assistant Programme officer of BCMD.
Attending such training for the first time, the participants were given insights into the function of media in society and the importance of being media literate.
"For instance, we don't know whether to comment or not when we see a post on social media platforms. And commenting blindly on others' posts might cause an unnecessary problem in the future. We can now share the Dos and Don'ts of social media usage with our people," said Patshaling Gup, Chabi Kumar Rai.
"There are people who make good use of smartphones while there are others who fail to use them wisely. For instance, by clicking pictures and posting them and writing rubbish. And for young people, smartphones have become handy these days. It helps to attend online classes," said Tashipang Tshogpa, Ugyen Wangmo.
"So far even as a local leader, I have been relying on and trusting all kinds of news and information provided on social media. But the training taught us how to verify news and information," Kilkhorthang Mangmi, Sonam Lhamo.
The BCMD plans to cover local leaders of other districts soon. The United Nations Democracy Fund is funding the training.
Find the article on BBS here.