Fourth youth summit underway in RTC
Posted by
Tempa Wangdi
, July 17th, 2018
Over 100 students from different schools in the country are gathered at the Royal Thimphu College (RTC) for the 4th Youth Summit themed 'Dreaming an Ideal Bhutan'.
The four-day summit began yesterday and the number of the participants is the highest so far.
The summit is to provide an inclusive forum for the youth from different socio-economic and academic backgrounds to reflect on their roles in a democracy.
They will learn about some of the major socio-economic issues plaguing the country and reflect on their roles in addressing these issues.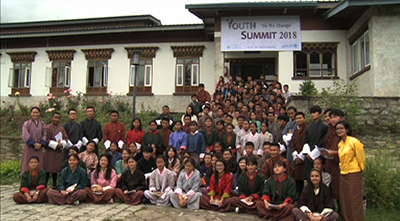 "We are trying to take learning beyond the school and class room curriculum. It will provide them with an opportunity to talk about issues in their communities they are concerned about," Chencho Lhamu, BCMD's Director of Programme and Development, said.
"They are also made to think about how they can play a role as a youth in their communities to address these issues. We expect them to come up with a small action plan and try to implement it back in their schools."
At the summit, the participants will also get to interact with social activists, who are heading successful non-government organisations in the country.
"It gives a platform for the youth to make their voices heard, exercise it and then use it in order to work for an initiative and be a pioneer of change in the society," Wangdi Norbu, the Youth Initiative Coordinator, said.
The Bhutan Centre for Media and Democracy (BCMD) is organizing the Summit with financial support from the UNICEF.
The summit has been an annual programme since 2015.
Choni Dema,Thimphu
Jul 12, 2018m