Google Apps Training at Media Lab
Posted by
Green E-Solutions
, June 22nd, 2017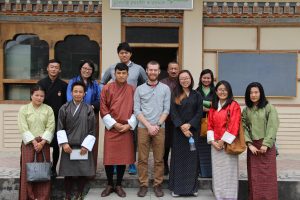 Google Apps Training at Media Lab.
The Google applications programme held from June 19-21 funded in collaboration with Google by Bhutan Centre for Media and Democracy (BCMD) ended yesterday. 
During the three-day training, over 17 participants, both youth and adults participated in learning on the usage of Google Apps and other services including Search, Sites, Docs, and privacy control.
Through this workshop, participants also learned how to use and apply Google Apps like Google Contacts and Google Drive.
Participants also engaged in a healthy conversation on the use of social media and how to tackle hate speech, avoid trolling, scams, and strengthen passwords. The training also covered methods to consume reliable and credible information against the onslaught of fake news on social media.
Matt Shubert Gtech Publisher Support Specialist and Jun Fujisawa Google for Recruiting PM shared their concern on fake news and how Google is taking the initiative to prevent it but suggested that the only way to stop it was for the web users to verify and authenticate the news.  
The participants also discussed the importance of media literacy and how it could be further enhanced