July eNews 2021
Posted by
Zulkee Choden Rinzin
, August 2nd, 2021
Growing Civil Society
The civil society fraternity has been instrumental in contributing to a healthy and vibrant democracy where citizens are able to contribute to policies and influence decisions that affect their own lives. Civil Society Organisations (CSO) are also an essential building block of development as they provide opportunities for people to volunteer, mentor, and advocate for change — all of which strengthens the well-being of Bhutan. They also help society by empowering citizens and promoting change at the grassroots. 
Therefore, BCMD has produced a short video to celebrate the growing civil society fraternity in the country and also to show how far we have come to be effective agents of change in Bhutan.  
You can find the video here: https://youtu.be/sP25-yO27fw
Thank you to HELVETAS Swiss Intercooperation, Bhutan for funding this project.
BCMD Takes a Break
This month, the BCMD team went on a three-day retreat to Punakha which was the perfect opportunity to get out of our normal routine and to rejuvenate our minds and prepare for the upcoming months and activities.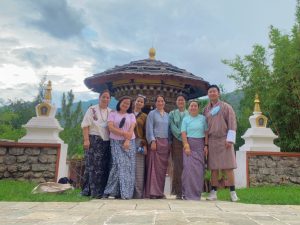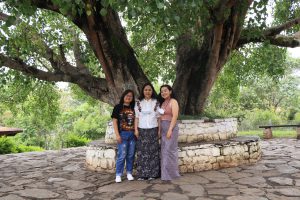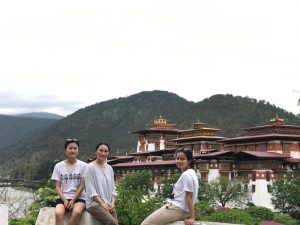 We had time to visit the beautiful sights of Punakha but also to sit together and look at the bigger picture of the organisation and of ourselves as we pave the way forward. We reflected on our existing values and added additional values that are more representative and relevant to the times. Occasions like these are perfect for us to think about all that we've achieved so far but also how we can work together better as a team as we chart the way to creating a vibrant and engaging democracy.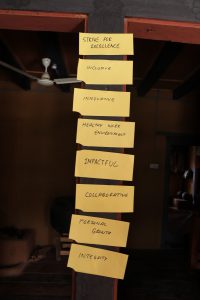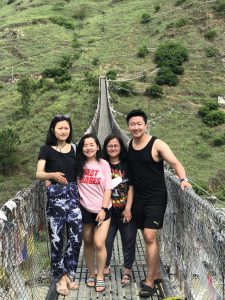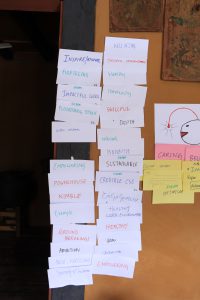 Suja Dzaw, a Conversation on Bhutan After the COVID-19 Crisis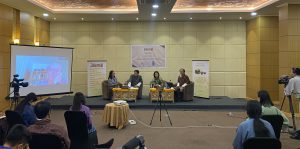 The Suja Dzaw Conversation had four speakers who contributed to this issue of TDJ discussing the themes of anticipating the social security, civil service, education, and health sectors. Dr Bjorn Melgaard's praise for Bhutan's multi-sectoral approach in dealing with the pandemic comes at the right time as Bhutan marks the end of a successful weeklong nationwide campaign for the second dose of COVID-19. But he also cautions the nation to carefully assess the lifting of restrictions as the virus still poses a high risk in the Southern borders. 
Rabsel Dorji highlighted the importance for the public sector to anticipate what the future would look like and then identify who the key drivers of change would be for that future. He also said that the development planning process should be made consultative not just within the government agencies but also with the private sector, civil society, academia and the citizens, and for the government to play the role of an enabler rather than sole implementer of services.
Chencho Lhamu stated that the curriculum was too narrow and needed to be diversified to cater to the students' interests and also to explore the full potentials and capabilities of students. In sync with the global trend, she emphasised the importance of digitising education to transform pedagogies and to minimise future disruptions to education for emergencies. 
On the topic of social protection, Leki Wangmo reminded us that with a large youthful population, it was the perfect time for the government to think about how the country's population is going to migrate through the different stages of life and what kind of intervention would be needed at what time. She acknowledged that the current social protection system is exclusive to those in the formal public sector.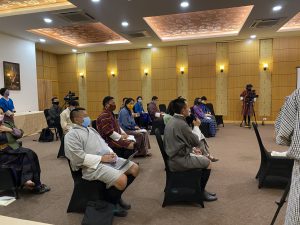 The conversation was attended by 13 participants which included key stakeholders from the Ministry of Education, Royal Education Council, National Council, UN and the Media. To ensure wider reach, it is available on our YouTube channel and it will also be aired on BBS in the upcoming weeks.
We would like to thank UNDP Bhutan and CISU for supporting this conversation.
Learning to Map Communities
"Learning about community mapping encouraged me to look at my surroundings in a different light. I can identify dormant and active assets and am learning how to use them to solve existing issues" said Ugyen, an English studies student at Sherubtse College. Asset-based Community Mapping is a tool that puts community members at the forefront of community development.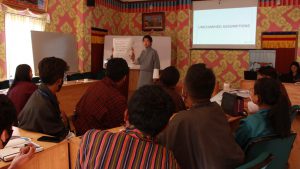 For the Youth Summit East Programme, 14 participants were trained in asset-based community mapping over the course of 5 days at Sherubtse College. They actively participated in identifying assets and issues in two different areas – the Sherubtse College Campus, and the Kanglung lower & upper markets. In the first phase of the mapping process, participants identified dormant assets such as underutilised resources, which can be revived to reach their full potential, or disaster-prone areas that the community should be aware of. Sangay, a Media student, felt empowered to know a young person like him can be the main actor in community development.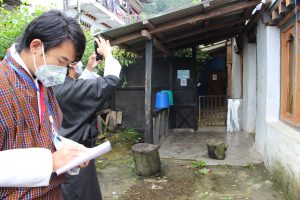 In the following months, participants will continue to thoroughly map the above-mentioned areas using digital apps and ultimately share their findings with relevant local leaders and stakeholders such as the College and Dzongkhag administration to contribute to inclusive planning processes.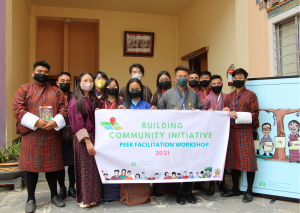 In addition to community mapping, the participants were also trained in peer facilitation for two days, where they learnt to communicate effectively and foster a safe learning space. "The skills I've learnt today would help me become a better teacher; someone who puts students first and gathers their diverse views and someone who fosters an interactive learning environment rather than a linear one", said Prakash, a History student, who aspires to become a Teacher. The participants will use the skills learnt to peer-facilitate an upcoming Community Mapping workshop for their peers at Sherubtse College.
The project was funded by Bhutan Foundation & CISU. 
Learning to Live Sustainably
The Youth Summit (YS) 2021: Food Security & Sustainable Living helped introduce important issues surrounding food security, sustainable fashion and mindful consumption of technology. For most of the 47 participants including peer facilitators, these concepts were entirely new; nevertheless, at the end of the Summit, they were able to relate it to their individual lives and become better citizens who consume these essentials more mindfully and sustainably.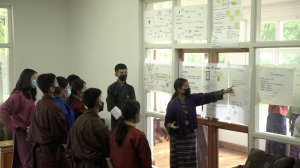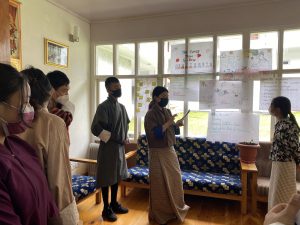 "The topic on clothes… I didn't have an idea about that when I came here… After that session, I realised that I'm also responsible for the condition the workers are facing in Bangladesh… because I am demanding more. When the customer demands, the owners pressure their workers. Now I think I won't buy unnecessary clothes." Karma Lhamo, participant at the Youth Summit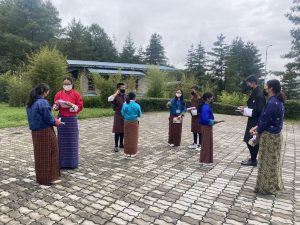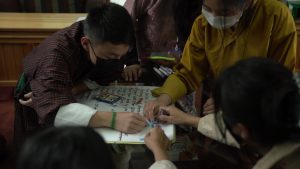 The YS 2021 comes at a much needed time as youths have been deprived of meaningful engagements and deep learnings that become possible only when there is a community of learners created. Creating such a space for youths at the Summit, they come to see each other as treasured reservoirs of experience and also the value of working together to draw out each other's best selves.
"[Youth Summit] is testing how much I know, how much I can give and how much I can learn again. I can test out skills I've already learnt, refine it and improve it… This environment is a great way for me to put the skills I've learnt to use and also learn from others as well." Jimmy Pelbar, Peer Facilitator
Ultimately YS strives to awaken youth to social issues and realities so that these ideas grow along with them as they mature and become citizens who are aware and proactive in tackling challenges. 
The YS 2021 was supported by Give2Asia.
State of the Children's Rights Report
For the first time, BCMD participated in facilitating Children's Report on their rights to the Committee on the Rights of the Child as Bhutan is a signatory to the Convention on the Rights of the Child.
Covering a total of 657 children (10 to 17 years) from across the country, including monks, nuns, special needs, and those in shelter homes, the mixed-method research report highlights the challenges children face with e-learning initiatives triggered by the pandemic as it contradicts with school policy on children owning mobile phones and ground realities of the school with limited technological infrastructure.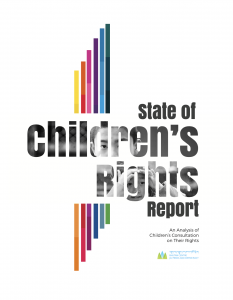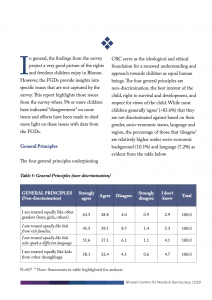 This report reinforces some earlier findings as well as points to emerging issues such as those around technology in education.
You can read the report here: http://bcmd.bt/wp-content/uploads/2021/07/State-of-Childrens-Rights-Report.pdf
This project has been supported by UNICEF. 
Youths Begin Advocacy Training
The Youth Initiative Summer Camp has kicked off to equip the members with theoretical skill and knowledge in advocacy but also with public speaking and effective communication to be able to deliver the advocacy content with conviction and impact. Five themes have been taken up: Education, Mental Health, Social Media, Youth Participation and Unemployment. The members will strive to advocate the core issues within the five themes and be able to reach their target audience. 
The campaign will kick off on 12 August 2021 marking the International Youth Day, in partnership with BBS. Through the campaign, the members will seek to offer a youth-centric approach towards issues that matter most in the present time. The members have adopted the campaign slogan #FutureIsNow as a response to the oft-cited 'youths are the future' rhetoric; the members believe that they are not simply the 'future' but they are 'here' in the present, and insists that as long as the 'now' is worked on, the 'future' will simply follow. 
This project is supported by UNICEF.
Media Literacy for Paro Community Members 
Local leaders, teachers and community members of Paro are currently engaged in a two-day media and democracy literacy training, which began on July 30th. The training begins with a discussion on democracy and the role of news and media in democracy and will cover evaluating sources so that responsible use of social media is encouraged. 
Samten Tshering, working as a case management officer at Nazhoen Lamoten in Paro shares his expectation to learn about the responsible use of social media, so that he can educate and empower children and youth.
This training is a part of a series of interrelated activities of the Building Community Initiative supported by The Asia Foundation. The project aims to enhance participatory planning skills and contribute to decentralisation and sustainable community development.
Purchase a Book and Support a Cause
If you're thinking of travelling to Bhutan, then we've got the perfect guidebook for you!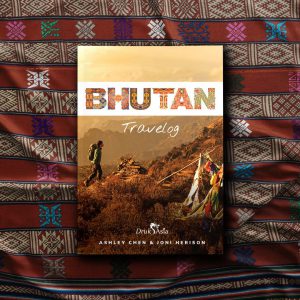 'Bhutan Travelog' is a compilation of more than 250 images that will tell you everything you need to know about Bhutan. Written by two avid travellers who have been to the kingdom more than 30 times collectively, this exclusive guidebook is now available for pre-order.
With every purchase of 'Bhutan Travelog' using the discount code BCMD, the Bhutan Centre for Media and Democracy will receive a contribution of SGD10. We are excited about the launch of their book and also extremely grateful for this partnership.
To support us and to get yourself a copy, you can pre-order the book here: 
https://www.bhutantravelog.com/
Thank you