July eNews
Posted by
Tempa Wangdi
, July 31st, 2020
Media Literacy Amidst an Infodemic
YDF, Thimphu, 14 July: Teachers of Drukgyel Lower Secondary School (DLSS) in Paro wanted to educate their students after realising the importance and relevance of media literacy, which has only heightened during the pandemic.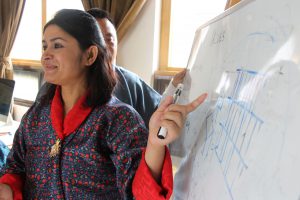 15 teachers from DLSS were trained on media literacy from 12-14 July at the Media Lab, YDF in Thimphu.  During the training the teachers learned new knowledge and techniques on how to access, judge and analyse news and information. "… This is my first time attending training on Media literacy and I find it very important as we can be carried away by fake news and the chance of getting cyberbullied [is quite high]," said Dilip Kumar Giri.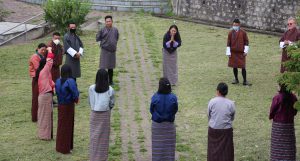 The conversation on the role of citizens in a democracy made the participants reflect on what it means to be an engaged and active citizen in a democracy. The participants reflected on their own media consumption patterns and realised the need to change the habit of spending too much time scrolling through their phones and reading information with no regards to its sources or authenticity. 
This project was supported by Bhutan Foundation.
Reimagining Bhutan's Education and Economy
YDF, Thimphu, 23 July: Bhutan Centre for Media and Democracy conducted the forum Reimagining Bhutan's Education & Economy at the YDF conference hall that saw three speakers, including a youth, engage in discussion about the impacts of the pandemic and its future implications.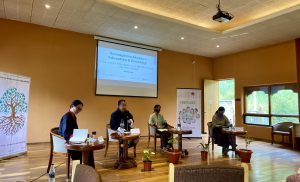 Sonam Norbu highlighted the importance for teachers to break the cycle of "dependency". Even after months of e-learning, students are relying on teachers for instructions, and teachers are relying on the Royal Education Council for directives. On a similar note, Karma Lhazom highlighted the importance of "continuous learning" and the need to unlearn and learn new skills as evident from teachers feeling technologically challenged when lessons moved to online platforms.  Among issues like social inequity and technological divide, the forum touched on pertinent challenges within the education system like the lack of connection between curriculum and economy and the news skills that need emphasis  (e.g. creativity, self-directedness, critical thinking, adaptability, technological skills etc.)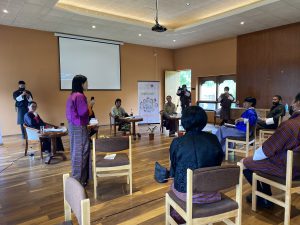 In terms of employment, the need to change people's mindset regarding the jobs individuals take on was emphasized. The unemployment rate amongst youth is high and there is a desperate need for labourers in the construction and agriculture sector, yet people still refuse to apply due to the stigma of doing vocational work. If the importance of vocational work was made socially acceptable, more youth would be motivated to apply for the jobs. This pandemic has shown that society should no longer wait until individuals are desperate enough to increase interest and employment in skills-oriented work. A participant opined that children have been brought up to focus on education to obtain high-paying jobs and it is not only an educational issue but a social one. Investing in work environment safety, mechanising, and professionalising were some of the suggestions from the audience in addition to emphasis on greater collaboration between private and vocational institutes to bridge the current gap between mismatch in skills and the market requirement. The forum also touched upon bigger structural issues like challenges in inter-agency collaboration and cooperation within the public system.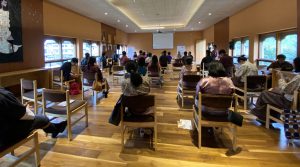 The presentation and discussion has also been captured on film and will be shared on our Facebook and Youtube pages soon.
This forum was supported by CISU.
Youth Voice in Youth Matters Now Live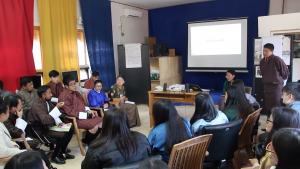 Bhutan Centre for Media and Democracy has had the opportunity to lead and capture on film the youth engagement process of the National Youth Policy (NYP)  review.
In an increasingly audio-visual world, the 14 minute video (now on our YouTube page, link below) takes the viewers along the journey with the Youth Initiative (YI) members as they undergo the various stages of reviewing the youth policy. It models an approach that remains youth-centred, youth-led and youth-empowered. 
Besides the journey of the YI members, the video also seeks to educate viewers who might not have been aware of the NYP about its importance and implications to the overall development of youths in Bhutan. With a mix of narration as well as the voices of the youths as they engage in conversations on issues that impact and surround the lives of young citizens, various challenges are highlighted. Subsequently, suggestions and recommendations from the youth are also presented in hopes of contributing to nation-building as we chart the way forward for youths to achieve their full potential. 
Click on this link to enjoy the video: https://www.youtube.com/watch?v=3vuFmnrQ-MY&t=9s
The process documentation was supported by UNICEF.
Using a Reusable Cloth Mask Safely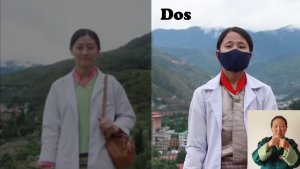 The COVID-19 pandemic has shown no signs of slowing down and with cases in the neighbouring countries increasing rapidly, we need to do everything we can to slow its spread. Research has shown that facemasks help limit the spread of COVID-19 and WHO and the Ministry of Health of Bhutan have also started advising the public to wear facemasks while visiting public spaces. 
In line with this, Bhutan Centre for Media and Democracy has produced an instructional video on how to use a reusable cloth mask safely, as part of the Civil Society Organization collaboration project. The video is available on our YouTube channel, linked below.
https://www.youtube.com/watch?v=PEA1YbRMS1g
Online Druk Journal Conversation Film Out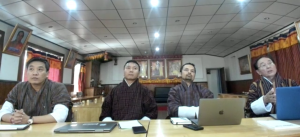 A film on our first-ever Online Druk Journal Conversation on "Bhutan in the Age of Technology" has been published on The Druk Journal Facebook page (link below) to reach out to wider audiences.
The film was condensed from a two-hour long Online Druk Journal Conversation on Zoom on 30 May with the students and faculty members of the Gyalpoizhing College of Technology and the four political parties. The conversation was based on The Druk Journal's 11th issue. 
https://www.facebook.com/watch/?v=3439653942744070
This conversation was supported by DHI, EU Helvetas Bhutan and DIPD.