Know What We Did in April.
Posted by
Tempa Wangdi
, May 15th, 2018
Turning Teachers into Media Literate Citizens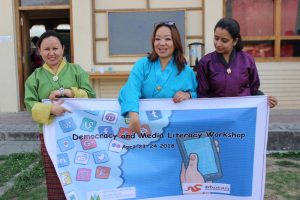 Teachers were educated on being a smart news consumer.
Teachers from a number of private schools and colleges in the country were trained on Media and Democracy Literacy during a two-day workshop Bhutan Centre for Media and Democracy conducted from April 23-24 at its Media Lab in Nazhoen (Youth Development Fund) Pelri Complex in Thimphu.
A total of 24 teachers and lecturers from private schools and colleges including, Norbuling Rigter College in Paro, Sherub Reldri Higher Secondary School in Mongar in the east, Kuendrup Higher Secondary Schoo of Gelephu in the south attended the training. Four teachers from the public schools including, Tendru Central School from Samtse and Wangbama Central School in the outskirts of Thimphu also attended the workshop.
Media and Democracy Literacy is one effective activity BCMD has been conducting over the years to educate teachers and youth to be a smart consumer of news — in the age — where news finds its readers and goods and services finds its consumers. People no longer have to spend hours looking for news and goods and services, they are all now only a click away. Instant availability and access to information have changed the dissemination of information, communication, business, and entertainment. The unprecedented growth in ICT and technology has changed lifestyle across the board.
But all is not well. The onslaught of information online has caused disharmony, discord, confusion, and chaos in the society. Often, harms of social media have led to misinformation, crime, and violence. Bhutan had its own share of such issues because of its ill-preparedness to negative effects of social media, fake news, and disinformation because of people lacking knowledge and understanding of news.
BCMD for last few years has been training teachers, civil servants, and youth on News and Media Literacy to educate on the citenzenship, democracy, rights and responsibilities, and news and media. This time the workshop was conducted for teachers and lecturers from private schools and colleges. Teachers attending the workshop found the workshop relevant to their school media studies curriculum. According to teachers, the workshop did not only educate them on democracy, citizenship, news, and media but would go a long way in helping them impart the knowledge about news and journalism to their students taking media studies in schools.
"The workshop will really help us in classroom teaching about the media studies," said a teacher from Jampel Higher Secondary School in Haa.
Another teacher from Nima Higher Secondary School, ….. said that the workshop was important for her to attend as it helped her cement the understanding about news and its difference between the information, social media posts, fake news, and judging the credibility of a news report. "I knew what is news but this workshop really helped me understand the difference between news and other information," she said.
During the workshop, a copy of the Educating for Citizenship Guidebook was also distributed to each participant. BCMD developed the guidebook as a resource for schools to help educate students on being a smart news consumer. Bhutan Centre for Media and Democracy would like to "Thank" Bhutan Foundation for supporting our initiative to inspire and support youth and teachers to be smart consumers of news.
Multimedia Training Begins for Youth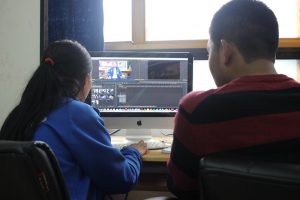 Students will learn film-making for the next few months with BCMD.
This year, 46 students from Motithang Higher Secondary School are attending multimedia training in Bhutan Centre for Media and Democracy (BCMD) Media Lab at Nazhoen Pelri Complex in Thimphu every Friday afternoon and Saturday morning.
BCMD trained another batch of students from the same school last year, who produced a number of short documentaries on the subject of their choice. Similar training on multimedia has been undertaken since it has enabled students to learn skills usually unavailable in a school curriculum. Students who came upon the recommendation from their seniors said that they found the learning environment in the training completely different from the classroom teaching.
"Our seniors told us that the media classes here would be different but I didn't believe it. When I came to the classes it really was different. There was more interaction among ourselves and had more practical sessions which kept me engaged all the time. I hope other schools take the opportunity too,"  a class XI arts student from Motithang Higher Secondary School, Rinzin Dorji said.
During the training spanning at least for a few months, students are taught storyboard, script writing, photography, interview, research, and editing, among others. At the end of the training, students will produce a short film while working in a group. As part of their introduction to the training, students were introduced to the Filmmakers Without Borders' (FWB) curriculum. The volunteer from FWB  Jade Donaldson taught the students — different types of animation.
Following their introduction to FWB, students are in the process of making a flipbook. The students also had a discussion on what they know about Democracy and what it meant to be an active citizen. One of the students said, "taking care of public properties is how I can contribute to the nation and be an active citizen".
JURWA Series Now on Television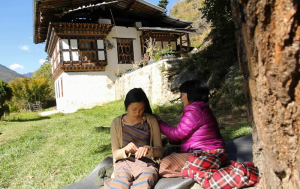 A scene from JURWA TV series.
The screening of television series, JURWA, which Bhutan Centre for Media and Democracy developed from its radio drama JURWA began from April 30 on Bhutan Broadcasting Service. The 16-episode series will be featured every Monday at 9 PM on BBS channel 2. The TV series was launched in September last year and is now being screened from April 30.
The remaining episodes will be screened every Monday from now. "Jurwa, Changing Times" is a television series filmed in a rural setting of Gakithang village, a hamlet in the fringes of Thimphu.
As the series unfurls, the election is around the corner. A young civil servant, Sangay Penjor, the lead character in the story sees an opportunity in politics.
But his political journey isn't going be a walk in the park. Skepticism looms from the start as the news of Sangay's wish to contest in the elections spreads in a traditional village largely dominated by the elders. Sangay's love, Yeshey Tshomo doesn't seem to like the idea of him leaving a secure government job for murky politics, either.
Her father, Ap Doley's distaste for Sangay further deepens when he hears about the former's intentions to compete against the latter's nephew and the incumbent Member of Parliament from Gakithang, Sonam. Sangay's own childhood friend, Kuenga Rabten who is also in love with Yeshey Tshomo and is in the good books of Ap Doley is seething with jealousy when he hears the news of Sangay's political aspirations.
But Yeshey's mother feels otherwise. She thinks Sangay could prove to be a better leader despite his disadvantaged age. She feels Sangay could even be a better man than Kuenga Rabten for Yeshey Tshomo.
As democracy lets its frenzy times lose, the small close-knit community is gripped with tumultuous political events. Subsequent political events push everything including their relations with family, friends, and neighbours to the brink. Opinions are divided even among the family members. Chaotic is the new times of democracy.
As Sangay Penjor ventures into politics, his political voyage highlights some of the challenges Bhutan is facing as a young democracy, today. Much of his experience can be related to issues, political and social ills, we face in everyday life, since Bhutan's venture to a new form of government in 2008. There is only so much we can learn from Jurwa in an election year like 2018.
CSO Documentary on Public Broadcaster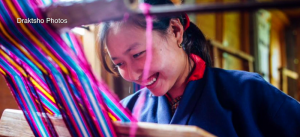 The documentary features a number of CSO among them Draktsho Vocational Training for special children and youth in Thimphu.
A documentary on civil society organisation, "Making a Difference" which Bhutan Centre for Media and Democracy produced was screened on Bhutan Broadcasting Service Channel II on April 27.
The documentary featuring a group of young people visiting a number of civil society organisations (CSOs) is about how young people can contribute in the nation-building to make Bhutan a better place to live in. The 33-minute long film follows six young people visiting various CSOs to know what civil society has on offer if young people wanted to work and intern with these non-profits.
The documentary also provides a visual glimpse into how CSOs have been helping government through collaboration in good governance and development as a partner.
Conversations in Sherubtse College
Bhutan Centre for Media and Democracy organised two Conversations at Sherubtse College in Kanglung, Trashigang on April 17-18 on two issues of The Druk Journal, Civil Society in Bhutan and Democratisation of Bhutan. The two Conversations were held with the Political Science students and Media Studies students of the college. Around 110 people including, students and lecturers from the college attended the conversations. In the conversation on civil society, the concept and role of civil society in democratic governance were discussed. Through the conversation, it was learned that the Sherubtse students take civil society and gender as courses in political science. Students volunteer in a number of activities on and around the campus.
For example, they were then cleaning up the mess from the Thuja trees that were cut down when at the time, BCMD was in the college for the conversations.
In their feedback all the participants found the Conversation to be useful in enhancing their understanding of civil society and Civil Society Organisations.
During the conversation on democracy, views on the democratisation process in Bhutan were invited. The observations and issues raised during the Conversation were not different from the issues that are being discussed around the country. The emphasis was the need for Bhutanese citizens, both urban and rural, to understand the democratic process better. The approach to democracy and the electoral process was not very different from the real-life experiences of the students within their families and communities.
Several found the format of having an informal conversation much more conducive to exploring topics such as democracy and civil society. Open Society Foundations supported the conversations in Sherubtse College.
Upcoming Activities in May
Photo Exhibition: May 4-5 
Bhutan Democracy Forum: May 11
BCMD Anniversary: May 16
Multimedia Training: May 7-9
CSO Leadership Training – May 21-23 May. 
Thank You for Reading Our Newsletter.