March eNews 2022
Posted by
Bhutan Centre for Media and Democracy
, March 31st, 2022
Teachers Invest in Professional Development during Lockdown
As Bhutan continues to battle the pandemic, misinformation and fake news are also on the rise creating confusion in the public. The three-day training of trainers for teachers from Tashigang on Media and Democracy Literacy was conducted virtually during the prolonged lockdown in the country. A total of 28 teachers participated in the training from 11th – 13th March 2022.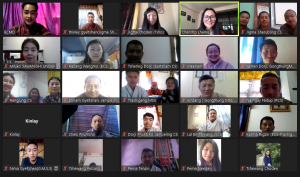 "I never thought about news verification, I would simply read the headline and just scan through while reading news. However, with this training, I now know how to verify any kind of news and authenticate the source of the news", said Pema Tenzin, a teacher from Rangjung Central School.
The paradox of schools' 'no mobile phone' policy and the call for online learning came to light during the workshop. The general acknowledgement was that it is better to equip the youths with the necessary knowledge and skills to be civil and smart users of social media and the world wide web.
The group discussed the integration of media and democracy literacy can be into the schools. Adopting social media guidelines, organising professional development programs on MDL for teachers, orienting parents, students and the community residents, and starting media clubs or integrating them with democracy clubs were some of the ideas discussed. 
We would like to thank UNDEF for funding this project.
Teach one, Reach all – The Multiplier Effect of Teachers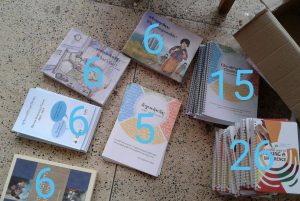 Without losing momentum,  on March 23, 2022, Mendrelgang Central School held a professional development workshop for 59 teachers and staff to share what they had learned during the training of trainers workshop on Media and Democracy Literacy. 
In preparing the schools to integrate media literacy in their schools and set up media clubs,  BCMD has delivered resources and reading materials to four schools in Tsirang Dzongkhag.
10 staff and 14 children from the halfway home of Nazhoen Lamtoen attended a two-day training each on Media and Democracy literacy in December 2021 and  January 2022.
This project was funded by Asia Foundation. 
#MakeYourVoiceCount on Youth Conversations Platform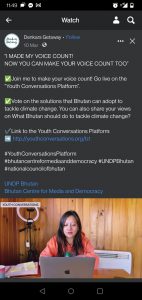 Democracy is said to be only as strong as the participation of its citizens. In collaboration with UNDP and the National Council Secretariat, BCMD launched Youth Conversations – a digital platform to crowdsource ideas and views from citizens and youths in particular. 
The poll on "What Bhutan can do to tackle climate change?" campaigning for the Youth Conversations Platform is in full swing. The results of the poll will help inform policy and programmatic decisions for our parliamentarians and policy-makers.
The poll will be live till 10th April. Go to the Youth Conversations Platform and make your voice count. 
We thank UNDP for supporting this platform.
Cultivating Civic Mindset and Civic Action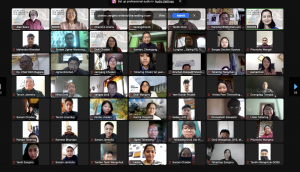 Civic education is vital to democratic forms of government. It equips and empowers citizens with the agency to influence and shape society, and to be active in democratic processes. The ongoing pandemic demonstrates the complex nature of social issues that require different sectors, organisations and individuals to join forces for effective responses. To contribute to shaping a democracy that serves Bhutan's needs, BCMD organised a webinar on Cultivating Civic Mindset and Civic Action on March 25, 2022.
With perspectives from international and national academia and practitioners from the school and civil society contexts, the webinar shed light on the status of civic education in Bhutan and how it can be harnessed to address societal needs.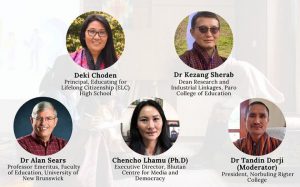 "The importance of civic mindset and civic action lies in the fact that human beings are social in nature and that we live and thrive in supportive communities. …to have a civic mindset means to be community-spirited – to think of not just oneself but of those with whom we share the social and physical space," said Chencho Lhamu (PhD), Executive Director at BCMD. She also underlined that the growing individualism and welfare mindset and the existing narrow view of education make cultivating civic consciousness increasingly essential today.
Dr Kezang Sherab, Dean of Research and Industrial Linkages at the Paro College of Education, presented his research findings on civic knowledge and attitude and the culture of democracy at the school level. He highlighted the current disconnection in theory and practice of civic education in schools. 
With a long-term practitioners perspective of successfully engaging students in civic education at her school, Deki Choden, Principal of ELC High School, shared her experience in implementing Design for Change (DFC), a global school movement that inspires every child to take ownership of their problems and create or imagine solutions from a very young age.
Dr Alan Sears, Professor Emeritus at the University of New Brunswick, brought an international perspective on civic education and action with a special focus on the dichotomies of reasoning that problematises civic education. Listening to him helped stretch our knowledge, unexamined assumptions and beliefs. Through questions and interactions with the audience, the webinar also called attention to the role of parents in developing a civic mindset and how it is related to one's spiritual practices. 
The webinar was well received as over 800 people from diverse backgrounds – secondary and tertiary educators, students, policymakers, district administrators, local and international NGOs along with engineers & planners, police officers and doctors – from all over Bhutan registered. 
You can watch the complete webinar here.
We would like to thank Bhutan Foundation for supporting this conference.