Our Activities from March
Posted by
Tempa Wangdi
, April 9th, 2018
CSOs Come Together to Address Issues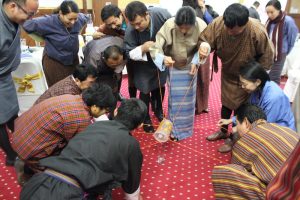 Photo Caption: Civil society has a long way to go albeit it has made good progress in its last eight years of existence.
Civil society organisations (CSO) agreed to come together and work to build the nation through cooperation and collaboration in its annual CSO Retreat that ended on March 30th.
About 45 participants participated in the retreat to reflect on the state of civil society in Bhutan and to identify opportunities and issues that need to be addressed to strengthen the presence of the CSO fraternity in Bhutan. Participants also came together to strengthen networking and collaboration, and to take the CSO mission, vision forward by identifying some strategic directions for the next three years.
During the two-day discussions, the CSO members reflected on their own role in developing civil society in Bhutan and what drives their commitment to the issues they work for. While civil society is facing a number of challenges, they also provide opportunities for developing civil society as the participants discovered.
Opportunities
Enhance collaboration and coordination
Improve Leadership and governance
Improve Communication
Enhance visibility
Mobilise Resources (build capacity and finance)
Increase advocacy
Specialise and focus
Recommendation
Strengthen civil society core committee
Advocate for a national level policy for a government to engage with the civil society
Develop a communication plan to showcase civil society contributions
Develop an endowment fund or trust fund
Gain direct access to UN and development partner funds
Engage media
Enhance leadership and governance.
The retreat was held from March 29-30. BCMD organised the retreat in consultation the CSO Core Co-ordinating Committee with support from the EU/Helvetas Intercooperation.
Students Learn Newspaper Design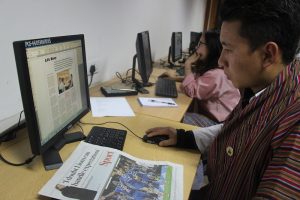 Photo Caption: The training will help media clubs come up with standard and better newsletters in their colleges.
Media club members from the College of Language and Culture Studies (CLCS), College of Natural Resources (CNR), and Paro College of Education (PCE) were trained in Newspaper design from 17-18 March at Paro College of Education.
The training was organised to help media clubs of the respective colleges design their own bi-annual newsletters without having to outsource it. The training was conducted following a needs assessment survey after finding out that the clubs had difficulty in designing a newsletter because of the lack of design and layout training.
The participants learned newspaper design in Adobe Indesign and Photoshop applications. The training was a first of its kind for the media club students. A participant from Paro College of Education, Tashi Lhamo shared that it was her first time using these softwares. Designing a newsletter was a new knowledge for her.
A lecturer from College of Language and Culture Studies, Choney Dorji said, "I have never been so satisfied after a training. I am excited about teaching my media club students," Choney Dorji said.
Another participant from CNR, Tashi Lhaden shared that the training gave her an important knowledge. "After attending this workshop I can say with confidence that we can now improve our college newsletters and magazine. It will help in standardising it, too," Tashi Lhaden said. CISU supported the training.
Reflecting 10 Years of Democracy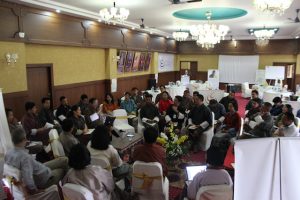 Photo Caption: The CSO members looked at where do the Bhutanese stand as a young democracy.
The Druk Journal held the Conversation on its seventh issue, "Democratisation of Bhutan", on March 29 at the annual Civil Society Organisation (CSO) retreat in Phuentsholing.
Democracy was selected as a relevant theme with Bhutan holding the third parliamentary elections this year to help the electorate reflect on 10 years of its transition to democracy. The latest issue of the journal looks at various dimensions of democratic change in Bhutan through 18 articles written by international and Bhutanese writers. The Druk Journal provides an in depth look at the process of democratisation.
The articles describe our smooth and peaceful transition to democracy to the tensions during elections and political debate in a small close-knit society. The issue also features articles on challenges of social media and its impact on the electoral process. Following the informal launch of the journal at the retreat, over 43 CSO members participated in the Conversation.
The Conversation inspired CSO members to think about their own role as CSOs in a democracy. The members shared their own understanding of democracy and the role of civil society in an evolving democracy.
Some of the members said that CSOs must make efforts to help government become more transparent and accountable.
The discussions covered questions like CSOs' roles in the governance of the country, gender perspectives and how social media can be tapped in a year of elections. Bhutan Network for Empowering Women Executive Director, Phuntshok Chhoden said that the Bhutanese still do not trust women leadership despite the society's high regard for women and being a gender egalitarian society. "In Bhutan, we run the risk of copying practices from other patrilineal societies, which are not really progressive," Phuntshok Chhoden said.
The members also pointed out a loss of trust as one of the major concerns in the country. "People do not trust media, political parties, or the leadership," said one member. "We have a trust deficit."
The Druk Journal will be distributed to educational institutions, the parliament, libraries, and subscribers. Thanks to OSF and DIPD for the support of this edition of The Druk Journal.
Community Radio Station Members Trained in Radio
Members of campus radio station at College of Language and Culture Studies, Rigzhung Lungta FM 91.1 FM were trained in radio writing from 5-7 March.
Bhutan Centre for Media and Democracy conducted the training to help enhance on-air, reporting, and radio magazine programme production. The radio station covers most of the gewogs in Trongsa including Drakteng and Tangsibji.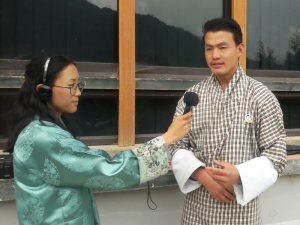 Photo Caption: The radio station covers half of the Trongsa Dzongkhag (District).
This cohort will further train other members of the college in the radio programme. The newly trained members take over to run Rigzhung Lungta 91.1FM after the present group graduates from the college.
The three-day training focused on the writing for radio, magazine production, and vocal exercises to go on air. CISU supported the training.
Creating Opportunity to Tell Untold Stories
Members of civil society organisations (CSOs), government, and out-of-school youth were trained in multi-media production from March 24-27.
A total of 17 participants attended the multimedia training facilitated by a member of Friendship Association Denmark Bhutan, Marie Thesbjerg Denmark. Besides filming, the participants learned important elements of production such as framing, angling, script writing, research, and interview.
The training focused on the three main aspects of multimedia:
Storytelling
Research
Framing, angle, sources, and interviewing.
Finding/Identifying Stories
Script Writing and
Edit
At the end of the training, five videos were produced on different themes. Following were the five movies.
1. Changing Faith: A story about a boy who worked hard to make a living to support the woman who adopted him.
2. The Parking Fee Collecter: It looks at a life of a parking fee collector struggling to make an honest living.
3. The Toilet Cleaner: The film highlights the struggles about mother cleaning toilets to ensure brighter future for her children.
4. Karma: Looks at the life of a caretaker in Changgangkha monastery.
5. Women Empowerment: A story about a woman who became an inspiration to start up a business.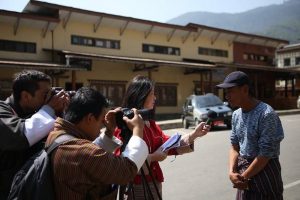 Photo Caption: Multi-media training provides the young people tell untold stories but are important issues.
Monks Trained in Photography
Bhutan Center for Media and Democracy conducted four-day basic photography training and a three-day intermediate training where over 15 youth and monks attended from March 20-22.
The training focused on telling stories through photography. The participants were trained in identifying a subject to shoot a photo. They were also trained on the code of conduct for photographers.
Photography training has come as an opportunity to monks who hardly get to explore things outside the monkhood. "Learning and practicing Dharma is all we do every time in our monastery but such workshops like photography give us an opportunity to relay a message about Dharma more creatively and simplify teachings in way people today can understand it," Jigme Ngodup from Pungthim Dratshang said.