September eNews
Posted by
Tempa Wangdi
, October 7th, 2019
Student Mappers to Implement Six Projects
Students Present their Local Action Projects in the 2nd Townhall Meeting.
Shomu, Lamgong, Paro, Bhutan: The grade 9 student looked nervous as he made a pitch to the Paro town hall committee for his school to develop a volleyball court for youth in the Drugyel neighbourhood.
Recognising a lack of recreation for youth, the proposal was to enable youth to play volleyball and occupy themselves with a healthy sport. 
"Dasho la, will (the Paro municipality) provide the school with a space for the court, la?" 
This was one of six activities that students of Paro will undertake as part of the Building Community project being carried out in partnership with the Paro Thromde ( municipal authority). 
Students mappers of Drukgyal Central School (DCS) and Shaba Higher Secondary School (SHSS) will implement six Local Action Projects (LAP) in their respective communities in October.
The Townhall Committee endorsed the projects after deliberating and providing guidance on the practicality of the solutions the student mappers presented at the 2nd Townhall Committee meeting on 27 September at Paro. 
The six LAP are mostly awareness and advocacy campaigns on community cohesion, drinking water management, community safety, Menchu (hot spring) preservation, waste management, pedestrian safety, and building a volleyball court for youth. The Townhall Committee will also support the student mappers in their endeavour to improve community safety, drinking water and waste management, and youth engagement. 
"Until I attended the community mapping workshop, whenever there were issues in school, I was like …maybe the school will do it or the teachers will do it because I'm just a student and I have no role. But being in community mapping made me realise that I'm that 'someone' who can make a difference for my community," said a student mapper from DCS, Choki Wangmo. 
It was heartening to see a district governor give time to listen to the views of youth. The project is showing results as youth, teachers and residents deepen their engagement with town issues and learn through action, what it means to have a more participatory and democratic approach to decision-making and to tackling local concerns. 
Project Mikhung is supported by Bhutan Foundation. 
Asset-based Mapping Orientation for Townhall Committee
Members of the town hall committee form an important component in the mapping.
Shomu, Lamgong Paro: Members of Paro Townhall Committee including a gup (elected leader of a cluster of villages, or a block) were oriented on the concept and principles of asset-based community mapping and introduced to the goals of Project Mikhung on 27 September at Paro.
Reflecting on social change in the town and a sense of growing insecurity, Kinzang Lhendup remarked, "Twenty years ago, we used to be scared of wild animals and ghosts, now we are scared of human beings". His reflection alludes to recent cases of sexual abuse of children in the district that has shaken the community in Paro.
Shaba Gup, Chencho Gyeltshen, spoke on how individualism has taken over the community interests with people refusing to attend zomdus (public meetings). "Democracy has made society more individualistic; it has pitched individuals against one another by introducing the party system, and divided the community along party lines".
The orientation was attended by 10 members of the Townhall Meeting. Thanks again to Bhutan Foundation and International IDEA for the support.
Youths Undergo Podcast Training 
Youths edit their programmes at the media lab.
Nazhoen Pelri Complex, Thimphu: A group of youths who were undergoing a week-long podcast training at Media Lab from 25 September will be presenting five stories, "Listening in the Dark" on pertinent social issues on Wed. 2 October.
Unlike previous years, this year's podcasting workshop was extended by five more days to allow participants to develop a podcast through meaningful storytelling. This was done to leverage on the power of stories within the context of existing social issues of democracy, to explore in-depth and not just skim the surface of problems they present. 
The workshop was titled 'Dha Rei Na Ba' ( Now and the Future?) and was able to gather youths from various aspects such as counsellors, out-of-school, freelancers, young radio hosts and members from CLCS. 
"The use of examples and analysing the audio makes the training very different. I plan to improve the radio station at College of Language and Culture Studies and also train some of the club members after going back to college" said a faculty member from CLCS Choney Dorji. The workshop is funded by CISU. 
Female Trainees Learn to be Smart Information Consumers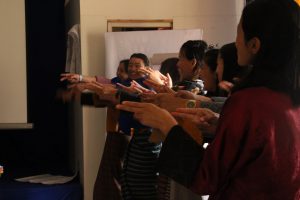 Trainees also learn to be a responsible citizen besides learning about media and information.
Nazhoen Pelri Complex, Thimphu: More 22 female trainees of the Royal Academy for Performing Arts (RAPA) and a male participant from Paro Youth Centre underwent a two-day News and media Literacy workshop at BCMD's media lab.  
The workshop enabled participants to learn how to analyse information and the skills, tools and knowledge on how to be smart and critical when consuming information and news. The participants also learned about the role of citizens in a democracy and the importance of media and the need to stay informed and educated to be able to make an informed decision.  
"Having come here I now know the importance of sharing my concerns and questioning the leaders," said Sonam Wangmo from RAPA.  
Participants also learned the important role of media in democracy and the values of journalism that distinguish news from other types of information. "I now know that there are values of journalism and the importance of media's role in democracy and the need to read the news," said Kencho Om. After learning about the dangers of social media as a double-edged sword many wanted to refrain from sharing social media feeds without verifying it first. 
"We should be wary and critical before sharing any information on social media," said Phub Om from RAPA.
Youths Mark International Democracy Day
The discussions covered a number of issues in Bhutan's young democracy.
Students and young thinkers spoke candidly about Bhutan's democracy on the International Democracy Day on 15 September at the Media Lab.
The youths were commenting on the issues political leaders raised on a series of interviews the Bhutan Centre for Media Democracy launched on the day. The discussion covered the women empowerment, integrity and politics, and introducing electoral suffrage to religious figures, among others.
A student from Motithang Higher Secondary School Kinley felt that the religious figures should be allowed to vote since traditionally the Bhutanese look at them with reverence, though some of the youths opposed to this idea. "…We are Bhutanese and we are different as individuals. So even if we allow the religious figures to partake in the election, I don't think it will create a big division," said Kinley. 
Friends of BCMD
Join us as a friend of BCMD. As a member, you will receive updated information and alerts on BCMD's activities, information on our publications, as well as a monthly newsletter. More importantly, be a part of a growing network of people who are learning to develop social consciousness and who are interested in learning how to be more engaged citizens in one of the world's youngest democracies. Join us now – email us with your name, contact and formal address and be a BCMD member today. 
Send Us Your Details to tempa@bcmd.bt 
Name:
Sex:
Address:
Attended BCMD Activities: Yes/No