TV Series, 'Jurwa' and Music Video 'Dear Prime Minister' Launched
Posted by
Green E-Solutions
, October 3rd, 2017
Bhutan Centre for Media and Democracy (BCMD) launched its first ever television series on "Jurwa" and released a music video "Dear Prime Minister" to commemorate the International Democracy Day on September 15, 2017, as the country's young democracy entered its 9th year.
Representatives of all the five political parties and Election Commission of Bhutan (ECB) came to talk about the state of Bhutanese democracy at the launch to mark the democracy day. The National Council members, government officials, foreign delegates, press, and members of Civil Society Organisations (CSOs) graced the occasion.
Teachers and students of democracy clubs from various schools in Thimphu also came to observe the launch to celebrate the democracy day. Both music video and Jurwa TV series were launched as independent productions on democracy to educate people about democracy and its values such as the rights, duties, and civic engagement.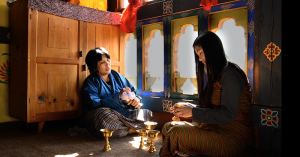 Yeshey Tshomo talking with her
mother about the likings of Sangay Penjore
in a scene from Jurwa episode I
"Jurwa, Changing Times"
 is a television series filmed in a rural setting of Gakithang village, a hamlet in the fringes of Thimphu. 
As the series unfurls, an election is around the corner. A young civil servant, Sangay Penjor, the lead character in the story sees an opportunity in politics.
But his political journey isn't going be a walk in the park. Scepticism looms from the start as the news of Sangay's wish to contest the elections spreads in a traditional village largely dominated by the elders. Sangay's love, Yeshey Tshomo doesn't seem to like the idea of him leaving a secure government job for murky politics, either.
Her father, Ap Doley's distaste for Sangay further deepens when he hears about the former's intentions to compete against the latter's nephew and the incumbent Member of Parliament from Gakithang, Sonam. Sangay's own childhood friend, Kuenga Rabten who is also in love with Yeshey Tshomo and is in the good books of Ap Doley is seething with jealousy when he hears the news of Sangay's political aspirations.
But Yeshey's mother feels otherwise. She thinks Sangay could prove to be a better leader despite his disadvantaged age. She feels Sangay could even be a better man than Kuenga Rabten for Yeshey Tshomo.
As democracy lets its frenzy times loose, the small close-knit community is gripped with tumultuous political events. Subsequent political events push everything including their relations with family, friends, and neighbours to the brink. Opinions are divided even among the family members. Chaotic is the new times of democracy.
As Sangay Penjor ventures into politics, his political voyage highlights some of the challenges Bhutan is facing as a young democracy, today. Much of his experience can be related to issues, political and social ills, we face in everyday life, since Bhutan's venture to the new form of government in 2008. With elections bound next year, in 2018, there is only so much we can learn from Jurwa.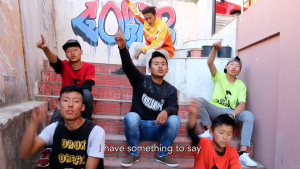 Songwriter and a rapper, Kezang Dorji (centre) from the music video "Dear Prime Miniter" 
"Dear Prime Minister" is a music video informing people that our ties of family, relatives, friends, community, and nation are far more important to be divided by mere political differences.
As the song is played out – a number of questions are raised about democracy and politics, that everyone can relate to their lives. It relays a message that the Bhutanese democracy can be a vibrant and unique one, in a sense – it should rather blend people together as families, friends, community and nation than divide.
Commemorating Democracy Day
During the launch marking the International Democracy Day, ECB representatives and members of the five political parties spoke about the state of the Bhutanese democracy to over 200 participants.
ECB Director of Civic and Electoral Training, Phub Dorji speaking at the event said that the Bhutanese people were lucky to have received democracy as a gift from their monarch. But just saying that democracy is a gift from the golden throne isn't going to be enough. "We must respect and treasure our democracy as a gift. It is very important to treasure our gift of democracy," Phub Dorji said.
He also said that with only a year left before the Bhutanese people go to polls next year, it is high time to reflect on the state of democracy in Bhutan. "It is important to reflect on what were the successes and also some of the problems and issues we faced in the past elections. It is, important to reflect on how to improve and solve some of these problems we faced earlier," Phub Dorji said.
As the representatives of the five political parties spoke about the democracy, they reiterated the need to cooperate for the unity of the country. Druk Chirwang Tshogpa President, Lily Wangchhuk said that the political parties must work together for the peace and harmony of the country.
"The greatest deed for the political parties is not to divide the country during the elections," Lily Wangchhuk said.
Bhutan Democracy Dialogue and also the People's Democratic Party Secretary General, Sonam Jatsho said that success of democracy is each and every one's responsibility. "Democracy is everyone's duty. Don't leave it in the hands of few political parties," Sonam Jatsho said.
DPT Secretary-General, Ugyen Dorji praised the Bhutanese democracy for its success. "We have been quite successful in participation and also had one of the highest voters turnout of over 86 percent," Ugyen Dorji said. This he said is a remarkable milestone on Bhutanese democracy, because such things don't happen in other democracies.
While DNT representative, Yeshey Dema who is given a berth to contest from Khamed-Lunana in Gasa expressed her aspirations to serve the country at a young age, Bhutan Kuen Nyam Party, Vice President, Sonam Tobgay called for a common belief in democracy. "It is also important to exercise your votes without fear, influence, and favour of being bought off," Sonam Tobgay said.
The eventful launch ended with some refreshments, over which some of the political leaders, electoral officials and National Council members had a rare chance to exchange some cordial conversations on the country's emerging democracy.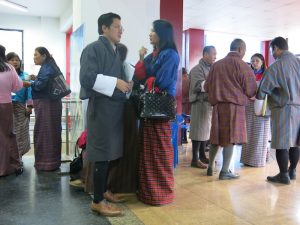 Members of political parties, ECB officials, and National Council members interact after the launch
Paro Town Committee Attend Local Action
Students from Paro College of Education (PCE) and four schools from Paro presented findings of their community mapping exercises to Paro Town Committee during a seminar on September 8.
The second town committee meeting in Paro was held with a seminar on "Supporting people-centred community development through action research" led by the Faculty of Sociology, Kansai University Professor Takayoshi Kusago. Dzongkhag sector heads, CSO members, teachers, students and residents attended the seminar of lessons on how action research community development has contributed to community building in Japan.
Following the seminar, teachers, and students from schools including, Shaba and Shari Higher Secondary Schools, Drugyal Central and Khangkhu Middle Secondary Schools, and the Paro College of Education shared their experience and knowledge of having engaged with the communities. They also presented findings from the mapping exercises to the Paro town committee.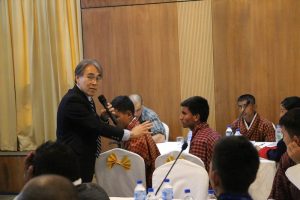 Professor Takayoshi Kusago said that the students as young people have achieved a great deal in finding solutions to local problems
The mappers have identified relevant and urgent issues in Paro communities and pitched ideas to address the problems. The schools are going to work on the following projects in coming months:
Shaba Higher Secondary School – Conservation of Spring Water Source
Khangkhu Middle Secondary School – Renovation of Canopy on the school campus
Drugyal Central School – Construction of Drains in the school
Paro College of Education – Construction of Public Toilet at Bondey
Shari Higher Secondary School – Advocacy on Water Shortage at Shari
UPCOMING EVENTS
CSOs to Focus on Responsible Citizens
The Civil Society Organisations (CSOs) fraternity in Bhutan will celebrate "Civil Society" on October 13-14, 2017. The event to "Celebrate Civil Society" includes a photography competition and exhibition to shine a light on citizens' contribution in civic engagement. BCMD is proud to be a part of the CSO fraternity with a growing consciousness about being responsible citizens. The theme is titled" "Our Genkhu" or Our responsibility. Check out our website bcmd.bt and facebook for more information. An active task group comprising various CSOs are taking the lead in organising the event. We encourage all our youth, media club, and media lab members to point your camera at an inspiring individual or organisation and showcase what it means to be a responsible citizen. As of a number of entries have already been received by VAST from a number of people. Most of the pictures have been uploaded by individuals on Instagram page "Our Genkhu". Those of you still interested to contest in the photo contest can also upload their pictures on Instagram at "Our Genkhu". The event is supported through a project to strengthen networking of CSOs supported by Helvetas Intercooperation.
Basic Photography Training
Multimedia Training