VACANCY ANNOUNCEMENT
Posted by
Tempa Wangdi
, July 24th, 2018
The Bhutan Centre for Media and Democracy would like to announce a vacancy for the following posts: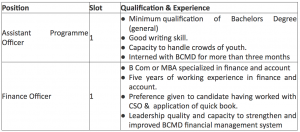 Send in your applications to amoktan@bcmd.bt during office hours before 31 July 2018. For further details contact Ashok Moktan at 02-327903/102. Visit www.bcmd.bt.   detailed Terms of Reference.
Note: BCMD will observe the right NOT to hire if applicants are not suitable. Only shortlisted candidates will be contacted.