Vacancy Announcement- Programme Manager
Posted by
Tempa Wangdi
, November 23rd, 2021
Bhutan Centre for Media and Democracy
VACANCY ANNOUNCEMENT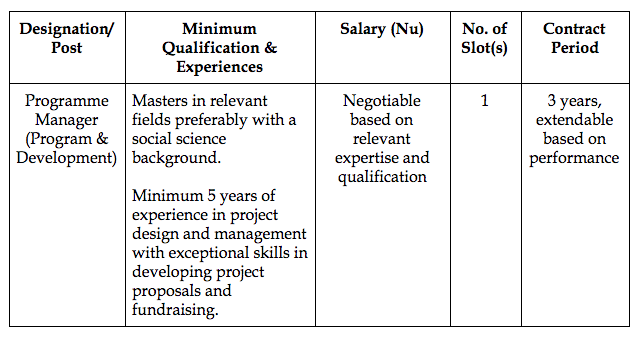 Applications consisting of CV with CID copy, valid Security Clearance copy, related educational and work certificates are invited for submission for the above-mentioned post by 8th December 2021 before 1700 hours addressed to the Executive Director, Bhutan Centre for Media and Democracy, Jangsam Lam, Changangkha, Thimphu.
Only shortlisted candidates will be contacted for a written test and an interview.
For further inquiries kindly call 02 327903 during office hrs (0900-1700) or write to us at rosy@bcmd.bt
---
Terms of Reference.
Position: Programme Manager
Summary of position: Under the supervision and directives of the Executive Director and in collaboration with Programme Officers, the Programme Manager supports/implements/coordinates BCMD's programme development through the Terms of Reference as furnished below:
Programme Coordination
Plan the delivery of the overall programmes in accordance with the mission and the goals of the Bhutan Centre for Media and Democracy.

Mentor the program staff by providing direction, input and feedback.

Supervise the monitoring and evaluation of programme activities.

Develop new initiatives in collaboration with the Executive Director and Finance Officer to support the strategic direction of the organisation.

Assist the Executive Director to develop funding proposals for continuing/new programmes. 

Communicate with funders and stakeholders under the guidance of the Executive Director.
Admin/Finance
In collaboration with the Finance Officer and with assistance from program staff, develop the annual budget to support the programmes.

Supervise the implementation of programme activities as per the annual work plan and budget allocated.

Liaise with AFD to ensure the effective and efficient implementation of programmes.
General Services
Maintain professional links with other organisations and establish new networks.

Contribute to team learning by coordinating regular office meetings and learning sessions.

Represent BCMD in any meetings/planning exercises/forums involving CSOs, and development partners.

Sit on interview panels to recruit well-qualified program staff and Admin/finance staff.

Any other duties may be assigned by the Executive Director when needed.