GNH-based planning for LGs
Posted by
Bhutan Centre for Media and Democracy
, September 8th, 2022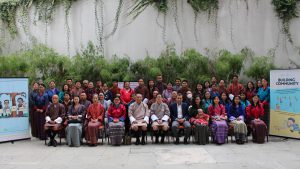 Local leaders and residents of nine gewogs in Thimphu and Paro successfully participated in a series of capacity-building workshops, and developed plans using the Gross National Happiness (GNH)-based planning toolkit formulated by the Bhutan Centre for Media Democracy (BCMD).
The initiative was undertaken with the aim to strengthen decentralized planning processes through modelling citizen participation and evidence-based decision-making.
BCMD also initiated a platform for Local Government (LG) office holders to discuss thoughts on the implementation of GNH-based community analysis and planning. They were also made to present jointly prepared community development plans for respective gewogs on 25 August.
The LG office holders utilized the resources, information, and abilities from their capacity building program to participate in inclusive public consultations in their individual chiwogs and co-create community plans with locals.
Many of them found the session on participatory planning to be an eye-opener as they understood that the Zomdue practices and the planning procedures in use today have not changed despite the nation having made a successful transition to democracy.
During the walk the talk program, local leaders presented their co-developed community development plans for their respective chiwogs.
Jamyang, the Mangmi of Chang gewog, Thimphu said that after consulting with the residents of Hongtsho chiwog, they made the decision to give priority to a few pressing problems, such as renovating the crematorium with appropriate lighting, water, and fencing so that users do not face any glitches.
She claimed that the GNH development theory served as the foundation for all prioritized initiatives.
According to her, they intend to charge users a fixed amount. The money will then be utilized to run the crematorium.
She added that to preserve culture Chang gewog would suggest their counterparts in Toeb gewog in Punakha Dzongkhag to sign a memorandum of understanding (MoU) to claim ownership and of the Hongtsho Phendey Tshechu. This celebration is regarded as being very significant.
She claimed that in the past, when the chiwog was governed by the Toeb gewog, the bulk of the mask dancers were from Toebesa. She claimed that the community lacks ownership as the chiwog is under Chang gewog. So, they made the decision to take charge of the festivals.
They expressed their concerns to all local leaders present at the workshop for Local Government office bearers to exhibit jointly created community development plans for their gewogs.
For instance, Tshaphu-Samakha chiwog Tshogpa of Mewang gewog in Thimphu, Dawa Zam, stated that despite the chiwog's proximity to the town, it lacks a suitable telecommunications network.
She claimed that following community consultation they approached telecom companies with a proposal. "By September 2024, we hope to have complete network coverage," she said.
Most of the community development plan's priorities, though, were the same. Facilities for clean drinking and irrigation water, waste management, the exclusion of women from decision-making roles, the upkeep of farm roads, the absence of leisure opportunities, and an increase in violence against women were a few examples.
Local officials declared that they would address those concerns in the upcoming fiscal years to create the necessary money.
Meanwhile, BCMD's Executive Director, Dr Chencho Lhamu said that it is evident why decentralized planning has not materialized in its true sense, though our democracy is 14 years old.
She said consultations and decision-making are made exclusive by the heads of the family and that planning begins not with analysis of the needs and data but with prioritization of activities driven by the budget, and deliberation only with few active individuals.
She also said that by using the GNH-lens to analyse communities and plan based on the needs, they came to a realization as to why their plans did not vary from year to year and from other dzongkhags.
Find the article on Bhutan Times here