Basic Photography Training Commences
Posted by
Zulkee Choden Rinzin
, March 12th, 2021
"Most people think photography is just about pressing the shutter button but when you photograph wildlife, you have to first develop a relationship to your subject. You have to wait for hours for the birds to come to you; then you have to make them trust you that you won't harm them. After exercising patience, care and passion for your subject, they will even trust you to be within one meter distance. That's when you get your best photograph!"

Kezang Dorji, Photographer, Bhutan Birdlife Society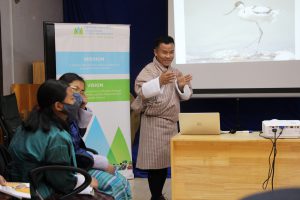 Kezang Dorji from Bhutan Birdlife Society was invited to share his experience with photography and touch on why it matters.
The basic photography training is off to a great start with diverse participants ranging from high school students, graduates and tour guides; the participants are all brought together in their passion to learn photography and to explore multimedia's potential as a tool in telling stories.
Passang Dorji, a freelance photographer is leading the workshop, he has worked with a several different groups and has successfully used photography as a means to capture the diverse range of social issues in the community.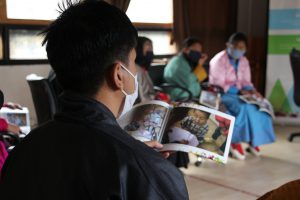 Participants use BCMD photobook publication "Through the lens of adolescents" for the training.
The training begins with the theoretical A,B,C's of photography and emphasizes practical fieldwork over theory. We will focus on current social issues that we see in our communities and how COVID-19 has reshaped our society.
Their stories will be presented as a digital exhibition during the closing, which shall be announced soon.