February eNews 2022
Posted by
Kuenzang Norbu
, February 28th, 2022
Nurturing inclusive consultation: Youth Conversations Platform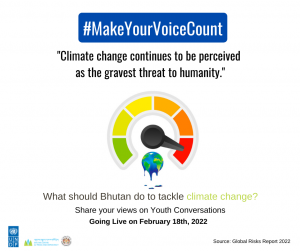 BCMD's engagement with citizens over the years has highlighted the need for an enabling space especially for margenalised  groups, where they are actively consulted during policy formulations and planning. Likewise, UNDP system mapping also revealed the lack of platforms to engage these groups when making decisions in Bhutan. During this pandemic,  the current practice of consultations through physical gatherings have come to a standstill, accelerating the need for finding innovative solutions to pave the way for inclusive consultations and to strengthen participatory governance.  Therefore, UNDP Bhutan with experts from the region from Pakistan and Timor Leste developed Youth Conversations, an online poling platform, where margenalised  groups such as youth are put at the forefront to share their voices to deliberate on important national topics.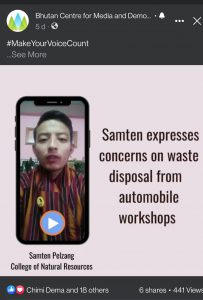 For this pilot conversation, Climate change was identified as a pertinent topic. BCMD, in partnership with UNDP, consulted 26 youths to generate solutions to kickstart the conversations in January. During  the intensive 2 day programme youth delved into learning and  brainstorming on Bhutan's response to climate change.  The consolidated responses from the workshop were then shared on the platform to encourage more responses and discussion on the issue. A week-long online advocacy campaign was organised by BCMD and the platform was successfully launched on 18th February. Since its launch, 170 participants have shared their thoughts and casted their votes on ideas submitted by other youths and other community members in response to What Bhutan should do to tackle climate change. 
BCMD's engagement with local governments in the past has shown that participatory planning and decision making contributes to crowdsourcing holistic strategies when developing community development plans.  Through such initiatives, the focus is shifted to vulnerable groups such as youth, resulting in strengthening participatory planning, nurturing ownership and in the process educating youth on existing national issues. 
In collaboration with the National Council of Bhutan and UNDP, BCMD is also currently working towards the design and development of a Local Engagement Platform. The platform, initiated by UNDP, would support the National Council of Bhutan in engaging with the general public to channel meaningful conversations on the legislative and policy issues as well as collect solutions from people hence making the decisions more human centric.
Making Knowledge Accessible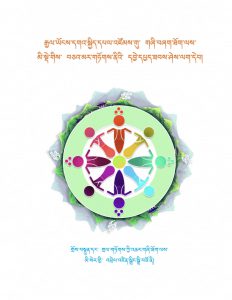 Last year, BCMD also launched its GNH-based participatory planning toolkit, which uses the four pillars of Gross National Happiness (GNH) philosophy as a framework of holistic community analysis using eight tools. 41 community leaders Paro and Thimphu underwent a series of interrelated capacity building activities and used the GNH-based toolkit to analyse their communities and co-developed seven community development plans. An evaluation of the project indicates that the participants found the tool useful in conducting inclusive public consultation and they plan to use the tools in for the 13th Five Year Planning at the gewog level. Check out this video to find out what they learned from the experience.
Recognising the role of BCMD's toolkit and training in helping deepen discussion and analysis of community issues and address the current lack of community analysis that ought to precede prioritisation  and planning, two tools from BCMD's GNH Toolkit are integrated into the revised Local Government  Planning and Development Manual. To make the toolkit accessible to a wider range of community members, BCMD has now translated the GNH-based toolkit into Dzongkha. The translated toolkit furthers BCMD's mission of inclusive knowledge resources and will be used to train community leaders in other districts. 
Teachers prepare to take Media Literacy to Classrooms
Early this month, ten teachers from various high/middle schools from Tsirang and Thimphu dzongkhag met with BCMD for a virtual mentoring session  to assist the teachers in preparing for step-down media and democracy workshops for students in their respective schools. The teachers are among the 36 educators trained in media and democracy literacy by BCMD in January. After the step-down workshops, BCMD will assist in setting up or revamping media clubs in the schools.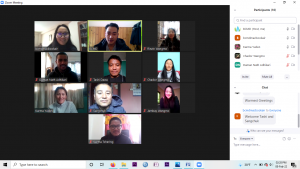 A Youth Initiative Alumnus Recounts his Journey as an Active Citizen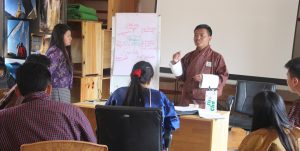 "I heard about BCMD in 2018 when I first took part in the Youth Initiative program. We learnt to design action plans as a result of the YI program, resulting in ideal Bhutan 2030, which visualizes the sort of nation we desire by 2030. We were given a small budget to identify a community issue, and my group and I chose zero food waste as our project. In Samtse College of education, we implemented this zero-waste programme. In our mess, we made a large banner with the message "Take what you can eat and eat what you have taken". We discovered that we were squandering more than Nu.300,000 each year when we measured the food waste created every day and the monitoring spend on food. We then used the takakura method of composition to create manure from food waste. Given the scope of this project, we implemented a zero-waste policy at a number of Samtse, Punakha and Mongar schools.
Following YI, I participated in BCMD's peer-facilitator training and then attended BCMD's Youth Summit. With all of BCMD's training and grooming, life has provided me with several opportunities. I was chosen as a United Nations campus coordinator, SDG coordinator for South Asia, and even national coordinator for Team 54 for climate change. I was able to put all of my training skills to good use and establish the Bhutan Young Volunteers. Additionally, Nazhoen Lamtoen and the Youth Caring Community presented me with the inaugural Bhutanese Young Volunteer Award. I was also named outstanding social animator and student of the year by Samtse College of education.
I received all of these awards only because of the first training that I attended with BCMD. Reflecting upon those times, I realized that I had dreams but no supporter, but all these dreams and visions were achieved, thanks to BCMD."

– Tashi Dawa, Teacher